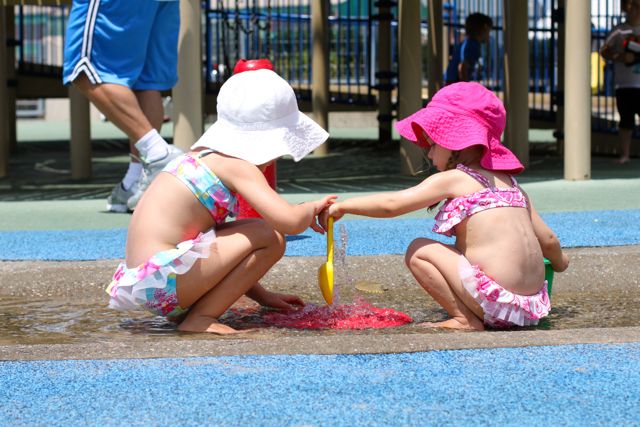 Named "Runner Up" as the "Best Playground Worth Traveling to" by Time-Out New York, the Pier 51 playground features climbing equipment, slides, sand play, a pretend boat hull, shaded benches and numerous active water features. Located on the Hudson River esplanade it is a great spot to catch a breeze on a hot Summer day.
From Time-Out New York: "Especially in warm weather, when the park's elaborate sprinkler system provides kids with a thorough soaking (as well as a canal to paddle in), this riverside playground is a paradise."
The playground was designed to evoke Manhattan history, which brings more to this playground than first meets the eye. The 'stream' that runs through the playscape is said to be a replica of Minetta Brook (once a part of Manhattan's wetland ecosystem, the actual Minetta Brook now runs underground). The flow of water meanders through large interactive play structures and so the children can run up and down stream. Brass animal sculptures dot the playground and we discovered that a great activity is to find these animals as they are small subtle embellishments – we counted six trout in the stream. The sand play area and fences also recall Manhattan's ecological history – but all the while one is very aware of the present Manhattan with impressive views of the west side skyline and the Statue of Liberty.
Despite showing signs of wear, without repair – Pier 51 is still a playground gem.  After hours of water, sun and sand play we were feeling very thankful for this oasis in this big city. Maya has requested we visit again soon, and I too am keen to head back as it really is in a great location -on the water with the boutique stores and eats of the Meat Packing District at hand. On our way home we stopped for fresh strawberry and watermelon juice which was a great energy boost and thirst quencher on a warm day!  All in all, visiting pier 51 is a great activity during Summer in New York City.