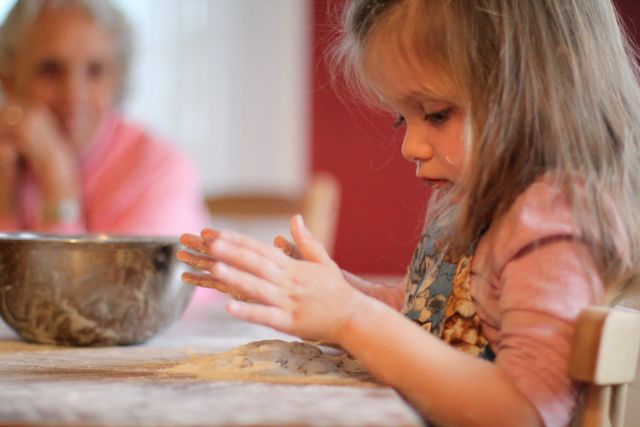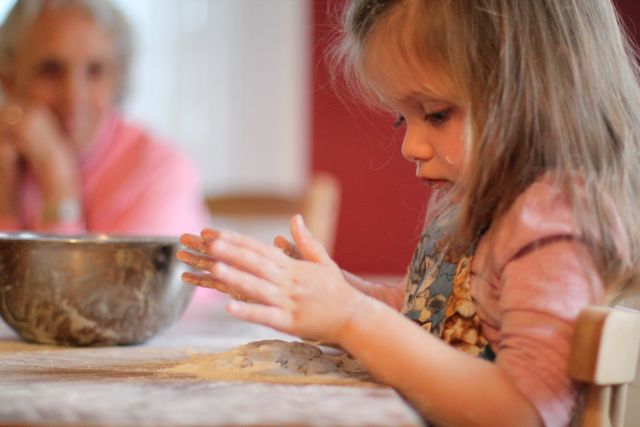 My Grandmother spent almost a week at our house after our trip to Canada. As I have mentioned a few times, Grandma came all the way to New York from Australia, then up to Canada, and then back to New Jersey, with a broken foot, and so her week spent with us was not about sight seeing New York, but about spending relaxed quality time with us in our new home. During this time we enjoyed our days doing the things we usually do, but with the lovely company of Tutu.
I relish having extra company to cook for, and made an effort that each of our meals together was something Grandma would appreciate and enjoy. Cooking our evening meal is often an activity for the Girls, and it was fun to involve Tutu too. I think that involving Children in every aspect of food preparation – grocery shopping, choosing meals, washing produce, cutting, measuring and stirring, gives them a healthy relationship to food, beyond eating it.
On Friday afternoon, I made a hearty roasted celeriac and leek soup. You can find the recipe at Homespun Waldorf. It is very scrumptious, and I just love the parmesan and toasted pine nuts garnish. Roots vegetable soups are so nourishing in Winter, and celeriac so often gets forgotten about, which is a shame as the flavor is deliciously zesty. To go with the soup we made some of the molasses bread that Maya helped bake each week at the Waldorf Playgroup she attended in Brooklyn. This is one of the yummiest breads ever. When eating this bread with soup, I like to make it into bread rolls and serve them hot out of the oven with lashings of butter. Maya and Elle love to bake bread, and as you can see, Elle is really getting into it. Grandma enjoyed the bread so much she comment that she would like the recipe, and so here it is, for my Grandma and anyone else who would like to bake yummy bread.
Whole Wheat Molasses Bread
1 packet of dry yeast
1 1/4 cup warm water
1/4 cup molasses (or honey)
2 tbsp butter
1 tsp salt
1 1/2 cup whole wheat flour
3 cups all-purpose flour
Oil
Method 
Sprinkle yeast over warm water in a large bowl, stir until dissolved. Stir in molasses, butter, salt and whole wheat flour. Beat until smooth. Stir in 2 cups of the all-purpose flour to make a smooth, soft dough.
Turn out onto lightly floured surface and knead 8-10 minutes, or until smooth and elastic, adding enough of remaining flour to keep it from being sticky, a tablespoon at a time.
Shape flour into a ball. Place in a greased, large bowl, turning to coat all sides. Cover. Place in a warm place to rise, or if you do not have a warm place, put on top rack of oven. Turn on low for 5 minutes, then turn off (to create a barely warm oven). Place pan of steaming water on bottom rack. Let rise until doubled, 45 minutes to 1 1/4 hours. Punch down and shape into rolls, or roll out into rectangle, then roll up, pinching edges to seal. Place in loaf pan, seam side down, brush with oil and let rise (same procedure). Bake at 400 degrees for 30 minutes.