We had a lovely Easter morning. The girls came in separately to my bedroom with Easter baskets in hand at 3 and 3:15am. Elle was the first to come in and I suspect she woke up Maya. I heard her little feet patter in and with four year old exuberance said "My basket is full of things! The Easter Bunny has been. Look at my basket". It was dark, and I was asleep, well I had been a moment ago, and so I said "Wonderful sweetie, put your basket back on your bed and go back to sleep until the morning". While my words were sensible, the reality was that a few minutes later Maya also came into my room with her Easter basket in hand. Not with the same excitement Elle had, a six year old is a little more seasoned, but still she was excited. This time I reached for my phone to check the time. It was just past 3am. I had stayed up late working on their baskets and was feeling like more sleep. "Mummy, can we turn on our lamp and look at our baskets?" Maya asked. I could not see the answer "No" pleasing them, and so I said "Yes". Their toadstool bedside lamp casts a gentle light and I thought it would be enchanting for them to sit in dim light and explore their surprises. After a short while of listening to them chatter I dragged myself out of bed to tend to them. When I walked into their room the two of them were both snuggled in Elle's bed. They were laying there cuddling and chatting. Seeing them close, and loving, and sharing like this was heart warming. They are so lucky to have each other, to be sisters. It was one of the best moments of motherhood I have had. I have had many special times like this when I think of it, but something about it being the middle of the night, the gentle light and the air of excitement, made this a moment to cherish above others. I bent over and sprinkled them each with kisses and words of love, switched off the light. Back to sleep they went, side by side until dawn. When they were back in my room to wake me again…at 6am.
This time I rose straight away. It was light enough that I new it was a near reasonable hour in the morning. The sunrises was beautiful, casting a warm pink glow into the girls room. Elle went upstairs to the attic to wake Cam and Maya embarked on the bedroom egg hunt. When the Easter bunny fills the baskets she also hides dyed eggs around the bedroom. Maya filled her basket with dyed eggs as the sun filled the room with morning light. I curbed her enthusiasm briefly, saying that she needed to wait for Elle, then thought better of it. "Find them all, and then you can hide them again for your sister". I reconciled.
I had put some effort into their Easter basket and they were really excited by what they found. Along with a pair of chocolate bunnies, we gave them some Maileg fabric mice and a tin suitcase and mouse bedbox. I made a bunch of miniature mouse clothes and bedding to put inside the suitcase. I also made them a cardboard mouse house, but kind of ruined it by painting it, so will have to make another one day. I was so disappointed, I went to all this effort with numerous nights work after they were asleep to build this cardboard mouse house and then ruined it when I painted it. Oh well. My husband was not sympathetic, "Why did you paint it? The cardboard looked better". Well I don't know why…because I like white…but it was not the best choice. I was using up left over house paint, and it was too heavy. Anyway. They enjoyed the mice and the clothes and Elle made a very cute clothes line from ribbon and pegged all the mouse clothes up with mini wooden pegs that I found when cleaning out Mum's house last trip to Australia.  Oh I love my creative girls and their precious play.
In addition to the chocolate bunnies and fabric mouse, they each got a pair of baby doll PJ's for Summer. I bought these for less than half price from I Love Gorgeous last August, and have managed to save them hidden away all this time. This is part of my goal to not just buy them things any old time, but save things for special occasions – and when I do buy them things, buy things they adore. My friend Faith has inspired the art of selecting really lovely things. The old saying...have quality not quantity. They are the sweetest pajamas, cotton voile set with lace insertions and pin tucks. They are so cute they could wear them out to lunch – which is great because Maya and Elle like to stay in their pajamas all day! What else…a box of flowering bulbs to plant in the garden, and a bamboo and cotton fan – that was actually from my Mum and came with parasols she sent them. Now there is a funny story attached to these parasols, they almost tipped me over the edge the week before last, they had me in tears and my Mum talking about suicide. Yikes, I will spare you the eccentric blah blah blah details. They fell into my "Totally un-necessary…Don't buy us things" rant that happens when my consumer conscious is rearing it's ugly head. That aside, they are bamboo, and cotton and the girls really liked them. I have mentioned before wanting to join the (totally crazy) Brooklyn Parasol Society at Sakuara Matsuri, and so maybe now we will! The girls loved all the pretty little things. I felt like we gave them a lot, and I vowed that next year it will be less. It is a gradual process to be weaning them to less, but not make them feel like they are getting less or missing out. I wish I had been smarter and kept it simple a years ago.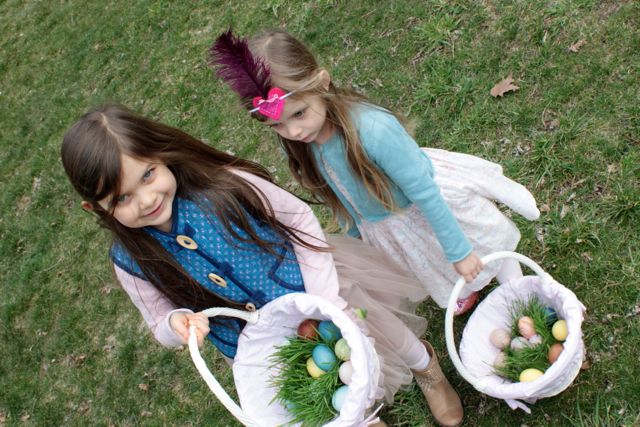 Our neighbor's twin girls who go to Maya's school came over for an Easter egg hunt in our back yard. It was a perfect gentle Easter egg hunt – which is about all we could handle after the early morning excitement. I had fond memories of our Easter Party last year, but enjoyed keeping it simple this year given the Bathroom Renovation events.  The girls found all the eggs and then re-hid them for the Dads to find. It was very cute watching the girls giggle and skip as Cam and Ken walked with Easter baskets in hand around our yard. Dads are so much fun and such good sports. By the time that was over, Elle was over tired and sensitive. We bid farewell to our neighbours and I sent everyone to bed to watch cartoons. Easter morning over, with a warm feeling of satisfaction welling in my heart.