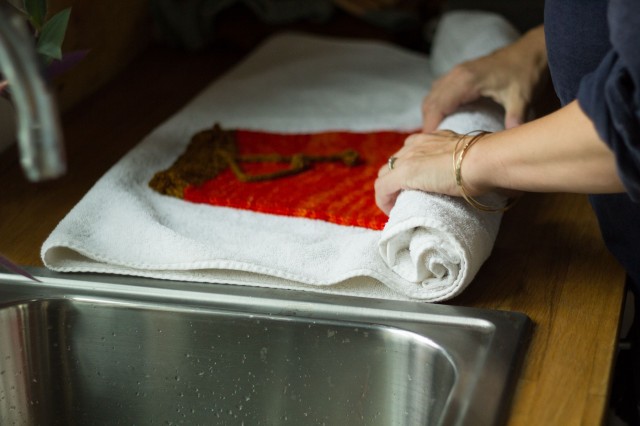 It is always great to have tips from those that know, and when it comes to hand washing wool Anna Wallack of Misha & Puff is very knowledgeable. I spoke to Anna recently asking her to share her hand washing technique for woolens, and I am so glad I did, the towel rolling technique to press out the water is going to change my life! I love the ritual of hand washing our sweaters, as it means my life is not too busy and I am making the time to care for our belongings… and when you have artful handmade knits, they should be loved and looked after in the best possible way. This my friends is living a beautiful life! Much thanks to Anna for sharing this information. I know a lot of you will think this is great, and for those of you just setting out on the journey of buying quality knits for little ones, wishing you many wonderful years ahead of adoring Misha & Puff knits. 
Hand Washing Wool By Anna Wallack 
I am so happy for fall and cooler weather. I think babies are happiest when they are cozy. I think the wool and warmth gives a sense of calm and security. I love to bundle a baby in hand knits and go for a walk in the bright crisp air. Imagine how nice a nap in the sun is when bundled and tucked into a carrier or stroller! Truly heaven.
Misha and Puff pieces are meant to be worn and treasured. After the first washing the yarn will soften and bloom. Wool is easy to care for an does not need to be washed very often (really!). It is naturally antibacterial and often times just hanging your garment outside for a few hours is enough to refresh and renew. However, our garments may be washed in the machine on delicate with a wool detergent. Wool is naturally elastic and will not loose its shape – ideal for growth and movement as well as dressing wiggly babies.
How I do it. First, I would like to tell you, that I am a very unfussy person.  I really like my house and clothes to not be too precious, meaning, really, I don't want to own anything I need to feel uptight around. I have concrete floors in my house, a dark linen couch – you get the idea – stuff that hides dirt and looks better with wear. I want my children to feel like this is their house too. We take care of things, but should an accident happen, it is not heartbreaking. So, the knits for Misha and Puff really are easy to care for. It's ok if your baby spits up or it gets covered with food or whatever else. They are not precious. I alternate between hand washing and machine washing. If I have the time I hand wash. Basically it is always gentler, and I like to spend time touching the knits. When I have the time I find this to be very soothing, and meditative. Taking care of hand made goods is very rewarding. Things like oiling a wooden bowl, shining shoes, or darning a sock; hand washing is a chance to examine the clothes, the stitches, to add your hand to the piece. As I said, when I have the time, I quite enjoy it. BUT, sometimes, you need it quick, and so you can wash in the machine on delicate. Do not ever dry in the dryer.
Hand Washing Process
1. Fill a sink with lukewarm water (too hot or too cold shocks the fibers)
Wash like colors together.
2. Use very little soap – best to use a wool detergent because it produces less suds. but in a bind I have used any non-scented detergent.  but really, less than a thimble full.
3. Agitate slightly, soak for a bit and then rinse with clean lukewarm water.
4. Squish out excess water – DON'T TWIST OR WRING OUT! when the knits are wet, they are very susceptible to stretching (in that case if you ever want to stretch a piece to be bigger or have longer sleeves, etc.  do it while it is wet)
5. Lay flat on a towel and reshape.  roll up in the towel and squeeze out extra water.
reshape again and leave to dry flat on a fresh towel.  If you can, place outside but not in direct sunlight.
To Store
Fold or lay knits flat. Never hang knits, this will stretch them. We have a cedar chest where we keep our knits in the off season. Cedar blocks or a lavender sachet are nice too and will help keep away months.  Always wash knits before putting away for the season.
Photo Credit: Stacey Rupolo
Be sure to look at the slide show, to gather all the visual tips!
Follow Misha and Puff on Instagram