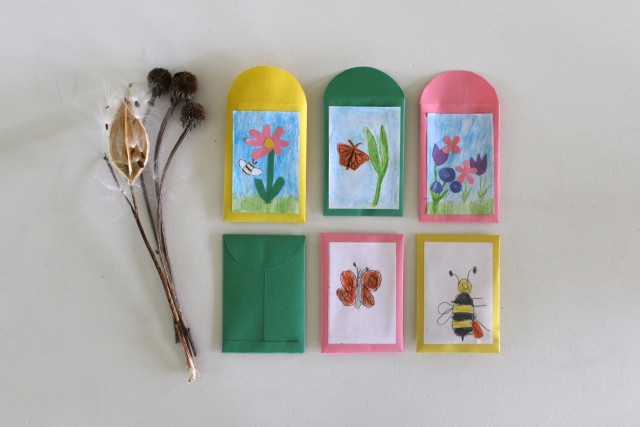 Add beauty to the garden, and help the pollinators by being a seed saver! Make and illustrate seed packets that hold collected dried seeds from the previous season and gift them to friends. A thoughtful craft, that encourages family and friends to be seed conscious and will lead to hours gardening together. Plant Milkweed for the Monarch butterflies, and Coneflower for the honey bees and your garden will be a beautiful vibrant ecosystem.
This project was sponsored by Crayola.
You Will Need
Construction Paper
Washable Glue Sticks
Water Color Pencils
Water Color Paper
Scissors
Collected seeds (milkweed for the monarchs, coneflower for the honeybees).
Method
1. Collect dried seeds from the garden. The honey bees love coneflowers, and milkweed is the number one plant to help the monarch butterflies. It can often be found in fields and on the edge of woodlands.
2. Using Crayola Construction Paper, cut large squares.
3. Draw a seed packet shape onto these squares, and cut them out. When measuring, make sure you leave a little extra on the sides for gluing overlay. If you are making multiple seed packets, make one first, and use it as a templet to trace onto the other squares.
4. With the Crayola Washable Glue Stick, fold and paste the packets, leaving the top open to fill with seeds.
5. Design floral, butterfly and bee pictures to stick on the front of the seed packets, using Crayola Water Color Pencils and Crayola Water Color Paper. You can also add more depth by collaging an image with Crayola Construction Paper. Draw bees for the coneflowers, and Butterflies for the milkweed, to indicate which pollinator the seeds will help! You can also write planting instructions on the back of the seed packets if you wish.
6. Stick these drawing to the front of the packets.
7. Fill packets with collected seeds and seal the packet with Crayola Washable Glue Stick.
8. You may also like to write a Mother's day message on the packets!