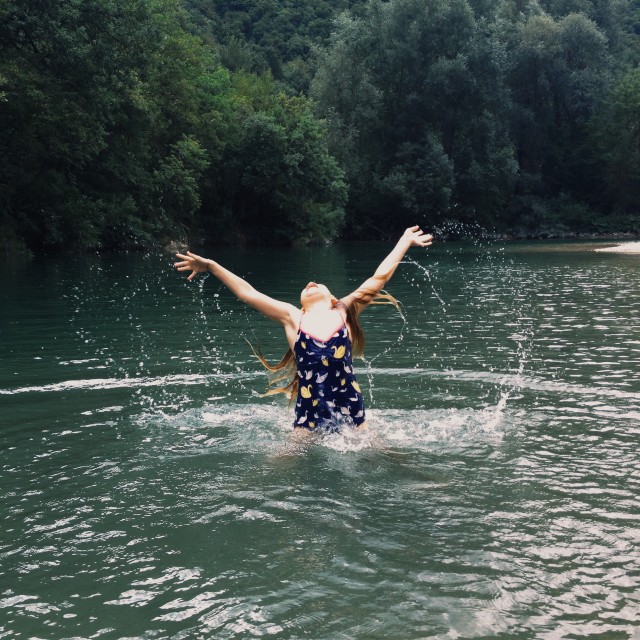 Words & Photograpy By Flora Jamieson
It always feels like the winter months take forever to pass, but then one day in April the skies clear, the wind drops and the tide is low.  So we tentatively pack swimming clothes in our basket and head off to the beach. The cliffs, dotted with gorse and sea thrift, shelter us from the cold northerly breeze.  The sea is calm.  I walk to the waters edge with my daughters and we gingerly dip our feet into the icy cold water, then wade out a little further. The sun on our faces gives us the courage to take the plunge – to make the leap from comfortable and warm to exhilarated and free.  It is like the most beautiful madness.  So cold that it is impossible not to squeal as we submerge our waists, shoulders, head.
Once under, I open my eyes in the foggy greenish-blue to see my outstretched hands in soft focus, and the sunlight sparkles dancing on the surface of the water above me. I know that I won't be able to stay under long before succumbing to the cold, so I take in every single second of the experience before resurfacing and flipping on to my back.  Gently I kick my legs, sending water, bubbles and foam flying. I watch the birds wheeling about above me and drink in the scent of the sea. My youngest daughter dog paddles over towards me and clings to my arm, grinning and shivering.  My eldest is swimming confidently, enjoying the moment as much as I am.
Afterwards, we are back on the beach, wrapped in towels – not feeling cold at all, but every inch of us alive and tingling and wishing we had stayed in just a little longer.  I look at my girls and see how they are shining with the accomplishment, their hair salty and tangled, their eyes bright and wild. From then on we'll try to swim as often as possible throughout the spring and summer, until late autumn when we finally concede defeat that it really is too cold to be pleasurable or even safe. Every swim, be it in river, sea or lake, is a gift.  There is always a chance that the water will be too rough, or the wind too cold or the tide too high.  So those moments when it all comes together and we get to immerse ourselves in nature are precious and to be treasured.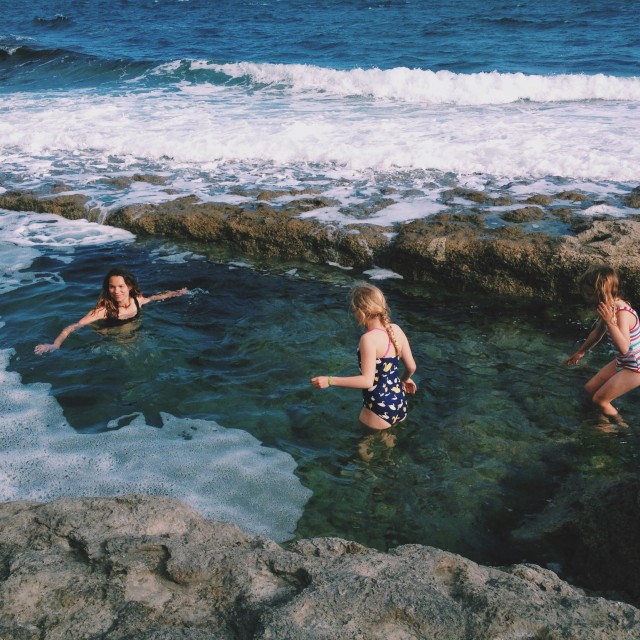 Notes on Swimming in Wild Waters
Here are some things I teach my children about before and during our swims. The most important thing to check is that it is safe to enter the water – rough sea, fast rivers and jumping or diving in are a definite NO.
Take the time to find a safe place to enter that does not disturb the wildlife.  And make sure you will be able to get OUT afterwards – while it might be easy to slide down a mud bank or smooth rocks to enter the water, it is much harder to climb up when you are wet, cold and tired.
I ask them to be mindful that conditions can change from minute to minute: water levels can rise rapidly due to rainstorms upstream; tides will come in or go out; the wind direction can change. We always check local weather conditions and tide tables before we make any plans – I have apps on my phone for this.
Be careful of rip tides and currents, submerged rocks and weeds, sharp objects on the sea/river bed and floating logs or branches. Make sure the water is clean. There are some excellent safety guidelines here.
I also teach the girls to be respectful of the water and the environment. Plants and animals live here! If we need to wear sunscreen, we apply it after swimming to stop oil and chemicals getting into the water, and we don't wear make-up or hair products.
We are careful where we tread so as not to damage plants and creatures.  We make sure we do not leave one scrap of litter, and we take away any litter we find that has been left by other less thoughtful guests – even the tiniest piece can be harmful to wildlife, as well as being unsightly.
Follow Flora Jamieson on Instagram