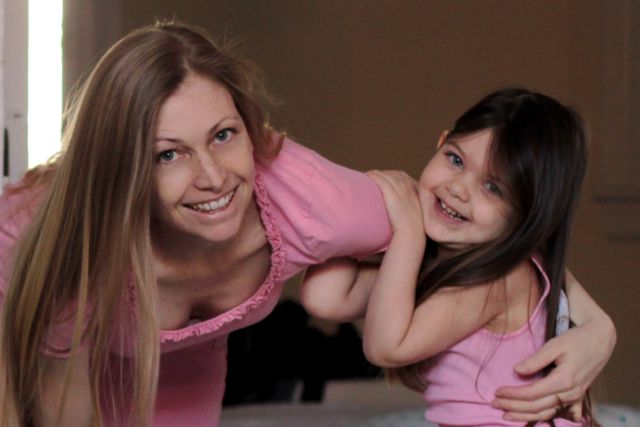 Sometimes we have trouble getting dressed in our house. This is not because we are unable to dress ourselves, but because the independence of getting dressed by on self can start at age three, and when one is three and getting dressed, there is much to consider.
Often it t takes three of us to dress one little body, usually three outfits are tried on and discarded and it all seems to occur because a certain someone is aged three. Just don't suggest pants, or brown, or anything remotely 'not pretty'.
To help this process along I try and ask Maya to choose my clothes at least once a week. I figured that if I were in her shoes and vice versa it may help the getting dressed situation. And so I started saying, "Maya, come and help Mummy get dressed". Maya happily comes to my cupboard and glazes over the options. Usually she decides what I should wear based on some other preference beyond what is available, saying something like " I think you should wear violet sparkle today". which of course is met by "Well, I Â grew out of my violet sparkle pants, so you will have to chose something else for me". Maya will then take a better look at my clothes and say "Pink, I want you to wear all pink today"…..and since I actually like pink, this can be done and so I wear head to toe in pink…to please the three year old.
No matter what I end up wearing, it is heart-warming to relate to Maya, to accept her choices for myself and show her that someone else can suggest what you wear and you don't have to have a tantrum. By asking Maya to dress me, I then have the joy of hearing my little girls says to me, "Mummy, I love your princess belt, you look pretty today".
So next time a little someone is stamping a foot about getting dressed, take them by the hand and have them dress you. Be brave and try this, ask a three year old to dress you and see what you wear. It might just make you laugh, which is much better than the tears that can burst when trying to put a little persons coat or shoes on. Let me warn you though, before attempting this with a girl, hide anything that looks remotely like a wedding dress or princess gown!