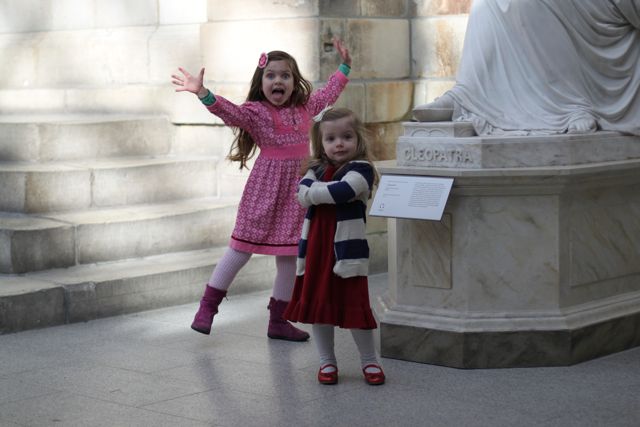 It is that time of year when bit by bit we re-visit all the New York City Museums and Galleries. The cold weather forces us in doors and then cabin fever forces us to the Museums! Of course we hardly need to be forced to go and visit the Metropolitan Museum of Art, it is an amazing place that one can get lost in for hours…or days…years and still not have seen everything.
With something remarkable around each corner, the Girls ran from this to that, exclaiming over things that caught their eye. Maya has begun to recognise religious icons and will point out baby Jesus when she comes across him. Elle is now a very keen Museum goer and appropriately says "Wow" with a slow drawn out linger when we see something she thinks is magnificent (which is almost everything!). We are still learning the art of "Looking not touching" which can be tricky when you are 2 and 4 years old, but all in all they are great company on a day out to an establishment like the Metropolitan Museum of Art. It is wonderful to see things through their eyes, and answer the inquisitive questions…"Mummy why is her boob out?" and also "Is that a man wearing a dress?" Both of these question from our clever little Elle, while viewing Greek Sculpture. Maya wanted first to explore the Egypt Installation as Mummification has been the source of much talk lately. This morning she told Cam that "We are going to the museum to see where they put the dead bodies that get all wrapped up"…meaning we were going to the Met to see sarcophagus!
The Met has some wonderful natural light filled areas that are so warm and bright in the midst of Winter. With two great cafes and a wine bar, with views into Central park, yummy food and great seating, the Met is a good place for lunch. We sat and had a delicious morning snack (really good food actually) before exploring the exhibits.  I had packed lunch that we then saved and ate on the train ride home, back to Brooklyn. Tired and inspired from our day out at the Met.