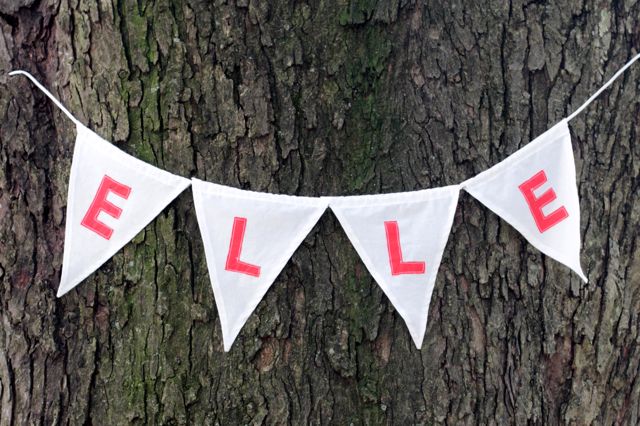 I was able to spend some time at the sewing machine this weekend, something I feel like I do not get to do enough! Cam took Maya to swimming lessons and Elle tagged along and so while they were out, in a sewing frenzy I made this personalised garland for Elle, and something else for Maya, which I will show in another post too.
Lucky for me, Elle's name is very easy to sew in block letters, I only needed to make a pattern for two letters, and there are no curves so it is breeze to sew. I used an old sheet for the white base, and had a little scrap red fabric laying around. I threaded it onto the off cuts from my rope clothes line in the basement. Have to love these thrifty craft projects!
Weather permitting we will hang it outside on a tree, but if it rains I think it looks rather cute hanging above the toadstools painted on our windows….which is where I quickly put it so it did not get lost in the creative chaos taking over our home right now. With annual birthday themes for both Girls, we are starting to have quite the collection of garlands. I like how they are all different, you can see a few of the variations I have made here, here and here.