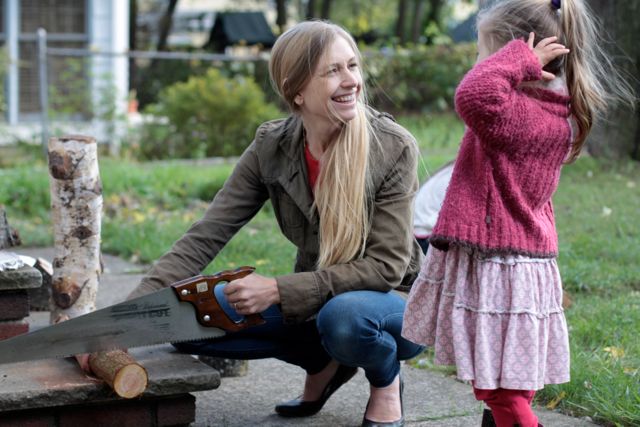 I am toadstoolly crazy…and I have been having so much fun! With a little over a week until Elle's Woodland Mushroom party, I have been focused on all things toadstool. I love how when I set my mind to a project, I seem to be infinitely inspired and can work tirelessly at creating an experience. This week, while moving segments of a tree trunk, digging a hole in our lawn, and spending hours sawing, I came to realise that I do not do thing by half…I am driven!
Let me unfold this week…
Monday, I decided I wanted to make some rustic timber cake stands. I noticed a tree had been cut down near the train station and so I went down the street to fossick for wood off-cuts. I found a few piece I liked and then went home content with my cake stand project process. This involved much sawing – which I have to say I am very slow at, but since my husband has had a recent broken hand, I kept to it. Truthfully also, I am so impatient I could not have waited until this weekend for him to do it even if he could have. So I sawed, and sawed crooked, and sawed again, and now I have three rustic stands – one for a cake and two for cookies.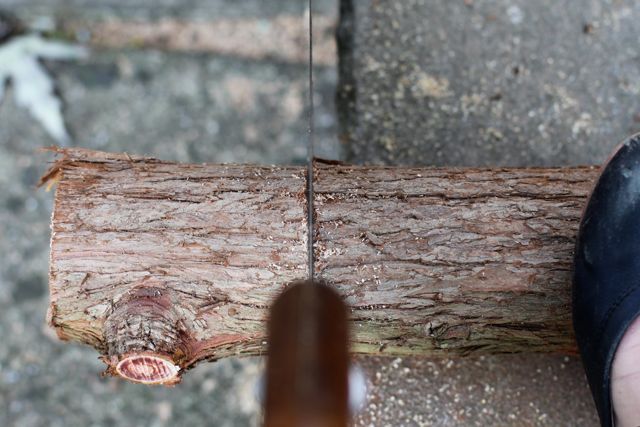 Tuesday, a seed of an idea had been planted and I now "needed" the large segments of tree trunk by the train station – and I needed them now! They seemed like the perfect seats for our woodland party, and I could clearly see in my imagination, these tree stumps circling a small fire pit. It was all too much of a co-incidence to me that the tree had been cut down at the end of our street, and the wood was sitting there, cut into prefect seats – just when I needed them! Now, being the person I am, sometimes I am faced with doing what is right, or doing what I want. Should I call the City and ask for the wood? My sense told me that my desired outcome probably would not happen if I did this, but I needed someone else to tell me it was ok to do the "wrong" thing, so I went to ask Nina.
Nina has lived here for over 20 years, and so I valued her opinion. Nina walked with me down the road to the woods pile, listening to my idea. Nina took one look at the downed tree sliced into chunks and said "Just take it, don't ask." and then generously offer to help! Nina went on to explain that there is a man in town who heats his home by fire all Winter without any other form of heat, and she was surprised the wood was still there because usually he is out collecting it. Nina thought I was doing the city a favour by removing it and I could not have agreed more!
Nina and I walked back to our homes, grabbed work gloves and then drove back in my car. It took the two of us to lift each piece of wood, and only four would fit in the back of the car at a time, so we made two trips. It was an easy task – and while not effortless, it was painless and we got a good shoulder, arm, leg and butt work out. Nina and I arranged the wood in a circle between the two old trees in our back yard. It all seemed meant to be as this area of the lawn does not have have good grass as it was covered with soil after they removed the oil tank, just before we moved in. If we had had nicer grass, that I was precious about, I would never have dreamed of doing this. The tree stump seats made the lack of grass seem appropriate. I was so very grateful to Nina for helping and she exclaimed, "You are just like me, where were you twenty ears ago when I needed you?".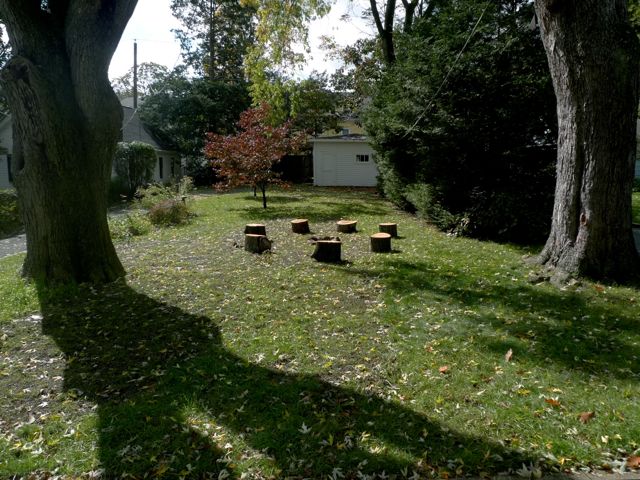 Wednesday, it rained so I worked indoors. Elle and I painted some cute toadstools on the dinning room windows. This is a really simple and cheap party decoration. Using acrylic paint – straight onto the glass. I have done this before a few times, and it is easy to remove with warm soapy water or windex and paper towel. We also block printed and hole punched some gift tags, and we re-covered some chocolate bars and decorated them with the mushroom prints on origami paper that we made the week before last.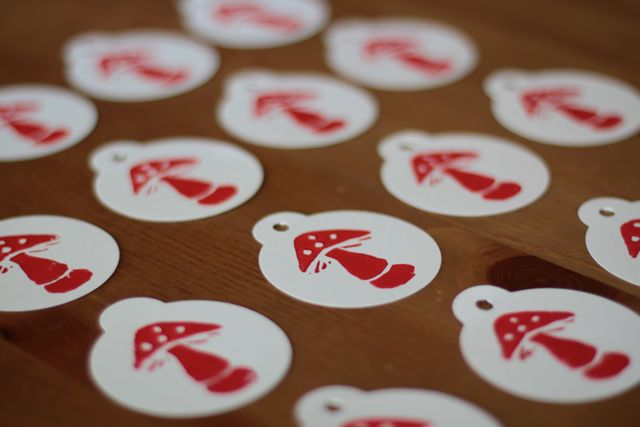 Thursday, I set some time aside for digging out a small fire pit. I would have dug it out deeper, but there were too many tree roots that I could not dig through – I need a maddock. I then I lined the circle with rocks from the back rock garden. I really like the idea of a permanent stone fire pit, and have the feeling in years to come I will try my hand at stone machinery. I did a general yard tidy up, with the help of my little one, raked the leaves and collected kindling for the fire.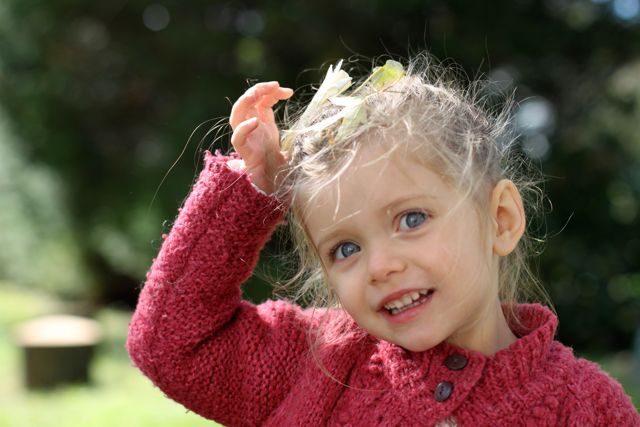 Friday, now and here we are and it is all done. I am feeling satisfied creatively and physically spent – my favourite combo! Time now to think about the food and the games. Looking forward to cooking up a feast next week and sharing it all with friends. Rain or shine, it is going to be one special party of our little Elle. I am celebrating this Birthday with a sadness, turning three makes Elle seem grown up. I will be glad to do so surrounded by the friends that I know can relate to this bitter sweet feeling of your baby no longer being a baby. We can not wait for you all to arrive on Sunday afternoon, and for this party to begin!