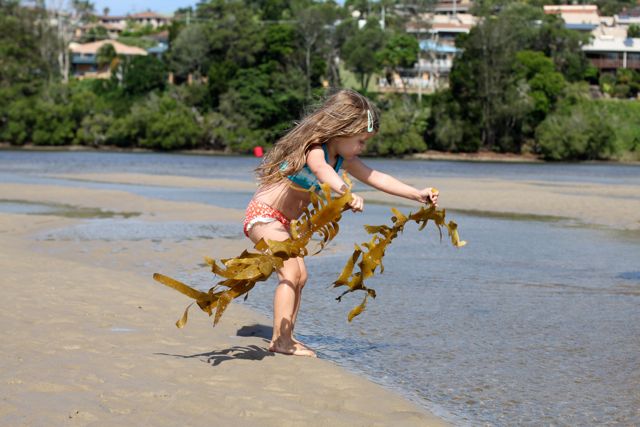 So hear we are back to the beach again…this time visitng Evans Head. Evans, as locals call it is a small coastal town half hour drive south of Ballina. It is about the same distance as driving to Byron from Ballina, but the other direction – heading south down the coast. It is sandwiched between two National Parks, the Bundjalung National Park and the Broadwater National Park. To get there form Grandma's house we drove through Broadwater, or 'Sugartown' as it was once dubbed because of the sugar cane mill. It is a beautiful drive south, through cane fields and bushland. The vegetation is different to that driving North, there is a noticeable change from rain forest into dryer and coarser vegetation.
Evans Head is a favourite destination for many who want to avoid the crowds of more developed beach towns like Byron Bay. With a population of less than 3000 people, it is tiny, and in the off season, very sleepy…but you really get the sense while there, that it wont be like this forever. It offers much in the way of natural beauty, and still comes across as 'undiscovered', which is what I love about it (and I know that is why you love it too Zoe and Donna!). Evans Head beach is popular for fishing, surfing, swimming, and I might add, collecting shells too. Evans is very much a classic coastal Australian town that has not yet become overly trendy or hip. It is not at all a shopping destination, the majority of the stores are closed on Sunday, but you can buy a great espresso coffee there. Evans offers a few good places to eat and has a large supermarket, so you can grab some groceries for a picnic.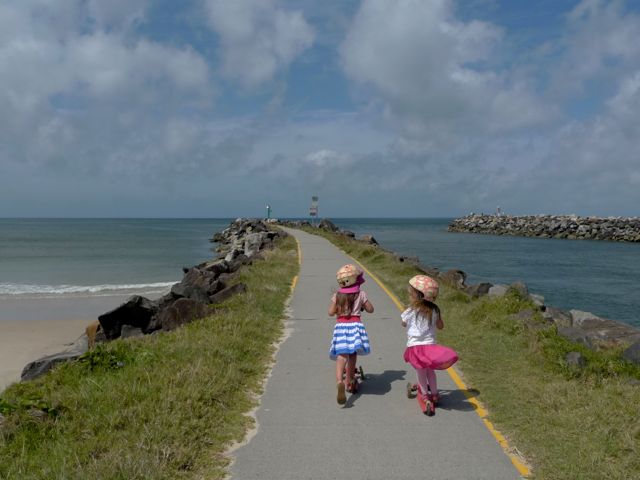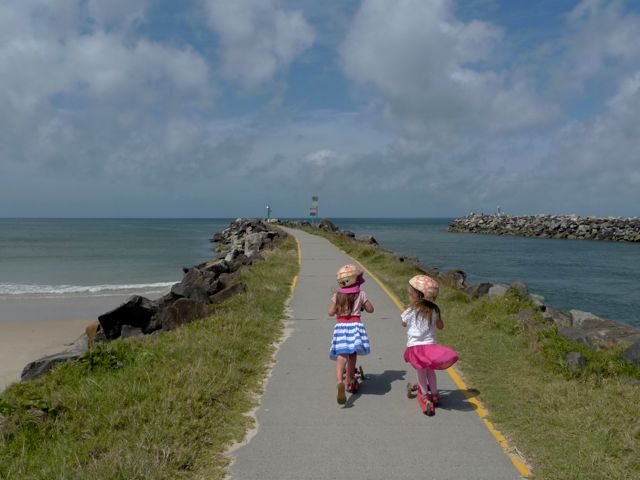 It is a good place for families with small children as it offers both the beach and the river. Cribb Reservation on the river is the best! It is a popular place to picnic or camp. There is a well designed esplanade, with lots of grass, shade, and BBQ areas. Along the way you will find plaques about protecting the native wildlife and a historical figure statue. The Girls loved riding their scooters along the river to where it meets the ocean.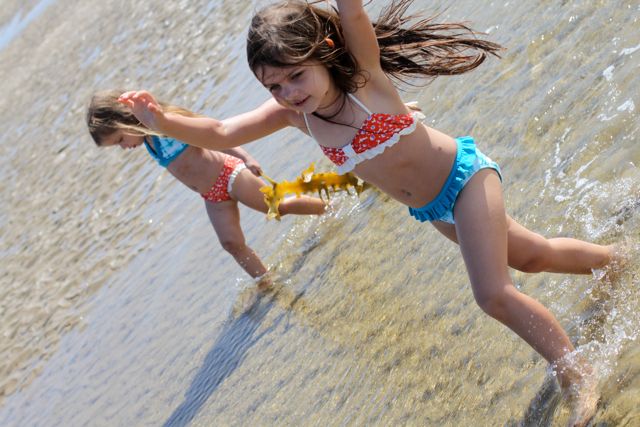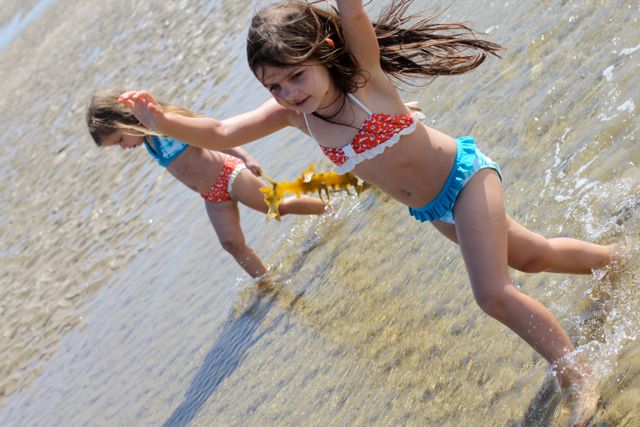 We were there at low tide and so they played on the rippled sand flat of the river. There were lots of low tide treasure to be found, shells, kelp and crab sand balls..and the odd piece of plastic rubbish. The river at low tide was ideal as there were isolated warm clear shallow pools for them to run and jump in. As you will see they wanted to wear each others bikinis…nice to have a sister to swap with right?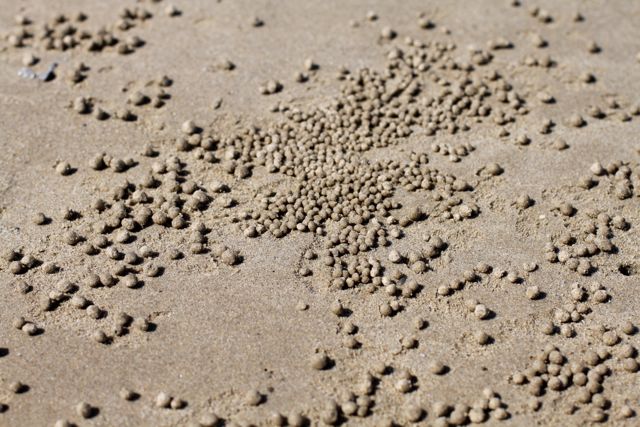 As a child a was inspired by the crab sand balls, the amazing little spheres that are the product of an industrious search for food. The Girls were familiar with them as we would find them daily at low tide on Grandma's beach. They are something that I think everyone finds intriguing. Even now as an adult I stop to try the impossible task of pick them up and involve them in some sort of sand play. On this day there was an enormous mass of crab balls, all over the place. I love the disposition of the crab, the way they seem to be so neat, tidy and efficient, making these little perfect balls, into a haphazard patterns that are somehow orderly…so artful of them!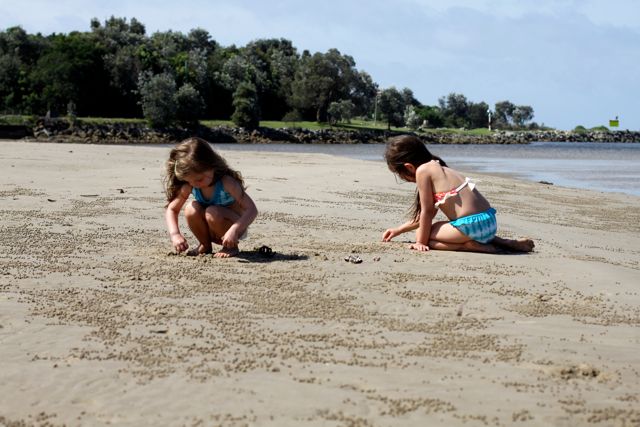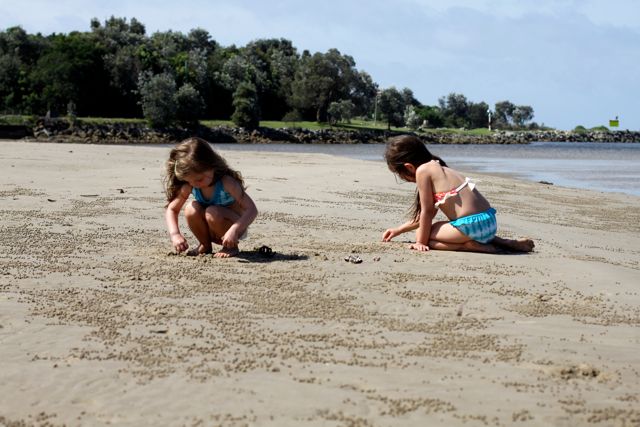 For the most part, we were the only people swimming in the river, that was until a high school class arrived with their teacher. They all undressed down to their swimwear in one of the rotundas, leaving their school bags sit while they swam in the river. Their teacher joining them. It gave me great appreciation for the Australian school system. I think it is fantastic that the schools are not fearful of something happening and involve outdoor activities at the beach as part of the curriculum. Surfing and fishing are offered as class activities, meaning you can choose surfing as sport, or for gym class you can go fishing. While at many of the North Coast coastal towns you can find a group of children spending time by the sea or river with their teacher. This kind of thing is not a special excursion, but part of the weekly schedule. Ballina primary Pubic school has a Marine Biology research Center built on the school grounds. I have never been in the building, but the outside is painted turquoise, and looks gorgeous. I am pretty sure (correct me if I am wrong!) the Ballina High School has a school boat to take students out on the ocean.
We have a soft spot for Evans Head, and when we were considering moving back to Australia last year we looked at houses there. Maybe one day we just might end up in or near Evans again…In the meanwhile though, I am so glad we had this lovely day there.