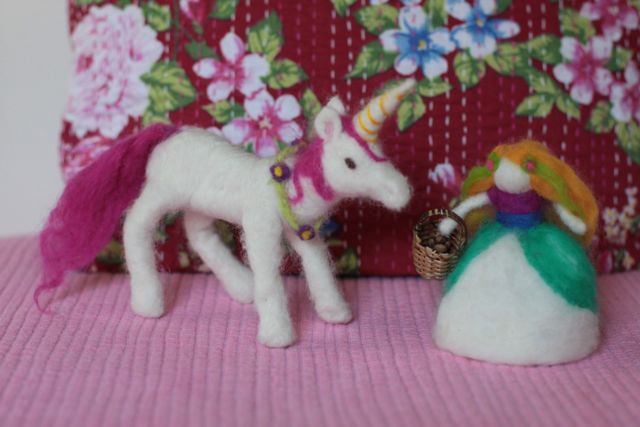 We have a favorite toy in our home at the moment that is the source of much creative play and so I am going to introduce you to our unicorn.
I designed and needle felted this unicorn from scratch and since finishing it the unicorn has been within reach more often than not. Currently unicorn is dressed in a Barbie sized flamenco dress from Grandma and Pop's trip to Spain. Elle has claimed the unicorn as her own and it has been very busy doing the unicorn's job of cleaning the worlds water ways.
We love the folklore of the unicorn – something that many people actually do not seem to know. The unicorn horn purifies water. If a unicorn dips it's horn in a pond, stream or river, the water becomes pure. However it is said that the unicorns power is rendered useless if it is near a virgin female…(I left this bit out when telling the Girls…as I did not want to spoil all of the water purification going on). I learnt about this folklore many years ago while reading the history of the unicorn tapestries at The Cloisters Museum.
It makes me so happy when the Girls play for hours with hand made toys or found objects. Sticks, rocks, shells, wooden animals and the needle felted things I have made keep them inspired and content. There is something peaceful and free in these objects, they are not loaded with environmental issues that I feel guilty about. Let me explain why…
A friend of ours is a toy designer for Mattel, an industrial design university lecturer and the maker of these magic wands. He told us the other day while having a 'bad plastic' conversation that plastic never actually breaks down, it only breaks into smaller pieces…yep folks…that means dust sized particles of plastic in the air, in soil and in the water. He also went on to say that when plastic is in the ocean, it becomes a sponge for toxins. It absorbs and holds chemicals and toxins from the water and so when a sea creature swallows it, it is like a toxic pill. Now I am not telling you all of this to upset you or worry you, but it helps to think of this as motivation not to be a plastic using person in your daily life. Especially for use-once-throw-away items like food packaging, plastic straws, balloons and a million other things. After having this conversation with Anneliese's husband Matt, I was inspired to be a better consumer…and so my mantra…I am good, but I can be better.
I seem to come and go from being strong about not buying plastic toys for our children to play with. I have moments when I fall into the dark again and I am somehow blinded into a false sense that it dose not matter if I buy them plastic toys…I mean look at all the people buying plastic toys? My husband is also not as passionate as I am about this issue. He purchased a Barbie doll house and our first lot of playmobil for the Girls while we were in Australia. This makes it difficult as I then feel like I should not  care…but I do care…and the light comes on…and clearly it is wrong for me.
I know he can be converted because he is smart and wants what is best for our children and the planet. Just because others buy it, should not ever be a reason to think it is ok, because that should be the point of clarity, yes, the visualisation of millions of Mothers, buying billions upon billions of pieces of playmobil. Stack it all into a great heap and it should be disturbing. Yes, I understand that not all toys are going to end up in landfill, but lots and lots will, especially when many children these days have such large collections…Barbie, Lego, whatever it is, bits are lots, broken…chewed on by pets. Who wants an old barbie with ratty hair and chewed on fingers? Maybe a child that has never seen or owned a Barbie doll would like it, but who is going to send that gnarly Barbie to her…and does that make sense? Not in the slightest because even then it will likely still end up as land fill…and so my friends…once again I have found the strength to live in the light. No more plastic toys will come into our home, this is a declaration! We have enough, and what we do have we will take great care of so it can be recycled to another family and future generations.
I do however like toys and I like the Girls to have new things, and so the best option for me seems to be to make them toys. The beauty of making your children toys is that the children then see the time and energy it takes as well as the beauty of creativity and skills. My children love to be part the design process. It personalises the toy for them. Over time they learn the skills by watching and imitation and they see the love put into it which gives the toy value. As the creator of the toy you are more likely to encourage your children to care for the toy…after all you do not want to see your hours of work sitting in spilt milk…or sucked up the vacuum cleaner. I understand not everyone is a toy maker, but there are lots of people out there who are. Esty is a great source of hand made toys. I also like  Bella Luna Toys and Nova Natural . I plan on holding a needle felting workshop in the future to share this wonderful skill.
Thus one manifests the beautiful Unicorn…and for so many reasons the unicorn is fantastic, because  Elle loves it, because I made it, because it is made from wool and because this environmentally friendly biodegradable unicorn does a wonderful job of helping keep earths waterways clean. Both in reality, and in our imaginations.