Now if you are part of my family – don't read this, or it will spoil the surprise!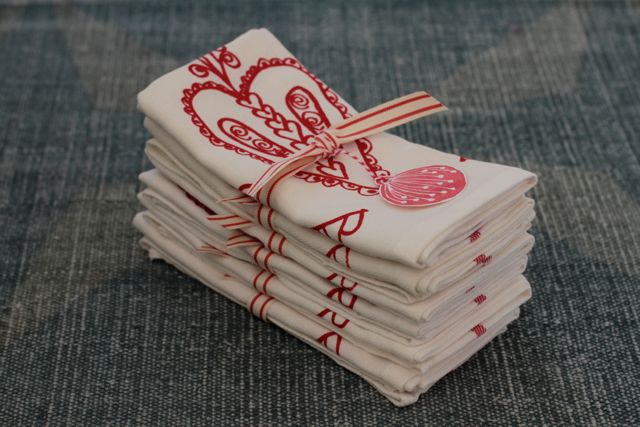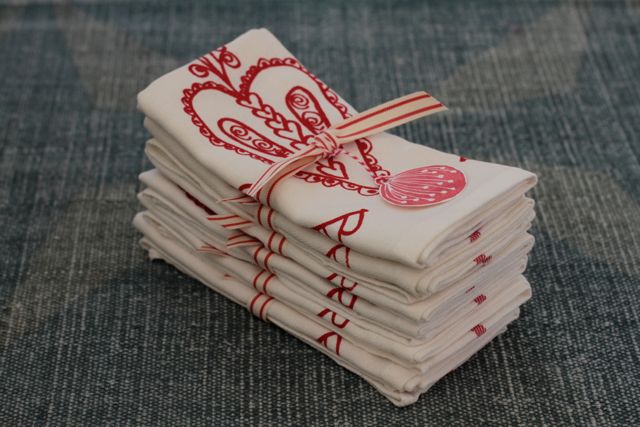 I like to have a handmade Christmas gift to give my family each year. Last year we gave them needle felted toadstools, and this year they will recieve screen printed dish towels. Last week I had a little printing factory in the basement and I screen printed Maya's heart image onto a dozen dish towels. This is really not many, but screen printing, like everything done by hand involves trial and error, and time, precious time. Certainly one gets better at these things as one goes along, but even a small batch like this involved me washing/drying the screen and re-taping it three times…because I kept bleeding the paint! I am happy to say though, that even so, I managed to print all of the dish towels without wasting any. Good odds! I wanted twelve to give away, and I did it. Maya was really happy to see her design re-printed. You might remember when we screen printed Maya's drawing onto t-shirts. We then went on to make a pair of screen printed cushion covers that I sewed out of recycled sheets. We gave them away before I had a chance to take photos.
Gift giving can be expensive, and I am please to say this was a thrifty project, as I purchase the dish towels from Ikea for 79 cents each. I looked other places, but I was unable to find any plain towels to print on elsewhere. I would have liked heavier quality fabric, but the price was right! I loved how they turned out, and think they are a simple, sweet and useful gift. I was pleased that they were small and light weight to post of to Australia. I tied some red and cream ticking ribbon around them and attached a hand stamped gift tag with bakers twine. Then packaged them up in a bundle and shipped them out. Nothing much to give, but a little creative handmade something to let them know we are thinking of them on Christmas day.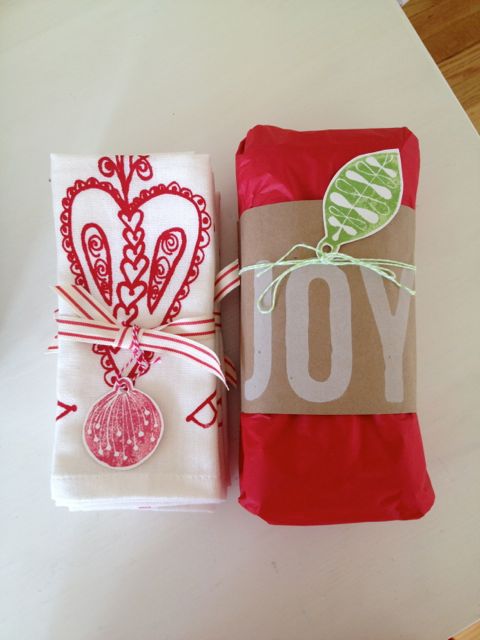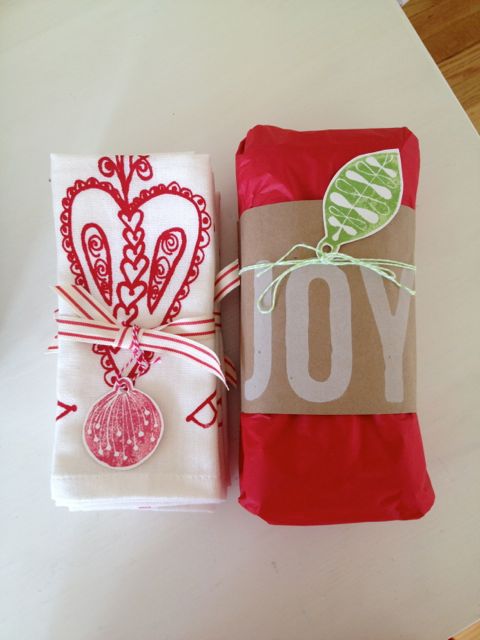 If anyone is interested in screen printing, I am very happy with the kit we have – Maya received it for her 6th Birthday, I ordered it from here.