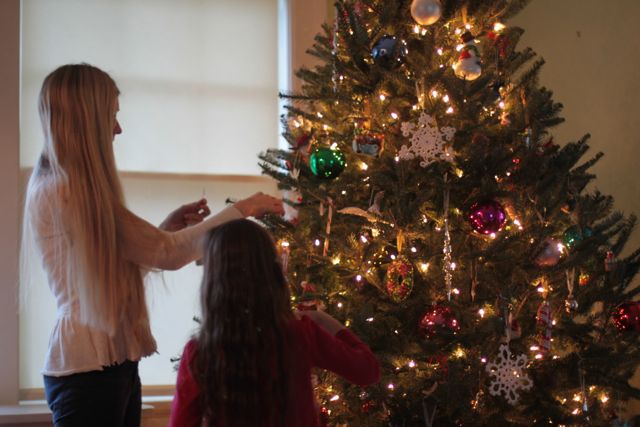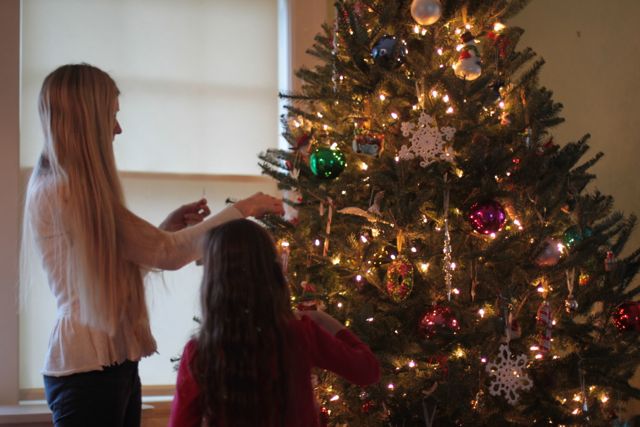 Oh it really is Christmas! Yay! I love this time of year, and getting a Christmas tree is one of the best days of the festive season…well it should be…but you know how life is, sometimes it just isn't so. This year we had intentions of cutting down a tree, rather than buying a pre-cut one. I wanted to go to a Christmas tree farm and and actually saw down a live tree (gosh that sounds terrible, kill a tree!). I had heard about a wonderful Christmas tree farm in Pennsylvania from a friend only a 90 minute drive from our house, and I decided we just had to go there! I became very excited planning our day out. I got up early on Sunday, baked muffins, made a thermos of tea, packed a picnic blanket, made sure the girls were dressed snug as two little bugs, filled the car with gas, and off we went.
We got about 10 minutes down the road and the whining and whinging began…"I want to watch cartoons on the iphone."…Elle insisted. "I want to listen to a different Cd." Maya complained. And so it goes, two children who would rather not be in the car for an hour and half start the verbal dispatch, that feels totally bombarding and impossible to dispel. Cam responded with threats to turn back home, and being that I actually think the children need to be able to sit and look out the car window without constant stimulation and entertainment, I did not intervene when he pulled off the highway and headed back towards Montclair. I was very sad that my happy perfect family life experience was not going to be all of that…and I was pretty peeved that I had gone to the effort to make it all happen, only to turn back around for tantrums. Humph! Kids! But I was pleased that my husband was not full of empty threats and that he acted on his words. "Girls, be quiet or we will go home"…and so we did. We went home. Without a tree.
These are the lessons that I feel we must teach the children, Misbehave and you miss out. I don't want my children to grow up to be needy. I don't want them to need something every time we are in a car. Did someone say "snack?" and I certainly don't want them to need constant stimulation from a device…iphone, ipad, or ipod.  Why, because i-say. Look out the window, close your eyes and have a nap, or, use that other wonderful thing that starts with i, your i-magination.
And so that is exactly what I did. I imagined I went to the adorable Christmas tree farm. I imagined we arrived just as a fog was lifting, and the tops of the trees were emerging from dense white. I imagined everything was dewy and moist from the condensation and the air was still cold enough that we were breathing fog. I imagined the Grandson of the Farm founder, who explained to us the protocol while giving us one of the red and white candy cane measuring sticks that was leaning against the 100 year old stone house. I imagined we happily walked through the paddock of trees, searching for the perfect tree to take home with us. I imagined the children co-operated to carry the measuring stick, one either end, walking peacefully until we reached the tree we thought was ours…I imagined, a wonderful live and fresh Christmas tree!
Sounds perfect right! Now what actually happened was that we went without a tree that weekend, and the following weekend Cam went down the road alone to the local Montclair tree lot "Fred's Trees" and picked a tree out by himself and brought it back to us. I was still a bit perturbed that I did not get to go to the Christmas tree farm and did not feel like going to the tree lot. I did not want a lot tree…I wanted an experience, I wanted to go to a farm, and cut a fresh tree so that it would hold its needles! But as you can imagine…this scenario, of a 5 minute drive alone suited Cam just fine. Anyway I did not get my imagined perfect tree, but you know what, we ended up with another kind of perfect. We have a beautiful tree, and I am grateful for that…and even though I was decorating the tree I did not want, it is the best tree we have ever had, and it is beautiful.
Note: Still using broken camera…so difficult!