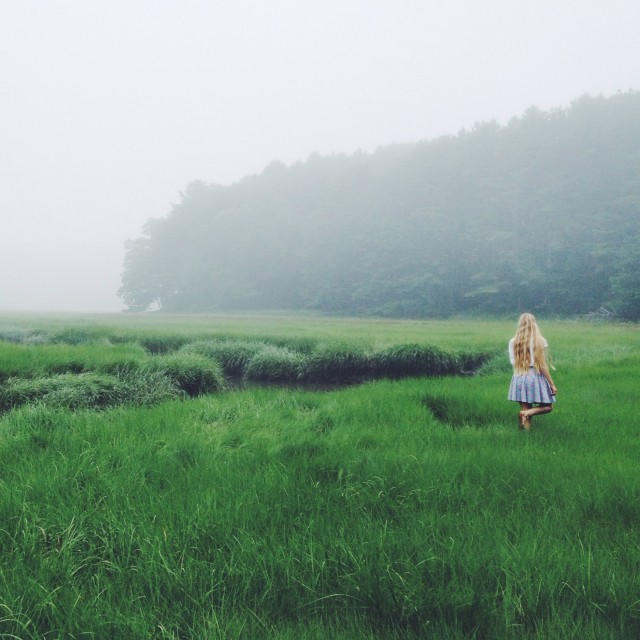 There are certain characteristics that I possess, that has made Instagram a larger part of my life than I ever imagined, and it is not my ability to take photos, it is my ability to be really into something, dare I say it, *addicted*. Due to the strong feeling and compulsion I have had around Instagram, I have been forced to think a lot about it, beyond, the simple act of selecting and posting photos. I have had to ask myself, "Is this good, is this healthy?" and I have had to impose Instagram rules on myself about how many photos I post per day, and be sure that I have days off when I do not use Instagram at all. I have established rules about when it is not acceptable to be Instagraming, like at the dinner table, or when visiting with friends. I have had to establish my own Insta etiquette, and make sure I stick to it. Instagram has seeped into our world in a big way, and I find myself thinking about it more than ever, and sometimes I am of two minds about it.
Being really into something can be positive, like if it is gardening, or yoga, or knitting and it is kept in balance, but when it is something that creates two minds, I have to question the value. If somehow being 'into it' becomes a compulsive action then there is a mental struggle. Now and then for me there is an underlying negativity I feel towards Instagram. For me the down side is that it takes my attention away from my children. I do need this diversion on occasion as a homeschooling mother, but I have to make sure it is not all the time. To limit this I try to Instagram when they are occupied, but still I find myself saying "In a minute!" to the children because I am busy 'liking' photos of a whole heap of people who are not in my present, when the little one I love is standing there in front of me, loving me. Another reason I feel oddly towards it is the physicality of holding the iPhone, and staring at the bright screen does not feel healthy, when done in excess, or at crazy hours of the night. I feel the vibration of my phone and the kind of energy it radiates to be pretty intense. If my future teenage girls looked at a device as much I do, I would be worried for them. I keep on thinking to myself, if you do this all through the day, they too will do this all through the day.
Feeling addicted to something sets off alarm bells in my mind. I am grateful my life addictions have been gentle few. I don't drink soda or coffee or alcohol, and I am not a crazy shopper, and other than in my younger years, smoking pot for a short time, and being obsessed with one particular boy, this is the most questionable thing that has presented itself to me in years.
I remember when I first heard about Instagram, a friend of mine started using it, and I remember saying that I did not want to use it because I thought it would stop me from taking 'real' photos with my big camera. At some point I cast aside that view, and went crazy on Instagram, and sadly what I thought would happen did, I stopped using my SLR camera as much, and I stopped blogging too, because my Instagram feed became a mini photo journal of our life. The positive side of this is ease and convenience and the sheer popularity of it attracts so many people, it can be a powerful tool.
I also remember the day I realised Instagram could be a thing to connect with the masses, and that there were popular Instagram people, or Instagram celebrities. One day I noticed my friend was following a woman named Bleubird, whom  I inquired into, and discovered that my friend did not actually 'know' her. I looked at Bleubird's account and was struck by the fact that she was really really cool, she had 40k followers and her feed was a perfectly curated gallery of images, done in such a way to attract followers. In my naivety I had thought Instagram was a place for sharing images with people you actually knew! From that moment on I joined in the game. The game of collecting connections and followers, and getting likes. It was not in an overt way, just a natural curiosity to be a part of the Instagram community, meeting like-minded people, and being inspired, and sharing ideas.
The ball started rolling and my natural inclination to create, meant I used Instagram as an artistic platform. I could make things, and show everyone and get attention from it, but with ego aside, I could also act as an ambassador for the things I believe in, by having a bio that said  "I am a home-birthing, breast-feeding, co-sleeping, baby-wearing, home-schooling, vegetarian artist who likes to travel while loving the planet and all people on it", then by posting the photos that validate this I was able to define my life in images.
Taking photos is something I really enjoy, and I found myself wanting to make things and take photos just for the sake of Instagram. I loved it, but oddly with this comes the need to keep a balance of creating for the experience, not just the photo, and I found myself thinking of life BI (Before Instagram) when I used to just make for the sake of it. Largely I was still making and doing things I had always done. Celebrating nature by building snow caves, and making flower crowns, but the difference is now I have to get the photo, to get the likes, to get the followers, to get the buzz, to feed the feeling. There was something thrilling for me about seeing the likes climb higher. Had everyone ignored me, I would have been content in my little world of friends I really actually knew, but I was not ignored, I was mildly celebrated, and it gave me a buzz! The positive side of it is that having a community to share with has pushed my creative boundaries, I have made things I never would have dreamed of had I not been inspired to connect with so many people, but still I am kind of plagued by this desire to be a show-off, and to be out there, in a big way.
Now please don't turn me into some kind of grunting snorting Tasmanian devil (which they say are nearing extinction in the wild), because like I said, it was not my intention to take Instagram to this place. I have had mental dialogues with myself about giving Instagram up, in the devil and angel type way….the devil would say "Just keep doing it until you get to 10k, and then you can stop, that is a nice round number". Despite my intentions to have an Instagram expiration date, the universe was tantalizing me to stay hooked. At 9K I was put on the Instagram suggested user list. A list of users that Instagram compiles each fortnight. I received an email from Instagram saying, in part:
"Congratulations, kirstenrickert! You are currently featured on Instagram's list of Suggested Users. Being on the Suggested Users List means that we love your account and see you as a model Instagrammer. We're hoping during your time as a Suggested User you'll be able to show other users, new and old, not only your beautiful photographs but also how to be an awesome community member. Please keep that top of mind over the course of your feature as you gain thousands of new followers".
Being on the suggested user list was crazy. In two weeks 30 thousand new people followed me. Waves of people were pouring into my account. I felt like I was being devoured, that people were feasting on my photos, our life. The thing most confronting for me was that I was no longer accumulating followers in my usual, mummy, artist, flower lover, demographic, I had followers from a much broader cultural spectrum. For example, I was faced with young muslim girls writing to me very bothered by seeing Elle and Maya's bare bottoms dancing on the beach in my feed, and I was faced with people not as open to creativity telling me my creations were *shit*.
Then on a weightier level, I was also faced with hundreds of people taking, using (or stealing for those all fired up) my images. Every-single-day now, I see someone using my images. Please don't think I am bragging about this, because I am not, nor am I complaining. It is just a fact of my experience with Instagram now.
At first I was bothered by seeing Elle's image being used by someone as their profile picture or in their feed, and then it started happening so frequently that it was like trying to stop the tides. People would tag me and I would go to their feed and there would be 2 or 6 or 10 images of Elle. One particular feed was made up entirely of images of Elle and another little girl who looked so similar to Elle it was uncanny. I put in a lot of thought and discussion with Cam over it, and then reached a place of peace with it. During which, there were a few things I noticed. Firstly, was that this was a cultural thing. It was largely people from non-western cultures using my images, not American or Australian, or English speaking countries for that matter. Which made me wonder how much of the issue lies in cultural differences? I went searching for the Instagram guidelines in other languages, which I was not able to find (I would love to know if anyone else knows if the guidelines are available in anything other than English, and if so what languages?). By not being able to find the guidelines in say Arabic, I decided I could not be cross at people who may not read English well or at all, as maybe they did not even know the Instagram rules? I am very conscious not to be racist, and I would not ever block someone for 'looking' a certain way, or because they are doing something I do not culturally relate to, that is actually really not so bad in the scheme of good and bad. By taking a moment to read and learn the Instagram rules I realised how hypocritical the whole system is, and that everyone is always breaking the rules anyway. Some of the same people who complain/campaign about people stealing images of children, were guilty of posting images of babies bare bottoms, or kids in the bath (me included) which is also against the Instagram community guidelines, and culturally and morally offends many people. I realised that even though these feeds of pretty children that Elle is featured on are unsettling and culturally foreign to me, and even though, for example, I cannot read arabic, my gut feeling (thanks to the help of emoticons) is that they are celebrating the beauty of the child, and that it is not sinister, and that to them, she is lovely.
I also never wanted to fall into an ironic situation whereby I tell people not to use my image, yet I am quite happy for my children to appear on blogs and in magazines. Someone cutting an image of Elle out of a magazine and putting it in their scrapbook is really no different than them using an image of her on Instagram. Why would I bother being annoyed?
Still though, I understand how people are disturbed by this and it brings up serious issues of child safety and of pedophilia. What people have to remember is that like rape, these thing happen regardless of the image or look of the victim or a photo an offender has seen. The issue lies in the mental health of the perpetrator, not with those being violated. I have the choice to believe that the image of my beautiful flower crowned child does more good in the world than bad, and so I choose to make it free to the public, because by putting my images on Instagram in a public setting, I am basically giving the photos away, whether I want to or not. I consciously choose to bend like the willow and be zen with it. Decidedly take it as a compliment but also be super aware of our safety and wellbeing.
After my  recent experience of  two weeks of dealing with people 'not getting' my choices or my culture, I had a good lesson in tolerance and understanding, from both sides of the fence, so long as no one gets seriously hurt, I am not going to be the pot that calls the kettle black.
All in all, this past few weeks experience were one of those times that made me realise, be careful what you wish for, it might just come true. Now, it has been two years since I started using Instagram, and somehow I have become that woman with almost 40K followers (which I know is really not that many). Bleubird has since accumulated a staggering 147K followers, and I wonder how she relates to it? It must be so much a part of her life, and will she do it forever? Will we all do it forever? Will Instagram ever end? A new competition for the Guinness Book of Records….longest consistent user of Instagram, "113 year old women has been Instagraming daily for 105 years…" it will fit in perfectly next to that man who has eaten the most lightbulbs (yes, truly there is a man who has eaten lots of lightbulbs).
So with all of that said, I want to thank you for following me on Instagram, and I want to thank you for all the love, and guidance, and I want to thank you, for being tolerant and understanding, and for making me more open and challenging my ideas, for making me a better mother and a more committed artist, and I want to thank you for sharing your Instagram life with me. Thank you, thank you, you are all so cool….now enough with the gratitude, you have to excuse me, while I go and post a picture to Instagram…but I know you will understand, because my friends, you may very well be obsessed with Instagram too!
A special thank you to my friend Danielle  (aka hippieindisguise) for her guidance with this post.