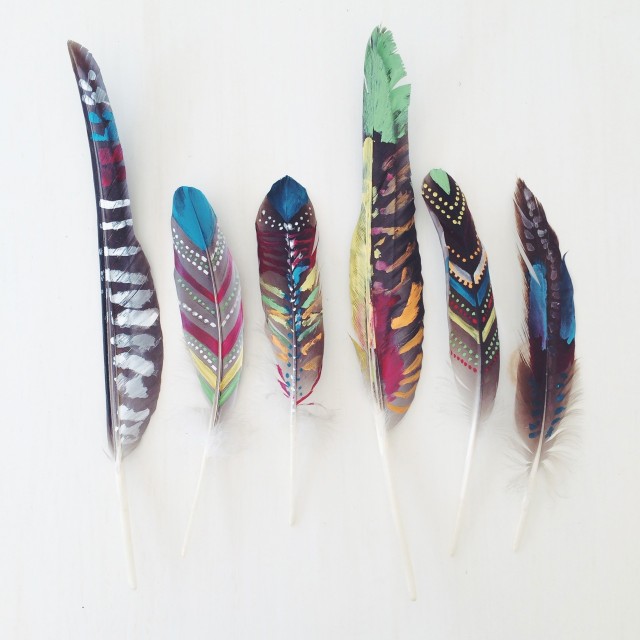 This week we had the pleasure of going to a local lake for a swim three days in a row, during each visit Elle made a point of collecting the goose feathers that were floating in the shallows and scattered along the waters edge. With a beautiful bouquet of feathers sitting on our dinning table, I was quickly inspired to craft with them. I thought it would be lovely to paint them, and so I popped over to pinterest to see if it was possible…I did not find a tutorial, but I was inspired enough to try something! Using the same glass jar acrylic ink we have used on stones and leaves, we painted the feathers. I wanted a greater variety of colours than we had so I mixed some of the white ink with water colour paint pigment and that worked nicely. Feathers are water resistant to an extent and so the paint/ink takes a while to absorb. Elle particularly enjoyed this and painted three feathers.
Elle is developing a lovely relationship with the geese, it warms my heart as many of my childhood days were spent with the geese at my grandparents damn. Elle commented that these geese are different to the Edgemont park geese she likes to visit in Montclair, and it is true, these geese were very willing to engage with her. Who knew the country geese are friendlier!
Grateful to our feathered friends for leaving these gifts behind…foraged feathers are the only feather we play with! Factory feathers just don't have the same loveliness and like buying shells, or any other animal product, unless you are super diligent about researching the source and the journey and only buying free range ground collected, it might have come from a really awful place and have been part of a process that hurts animals and damages the planet. Live plucking friends, is not beautiful. To leave you on a lovely note, we do hope you are inspired to find feathers and create with them! It might take a little more patience, but when you stumble across feathers by chance, it adds a little magic to your day.