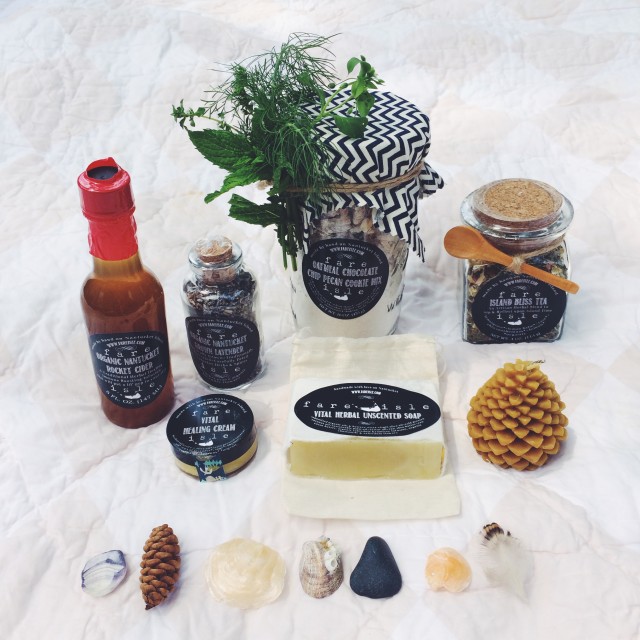 We received a beautiful care package from Kaity Farrell of Fare Isle on Friday. So much goodness we just have to share. With a focus on sustainably hand crafted organic and wild foraged foods, this is where pure, beautiful and delicious meet. You are going to wish you could eat Kaity's products all the time. Fare Isle is a great source to stock up pantry essentials like teas, seasonings, preserves, herbal oils, fire cider and much more. These hand made wares and gifts are inspired by the island life Kaity and her family lead on Nantucket. Fare Isle also offers a vital medicinal herbal healing line of body care products, and what may be our very favorite item, the bees wax candles. Oh the scent, is divine.
Kaity is a culinary goddess, cooking up wholesome magic in her kitchen each week, and selling her delectable wares at the Nantucket Sustainable Farmer's Market on Saturdays. As much as possible products are created using things they grow from their own sustainable heirloom garden. Did I mention she is a bee keeper too! (I am smitten). You must watch the video of Kaity cooking for Martha Stewart Living American Made, you will fall in love with her gentle soul.
Be sure to follow Kaity's beautiful life on instagram and visit the Fare Isle blog. Be inspired by her recipes that she shares, many of which are raw, vegan, vegetarian and so are doing your body and the planet a favor! Today we baked the Fare Isle cookie mix, and they are the best cookies I have ever eaten. Really, the best!
If you happen find yourself on this enchanting faraway island be sure to visit Kaity at the seasonal market stand in downtown Nantucket every Saturday. For online orders you can visit the Fare Isle website shop or the etsy shop
Thank you Kaity!