If you have not been introduced to Red Creek Handmade, then allow me the introduction. You will fall in love with Katie's work, and feel a connection to this Mama who spends her days living a simple busy life. With a heartfelt connection, Katie sews, and lucky for us her aesthetic is spot on. Red Creek Handmade signature pieces are strong and classic with Katie's interest in artisan folk art and craft being evident. All items are made using beautiful cotton and linen fabrics that are left natural or hand dyed.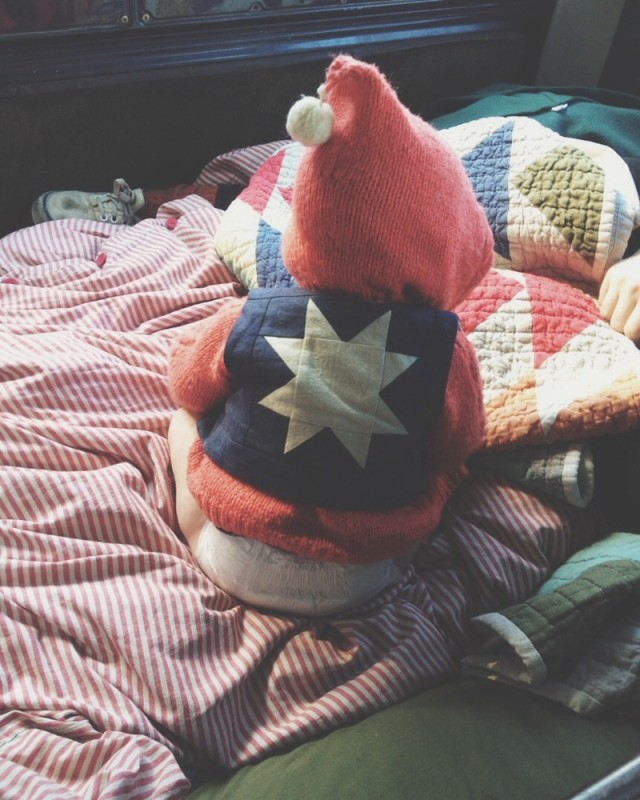 I recommend getting in quickly for the patchwork star vest before they sell out. The perfect 3 season light layer. Katie will do custom orders on request if she has time. I requested a size 5 vest for Elle, which was not available in her shop at the time (but is now).
On my wish list is a quilt. Katie's quilts are hand-made to last, and honestly they are just so beautiful. Utilizing natural fabrics, timeless designs and technical craft-work. Each piece is unique, individual and custom. Destined to be family heirlooms to hand down through generations.
Her children's clothing is made with the same integrity. Well-made to with-stand the test of time and wear, the silhouettes are gender neutral, the fabrics are functional, natural and durable, and affordable! All of her clothing and quilts are made on her homestead in Squamish BC, where she lives with her partner Reagen, their daughter June, their dog Hazel, her potager garden and about 100 chickens.
I am about to host a giveaway on instagram, this monday September 7th, and one lucky winner will receive the gorgeous quilted navy star purse pictured above.