Ok finally, here is an easy and healthy recipe…..you have to love asparagus…as much as I do!!!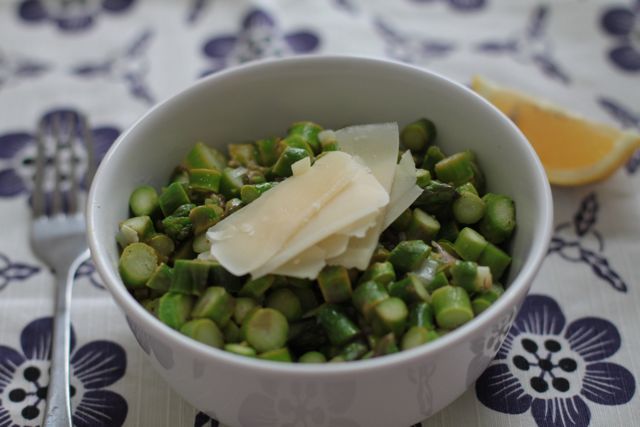 This is one of my favourite meals for lunch or dinner. This recipe I gained from my friend and Chef, Colette Nelson who I worked for at Ludvig's Bistro in Sitka, Alaska. Collete made me this for dinner one night, and I have enjoyed it ever since. I worked as both a waitress and an expediter/cook at Ludvigs and some of my favorite things to eat I learnt while in Ludvig's kitchen, thank you Colette!
Sauteed Asparagus
1 Bunch of Asparagus
1 tablespoon butter
1 tablespoon olive oil
lemon
Salt & Pepper
Parmesan or feta cheese (optional)
Method
Wash asparagus and chop into small bits down the length of the spear (use as much of the length as possible, until it becomes too woody). Heat frying pan and add butter and oil. When hot and sizzling add asparagus. Add salt and pepper to taste. Squeeze a quarter of a whole lemon on top, stir until asparagus is tender and serve. Garnish with Parmesan or feta cheese ( I use a potato peeler and shred the Parmesan off the rind, making these slivers that look a bit like butter!). You can also add blanched almonds or tuna to this to make it more of a meal or use it as a side dish. I enjoy this also with a big piece of fresh crusty bread!
Note: To make it healthier omit the butter, and use light olive oil.