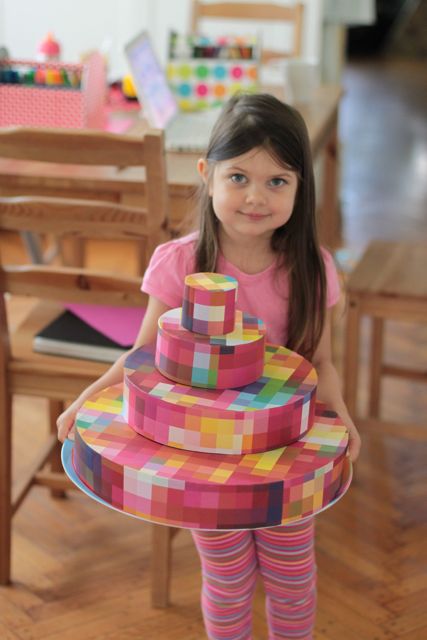 A few months ago I came across and image of a home made cake stand. I filed it way in my creative memory thinking it would be great to make such a thing for Maya's Birthday. So along with moving house (and a heap of other things) the last two week, I have also been working on this marvelous cake stand. I made a point of documenting the process in case anyone else is inspired to do such a thing!
I cut out the base tops from old boxes left over from moving. I found the various size circles from plates, bowls and cups in our home. I then use poster board for the walls as I needed a material that curved nicely. These two pieces, the top and the walls I taped together with regular sticky tape.
Next came choosing the decorative paper to go over the frame. This is the fun part, going to a lovely paper shop and looking for bright colourful paper. I then cut the paper out as I had done the top and walls. The only difference in measurement is that I added and extra 1cm to the wall height to use as a fold over onto the top. I did this so that it was secured well and also to allow for a nicely finish should the papers have not lined up properly.
To attach the decorative paper to the walls I used a glue stick, and then to put the decorative paper on the top I used spray adhesive. Each tier is a separate piece so that the stand can be easily stored within itself. We are looking forward to putting Birthday cup-cake on it!
And finally, you might wonder how I did this with two little helpers! Well I managed to get a little done each day while Elle has her hour nap and then at some lucky moments here and there they were content to work on their on creative projects too! Nothing makes Mummy happier than busy creative girls!