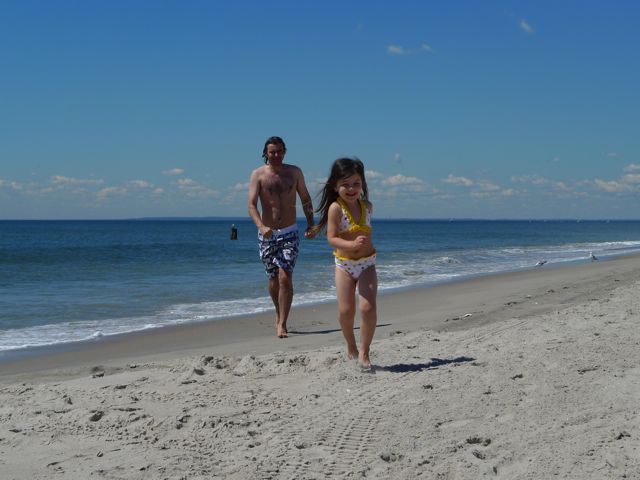 Today we went to Neponsit Beach! I can't tell you how wonderful a feeling it was for us to get in our car and drive to a beach! We have owned a car for a month now, and with moving, then Maya's party and then Cam being away, this was the first weekend we were able to drive to one of NY's beaches.
It was our intention to go to Jacob Riis Park as we were told it is the (nicest) closest beach to us. It took us 30 minutes to get there from Dtimas Park in traffic, and only 20 minutes home with no traffic. I say intended to go to Jacob Riis, but we did not pull into the Jacob Riis Parking lot and kept driving past by accident. By the time we realised and turned we were a little further down the coast. We pulled into a lovely looking residential beach end cul-de-sac street, which we now know is an area called Neponsit. There were NO PARKING signs along the beach block street and so I asked one of the residents standing in the middle of the road, where we should park? He said that on the next block, one block back, we could park (but not on weekends), and then walk to this beach. Which is exactly what we did. We found easy free parking with SHADE one block from the beach, then strolled down a well kept street with basket ball rings, soccer goals, kids on bikes pulling wagons, manicured lawns, blooming flowers, white bench seats and American flags blowing in the sea breeze….it was far beyond what we were expecting!
I must add here, that if we had been one more block down then we would have been in the NO PARKING from May to September zone, but some how by luck we meandered into free shaded parking on a lovely beach! A beautiful stretch of clean sand, few people and life guards every 200 meters. The girls and I enjoyed collecting shells, and both Cam and I went swimming (me first). I love to swim in cold water, it makes me feel invigorated and alive. I love walking on the tide line and feel the shells crunching under my feet…I love the taste of the salt on my skin and I love tired girls that nap all the way home with sun kissed cheeks….
We will definitely be doing this again soon….