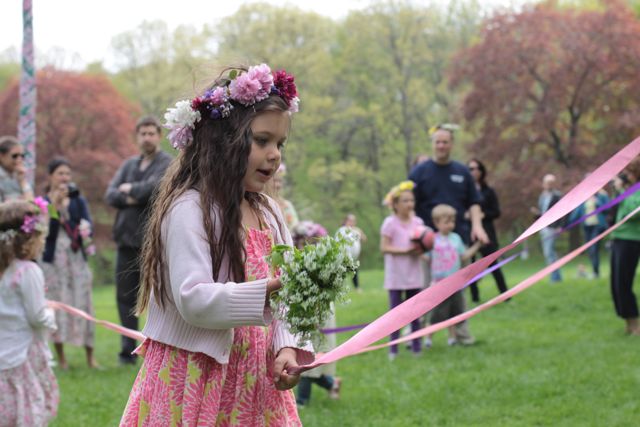 On Sunday we celebrated Spring with Maya's Waldorf Playgroup Maypole event. Maypole comes but once a year, and all year long I look forward to it. The experience of Maypole has an out of regular life quality – through the simply act of friends coming together, putting flower garlands upon our heads and dancing, we are transported into a dreamy whimsical afternoon that is so picture perfect we became the living moment of a painting like scene.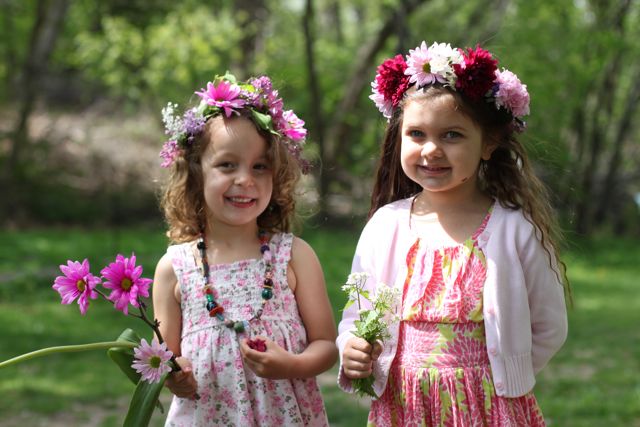 Maypole is a favorite Playgroup festival amongst the Children, and especially mine, who 'practiced' Maypole daily leading up to it and are still dancing around our makeshift broom Maypole in our back yard. The Children just love the flowers, and both the Boys and Girls could be seen with heads adorned and fists full of blooms, twirling in the flower felecity of it all. Maya, and her best friend Carys were like two woodland Fairies busying themselves collecting wildflowers growing around the Vale.
As the calendar had May 1st fall on a Sunday this year we were able to hold our event on May Day, the actual Maypole day – making it extra special. For this reason, Kristin and I were very excited about Maypole. There is another Brooklyn group that also have their Maypole in the Vale of Cashmere, called the Ring Of Bells. On previous years we have come across the Ring Of Bells Maypole a day to a few days after their Maypole event – but this year we performed on the same day! The Ring Of Bells always perform their Maypole dance at dawn on May Day, and so we knew to expect a newly made Maypole when we arrived at the site. Last year I recall coming across their completed Maypole for the first time, it was lying on the ground  to the side of where we have our Maypole. I was enthralled by the intricate weave of the ribbons traversing the great length of the wooden pole. Instantly my minds eye could see the ethereal dance, a group of woman wearing white, weaving the ribbons in the mist of dawn. Kristin and I are equally enchanted by the Maypole traditions and on the way across the meadow towards the Vale we chatted about the beauty of the Ring Of Bells pole. "I hope this year it is pink and green!" I said, while visualising my favorite colours. "Last year it was orange and blue" I recalled, as we left the meadow and rounded the corner into the Vale. Kristin caught sight of the spectacular Maypole first and exclaimed with joy "Oh, it is still standing!". I quickly followed her into sight and there in the middle of the Vale of Cashmere stood an exquisite Maypole….and would you believe, it was pink and green! A sleeve of blossom pink, leaf green and white ribbons were interlaced over a natural shaped bark free log, standing tall and slender and about 7 meters high, topped with a ring of flowers. At the base of the weave, the remaining end lengths of the ribbons were neatly braided, draping heavily to the ground.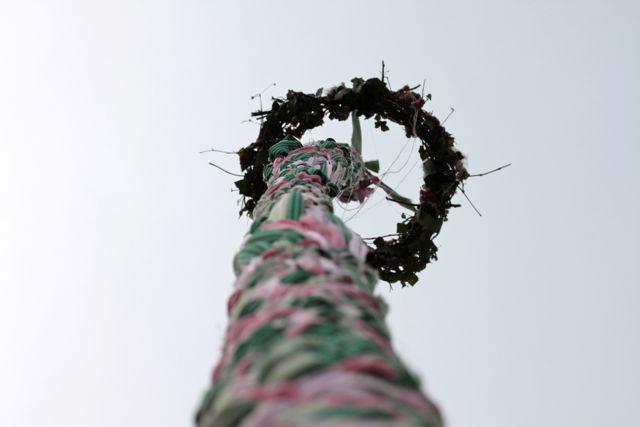 After setting our humble little Maypole down and assembling it in the right spot, we spread out the picnic blankets, placed our baskets of flowers in the center and went to work making garlands. Some of the flowers we picked from our garden that very morning – Daisy, azaleas, paper whites, violets, phlox, cherry blossoms, ivy and lilacs! Maya helped ice our home made carrot cupcakes with cream cheese frosting and decorated them with miniature azaleas (not to be eaten!). Set-up time quickly flew by and before we knew it Playgroup Families were arriving with blankets, bouquets and food to share. From here it became a whirl of flower clippings, Children skipping, Fathers nibbling and Mothers chatting….until at last it was time for the Maypole!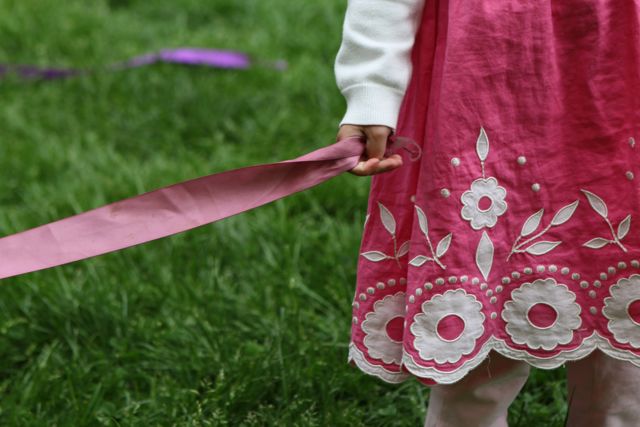 Playgroup Children each took a ribbon and like folklore they walked around the maypole – accompanied by acoustic guitar, singing "Here we go round the Maypole high…let coloured ribbons fly…" (to the tune of here we go round the mulberry bush). Their sweet childish faces, and tiny hands grasping the ribbons, their little voices singing gayly – made it all so incredibly precious. Next the alumni Children had a turn on the Maypole, followed by the parents. Elle Belle went around the Maypole all three times, and when her third time came to an end, at the top of her little voice, with big bright blue eyes, she said "Let's do it again!"
And so we will, another time….
We are so grateful to be part of this Waldorf inspired Playgroup – we have cherished this little community and these special events – Much thanks to our teachers, Kristin and Beth.