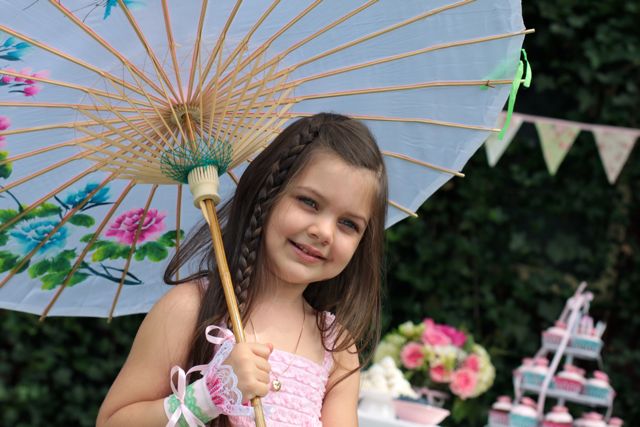 Oh la la, it was fancy and it was rosie, and Maya had a fantastic party! We could not have asked for a better day, it was warm, but not hot, with clear blue skies. We set up the table in the canopy of the crab apple tree against a wall of profuse ivy. Between large old trunks we strung the rose flag banner, and in the opposite corner near the rambling rose bush we placed the rose covered tipi. A quilted blanket was spread out on the shaded lawn, with comfy cushions to sink into. I flitted like a butterfly putting everything in its place to make our vision for the Fancy Rose Party come true. Maya and Elle helped by scattering dried rose petals (collected from our garden over the last few weeks) under the enchanting wisteria entrance.
Parasols, wrist gloves and fans were in place to give to guests as they arrived – a pink organza bag with a paper heart (my handmade paper left over from our wedding) held the wrist gloves. Delightfully everyone wore them – for at least a little while. I loved seeing how the wrist gloves co ordinated with each of the Girls. While sewing them I held the Girls in mind…thinking of the colours that they liked and what suited them. I suggested they remove them for one of the activities which was to paint the paper fans. Using water colour paints the Girls decorated the fans – a lot of fun, a great creative activity, and the results just stunning!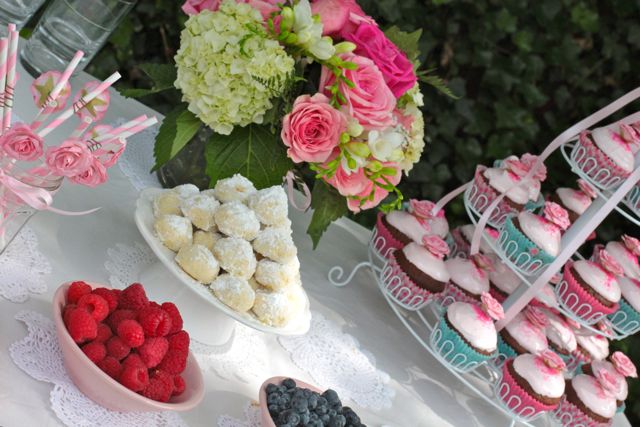 The food table looked perfectly pretty with a small fine selection to nibble on – raspberries, blueberries, almond short-breads (aka Mexican wedding cakes), sandwiches and of course the Birthday cup cakes – this year rich chocolate cup cakes with my secret seven minute icing, hot pink sugar dust and topped with handmade mulberry paper flowers (the flowers I got from etsy). I had so much fun designing the cake. I even managed to find cup cake papers with roses on them – not a detailed left out. There was a large pitcher of  pink strawberry lemonade with old fashioned pink and white paper straws. I wrapped roses around the tops of each straw to make it…well fancy of course! Maya and I created a beautiful floral centerpiece. Together we walked down the road to a fabulous flower stand that has a great range to choose from. It was so fun carrying home the paper wrapped long stem blooms – it really felt like a special occasion…and in so many ways it was. Maya held my hand and if I were to count, she must have said "I love you Mummy" at least five times there and back – we were savoring the moment together. We settled on a bunch of pink roses, a bunch of white hydrangeas and a bunch of white freesias. Once home I chopped all the long stems off and we arranged them in a short squat vase, together they looked stunning, and really worked well on our party table – they smelled divine too!
As we do at each party, we played party games, starting with pass-the-parcel. This is not a common game at American parties, and I was encouraged this year when our guest from last year explained to those who had not played the party game what to do. The package was wrapped in many shades of pink, green and silver tissue paper – each layer a different colour. Cam played the guitar, stopping at random intervals for a guest to unwrap a layer. Maya had a mini tantrum as she wanted desperately to unwrap a pink layer – I had given her a forwarning that the Birthday Girl does not win pass the parcel – it is for her guests, but as it turned out, while the last layer was being passed around, the guitar stopped on Maya! Thankfully Maya was gracious and said "Daddy, it can't stop on me!" and so he continued to play until Ella won! We then had a butterfly scavenger hunt, with pink fabric butterflies hidden all over the yard – one for each Girl, and one special gift hidden for the lucky discoverer.
It was then time to sing happy birthday and to blow out the candles. I walked around with a basket of fresh rose petals that were sprinkled onto Maya as we chorused hip hip hooray! The rose petals cascaded in a merry finale. Maya had such a wonderful time – in the pink girlie finery of it all…and I think our guests enjoyed themselves too! When it came time for people to leave, Maya said "I want my party to go all night!" and I agreed…I did not want it to end. It was a lovely way to celebrate our precious Girl, our darling rosie Maya turning five. Thank you to all of our guest, for making it a party to remember.