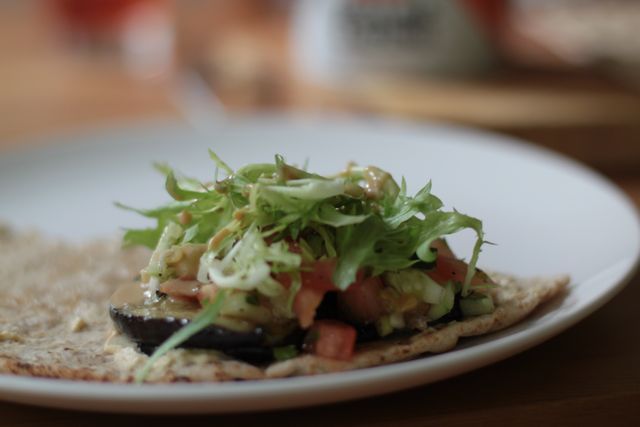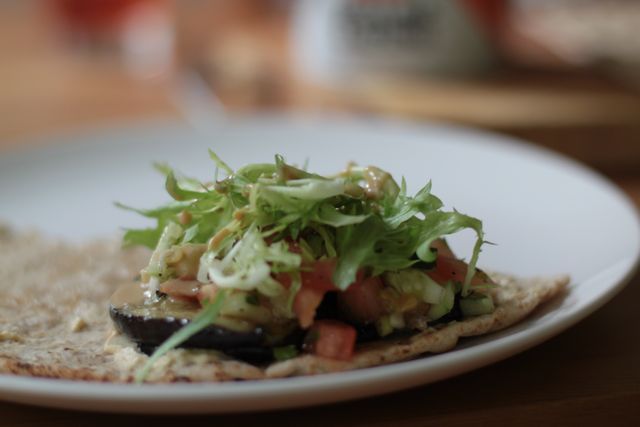 One of my favorite meals of late is eggplant pita. I had a craving for eggplant with hummus and so this is what I came up with to satisfy my taste buds. A yummy and nutritious meal – great for lunch or dinner. This is not so much a recipe, but just an idea for a meal.
Ingredients
1 eggplant
fresh pita bread
hummus
tahini
1 tomato
1 cucumber
1/2 small red onion or 1 shallot
salad greens
squeeze of lemon
salt pepper
olive oil
Method
Slice a whole eggplant, lay pieces out on a baking tray, brush with olive oil, lightly salt and bake for about 20 minutes in a hot oven. While the eggplant is cooking, prepare the tomato and cucumber salad. Dice the tomato, cucumber and red onion, combine in a bowl, add 1 Tbls of olive oil, and a squeeze of lemon – add a little salt and pepper to taste. Once eggplant is cooked, remove from oven (you can put the pita in the oven for a few minute to warm if you like). Spread the pita with hummus, layer eggplant, tomato cucumber salad and greens, then drizzle with tahini, fold and enjoy with minted lemonade or iced tea!