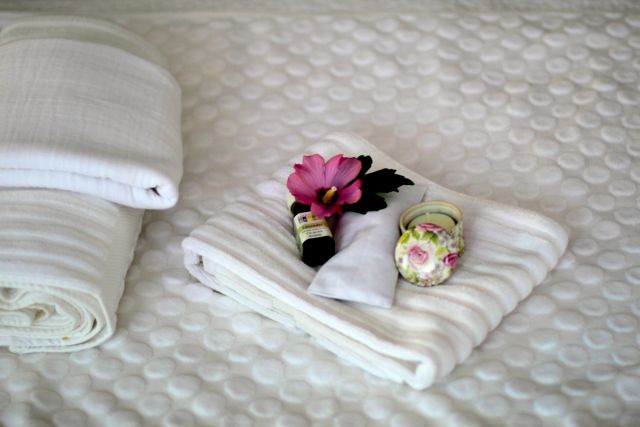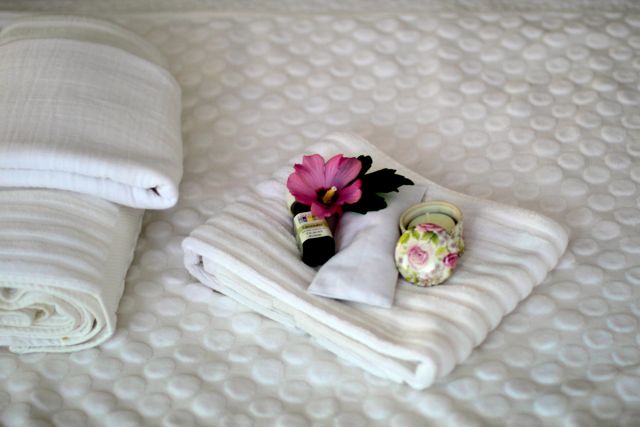 Cherishing my Children manifests in so many different ways. This week, in a conscious act to appreciate Maya I planned an in-home Spa treatment for her – done by me. Maya seems to love all things luxurious – and I am not so sure where she gets it from as I can go a day or two without brushing my hair (ha ha) – but my little one centers much of her pretend play around a beauty regime. Often she will set up elaborate 'dressing tables', using sunblock, toothpaste or anything else she can find that is remotely related to a beauty product. Meticulously she organises these objects and then sits at the table while telling me what all the bits and pieces are for. "These are cheek puffs" and "This is eye powder" – her names for the imaginary blush and eyeshadow (thanks to my Aunt Leslie visiting she knows about make-up). I don't mind at all this "beauty" pretend play, but I do make a point of telling her natural beauty is best, and that she does not and will not ever need make-up, and that beauty rituals can be very simple.
To encourage positive pampering I decided to show her ways to look after herself and have beauty ritual with natural based ingredients. We discussed "Maya's Spa treatment" days before the event, and she very much looked forward to it, daily asking "How many sleeps until my spa treatment?". I let Cam in on the plan and we worked out that he would take Elle to the playground for a couple of hours on Saturday morning and so just Maya and I would be at home. Upon waking Saturday morning Maya was non stop chatter about it. I told her that it would begin at 11am – as this gave me time to set-up.
After breakfast I went to work making a lavender and rice eye pillow, and then I prepared a massage oil with lavender essential oils, and an avocado face mask. Maya's bedroom was then transformed into a serene day spa. Aromatic candle, soothing calm music, gentle light, and white linens – Maya even had a mini white toweling robe to wear!
I started first by welcoming her into the room and had her put on the robe. I then made her comfortable on the bed and applied her avocado face mask (that I simply made by mashing a ripe avocado). I used this opportunity to talk to her about the benefits of avocado for the skin – high in vitamin e and natural oils, then I added "And the best part is that avocado is a fruit and so it does not come in a plastic container, it is natures bounty and comes in its own wonderful packaging, and so we do not create plastic waste by using it for beauty." I know Maya listens, even if she does not comprehend fully, when I talk to her about the importance of being a smart consumer and an environmentalist, it makes me so proud of her.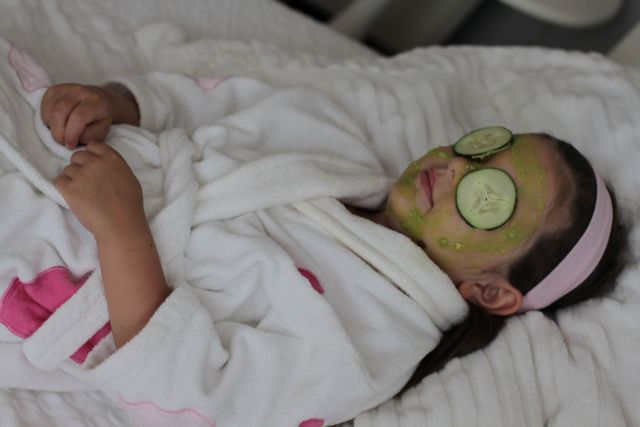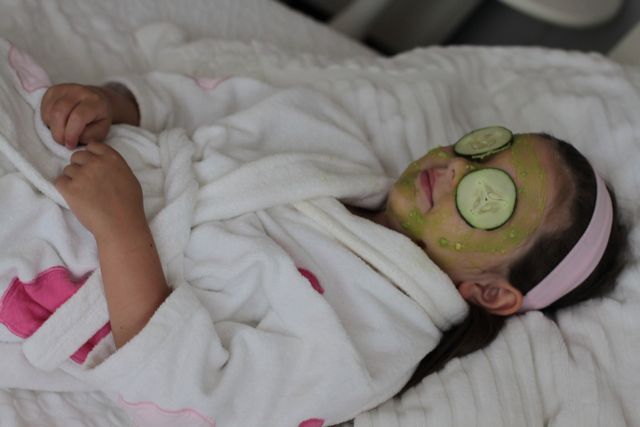 While her mask was soaking in, I gave her a foot massage. I then removed her avocado face mask with warm water and had her turn over for a back massage. When her massage was over, she turned back around to have her nails painted. I had her lay back with the lavender eye pillow on and relax silently (hard for one with so many questions!). When the beauty ritual was complete I gave her a large glass of water – an important finale after a massage is to hydrate.
Maya really looked radiant for the pampering and we both enjoyed the special Mummy and Maya occasion. It was rewarding to celebrate my daughter in this way – to make her feel good, but to also help her grow into a smart beautiful young woman. Our morning together cost little more than time and effort – It was a simple but significant ritual, and done with the environment in mind.
I feel so blessed to have my Maya girl and was not at all surprised when she said "Now I want to do it to you Mummy!".