A slight walk uphill one and a half blocks from our home, we come to a shaded cul-de-sac. At the end of the cul-de-sac is the beginning of the woods. The road leads into a small grassy clearing and then the combination of domestics and native brush gives way to solid old wood growth.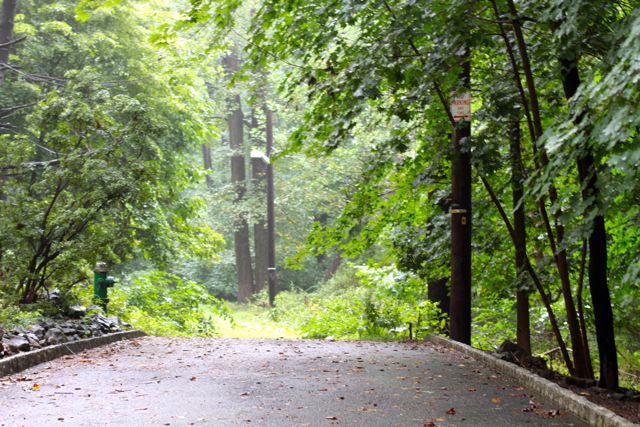 On Tuesday afternoon, when the rain cleared the Girls and I donned our rain boots and went for a hike. Hike has become a buzz word in our home now with much talk about hiking regularly in the reservation at the end of our street. I certainly have two diligent little hikers, although the going is slow as there is much stopping for exploration.
This was our first time exploring what is to be 'our' walking track. We walked around Mills reservation back once before, and were very pleased that our new home was to be at the base of this mountain plateau. The Girls trooped up the hill with small comments such as "This is a big hill." as most of their walking thus far has been the flatland of New York.
Upon entry to the grass clearing I stopped quickly and quieted the Girls. "Look, there is a bunny!" I said. "Where?" said Elle who needed a little help spotting it. I walked a little closer with futile attempts of taking a photo of it. Maya was behind me rousing as she did not want me to scare it away. Slowly I crept, and then of course it dashed away. Little did I know though, that while we were transfixed on the bunny, we had an audience. There a few meters away were two deers starring at us. My heart was all a flutter, for locking into the beautiful brown deer eyes. Deers are so gentle and kind. This was the closest I had ever been to wild deers, and this pair were majestic. With long impressive antlers, show not only were these deers beautiful, but they were healthy and lucky too to survive the woods, the roads the dogs and the hunters.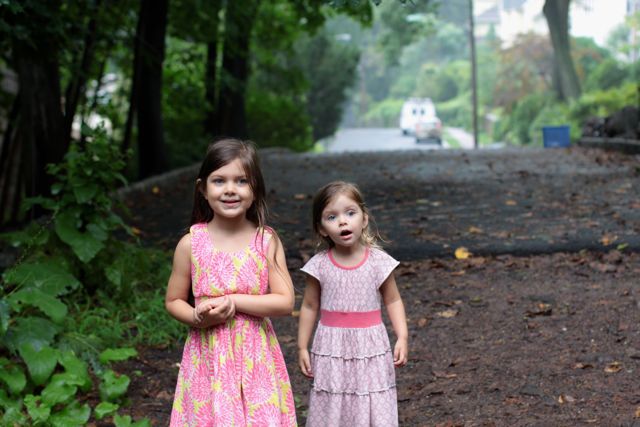 I did not get a photo of the deers, but I did capture the look on the Girls faces when we spotted them. Maya looking so pleased, and Elle Belle in awe. We felt a great sense of blessing, that this was a good omen for us during this time of transition.
When the deers pranced off we continued into the enchanted woods. Making our way to the top of the mountain. Were we found moss and mushrooms, sticks and rocks, and all the natural joys of the woods. Looking forward to all the fun in the forest.