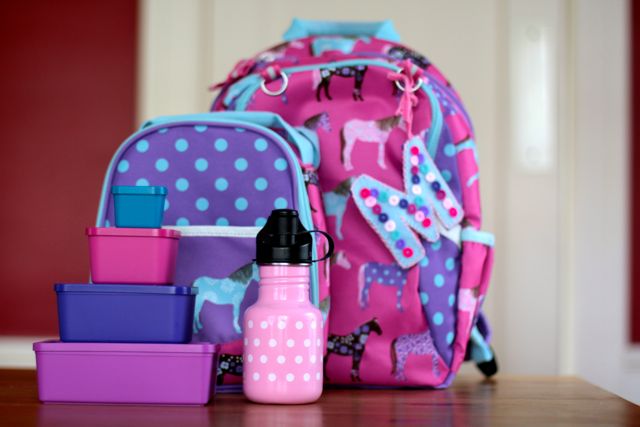 We are counting down the days until Kindergarten! One excited little Girl and one sad Mummy. How do they grow up so quickly? Well despite my heart yearning for my baby Maya I am embracing this special beginning as best one can. It has been fun organising all of Maya's school items, and it has been fun talking to her about what her school days will be like, and the wonderful new friends she will make.
We have all of her new school things sitting in a piles just waiting for the first day of school to come around. I am enjoying looking at it all clean and new – we know that does not last long. I made her an initial M form felt to hang on the front of her bag in case someone else in her class has the same bag. Trying to think of every little thing for her….
Maya chose this backpack from one of our favorite stores. Garnet Hill were offering a free lunch bag with every back pack, so we made the most of the deal. They have such cute patterned bags to choose from. I then found a set of lunch box containers at Whole Foods that happened to match her lunch bag and back pack perfectly! Best of all is that the containers are BPA and lead free. You can find them here. These containers, along with a Klean Kanteen water bottle, and I can rest at ease, Maya will be ready and packed with a healthy lunch bag!