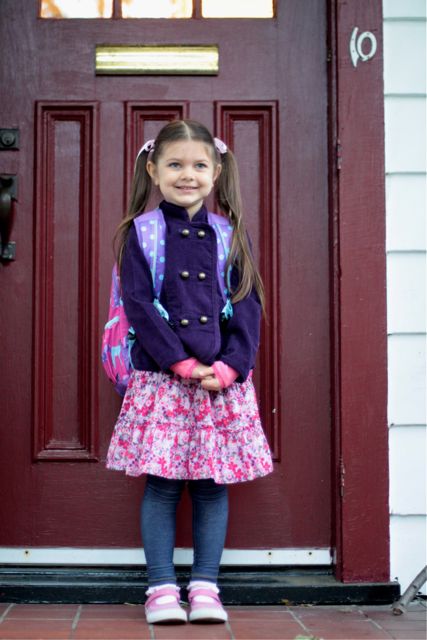 First day of School, and the only one who cried was me! As we walked up the flight of stairs to Maya's classroom, I was holding my breath to keep back the tears. It was an impossible feat. My eyes filled with water and I blinked away the blur with each step, until at the top and entrance to her classroom, I regained composure. I could not believe this time had come already. A feeling of great sadness for my little one not being so little anymore, was a brief emotional moment. It was then replaced by another moment that had me smiling proudly at her for being so grown up.
Upon entering Maya's classroom for the first time I relaxed and was able to positively take it all in. It was after all a lovely classroom with a kind teacher in a great school – crying was so silly! I am certainly a sensitive one when it comes to significant events, and Maya starting school was a big one. Aunts and Uncles and Grandparents, telephoned and skyped to wish her well and our neighbor Nina bought her a book as congratulation! We tried not to make a big deal about anything in particular but there certainly was a lot of new things to absorb. Life has been full of new things for us of late, and this was just another new experience on the list of many.
Maya liked her classroom because it had lots of lego and blocks, a real skeleton and other fascinating natural objects. Cam like the classroom because it had  2 Apple computers and a Mac Mini, and I liked the classroom as there was lots of wooden toys, and a wall of windows letting in natural light. I also loved that they had a sign that was written Kinder-Garden with a picture of a flower separating the the normally co-joined word. Kinder-garten is after all, supposed to be a garden for a child to grow!
We set the alarm clock to make sure we all woke up in time to get out the door by 8am. This may pose a struggle on some days for our household as rarely do any of us surface before 7am. For this reason I have decided on night before preparation – clothes out, drink bottle full, snacks in lunch box. I figure if I am organised the night before then all I have to do is make breakfast and sandwiches and have us all dressed. If I keep this up, it is sure to help our mornings run smoothly.
When it came time to collect Maya we made our way to the school and joined the line of parents eager to see their little ones emerge from the Hall door. An unexpected surprise while we were waiting was to spot a deer family – a Mama and two babies. Another family told us the family of deer lived behind the school and were often seen in the school yard and in the park. Maya came out the door and filed down the stairs, she spotted me, shook hands with her teacher and said goodbye to him in a calm orderly fashion.
I took her hand slowly and told her about the deers we just saw. I had to have complete self control not to bombard her with first day of school questions! I decided that she would share with me what she wanted to, and that I would not even ask what she thought of school. Maya being the strong willed Girl that she is could easily be spurred, and declare that she is not going to go to school again, if she so felt that way! We made our way home and details of her day unfurled, she seemed to feel positive towards her day, so all in all school was good. I am finding it hard to believe we now have a School aged child and that we are now on the official scholarly road, the long and winding course it may be – as the truth is that – when Maya asked me "Mummy, how long do I go to school for?" I had to reply "well, you will probably go to school for the next 15 years!"