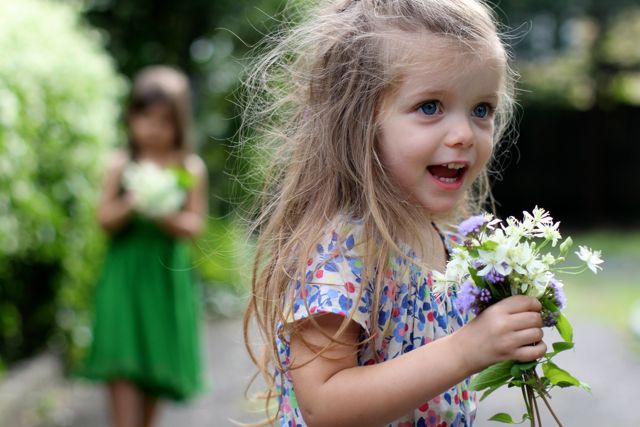 Almost right? Almost Summer's end. My friends in Australia have begun Spring and we are definitely feeling like Summer's days are numbered. Less than 3 weeks remain until Autumn equinox, and so we are making the most of doing what we like to do in Summer. Which on an average day with no plans, seems to be – to skip around in light summer dresses, picking flowers and eating succulent Summer fruit. What a joy to play the Summer days away. As always Summer days are long and slow, but Summer's end comes around quickly.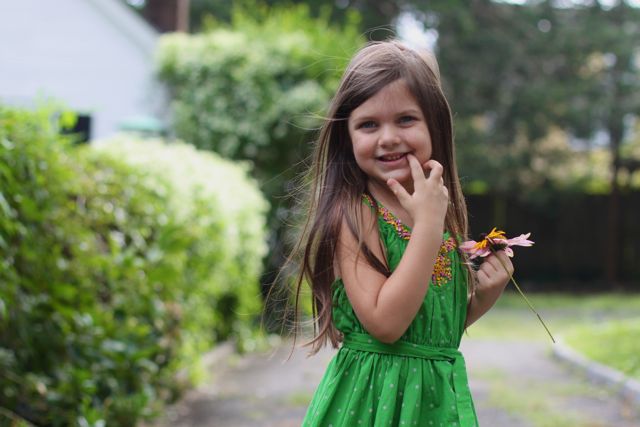 Only two days remain until Maya starts school, and I have to say I will miss having her at home with me, I will miss the freedom to do as we please, and oh how I will miss my cheeky Maya. We have cherished these months and months of Summer with plenty of perfect days of nothing to do. Knowing that the end of Summer would mark a significant new beginning for Maya – the start of School, the start of Kindergarten. I wonder how we will adjust to our new school schedule and the regimented routine? I am sure we will still fit in plenty of fun free play in Nature – and while the flowers won't last, before we know it we will be replacing Summer's bouquets with piles of Autumn's leaves and heaps of Winter's snowy white snow…ahh, I love the change of season, whatever it may be.
This Summer has had two distinct segments for us, Summer in Brooklyn and Summer in Montclair. Mid Summer, our beach days in Brooklyn were swapped for walks in the woods in Montclair. We have yet to experience a full Summer in Montclair, but the last month has been a lovely snippet of what it will be to experience next Summer in full. It has certainly been a Summer to remember and will always be, in my mind be the Summer we bought our first home. The first Summer we got to play in our own yard, and pick our own flowers – well, actually they are Nina's flowers, but one quickly learns when one owns their own home, what is on your side of the fence is yours for the picking!