On our Wednesday Hike this past week we went to the Alonzo Bonsal Wildlife Preserve. Nina suggested it as a fun spot because it has a stream and a bridge. It was my location choice this week and so I mentioned it to Anneliese. Anneliese has been there before and said it was one of their favorite spots – and you will see why!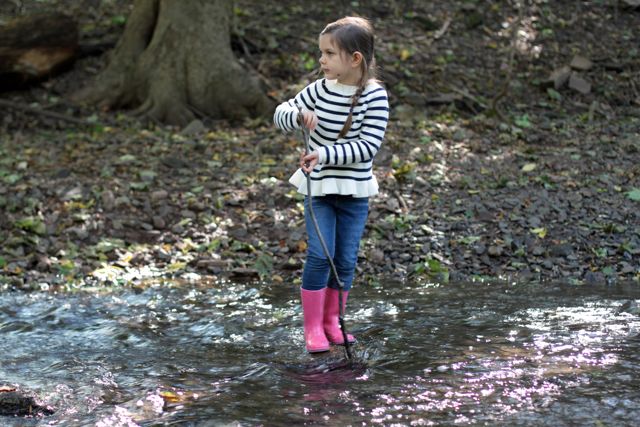 The moment we arrived the Girls were straight into the water. We had both packed rainboots and a change of clothes for each child, as we knew the Girls would love to stomp around in the streams. They had so much fun walking through the shallow moving waters, looking at fish and other stream bed objects. We happened to notice that there were quit a few dead fish, and so this became of great interest to the Girls. You will see in one photo of Bea and Maya – Maya is actually spearing a fish, and Bea exclaimed "When a fish is dead, it's eye and mouth are both open!" this was punctuated by her showing us a dead fish face!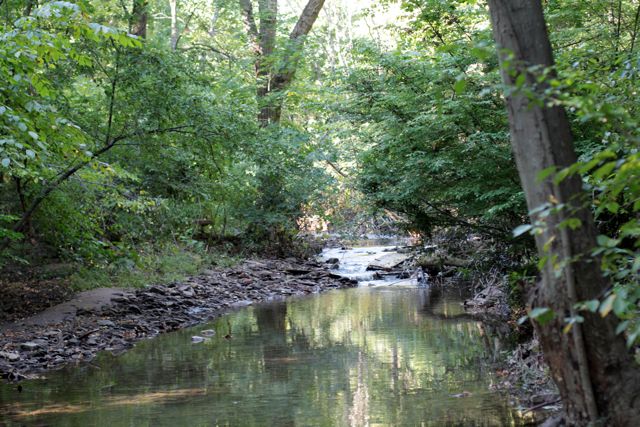 When we had played by the stream for some time we decided it was time for a walk – the Girls would happily play by the stream all afternoon, but the intent of these outing is exercise, and so we made sure we had a decent walk too. After our walk, we stopped and had afternoon snack. This week it was Anneliese's turn to bake, and she made the most scrumptious pumpkin muffins imaginable! I could not stop admiring them, and with the first bite I said "They have molasses in them?" tasting the subtle black sweetening. Anneliese was impressed I could tell, and we delighted in the fact we are truly bakers, and eaters of baked goods.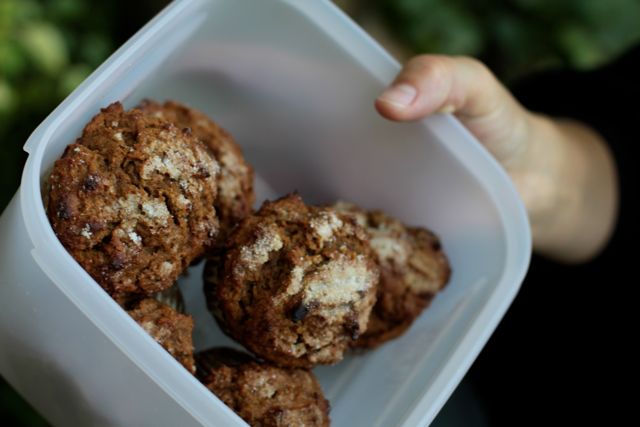 After our snack and a rest on the log, we carried on walking, returning to the entrance a different way than we had come. By doing this we stumbled upon a field of golden yellow flowers. I was so excited to see the wildflowers that I said "Children, let's frolic in the flowers!". The vision of the flowers in the woods was so poetic to me, I wanted the Girls to dance and skip through the blooms, picking flowers merrily in the afternoon sun…this of course did not happen, instead we studied the flowers and the seed pods, and planted some seeds. There were three different types of flowers growing on this patch, all of the same end of summer colour. It was so wild and pretty. We then built a little stick house and a cooking fire for some pretend play.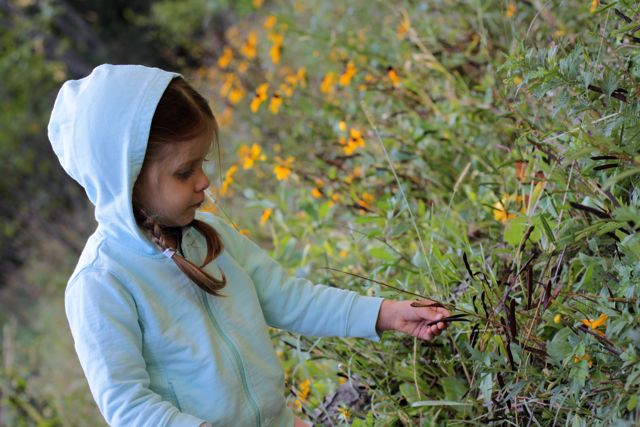 Before we knew it, it was almost 5 o'clock, which is dinner time in both our households. Over two hours had flown by, and sadly it was time to go. We pulled ourselves away from this magical spot and made our way back to our cars to say goodbye, and see you tomorrow. We enjoyed this hike so very much, it was such a good one! Looking forward to our hike next Wednesday.