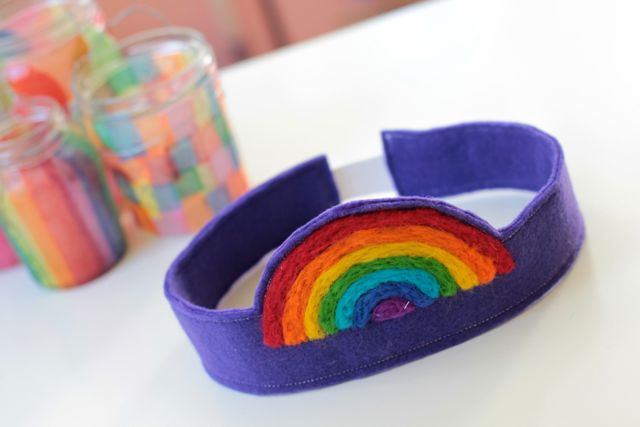 I have a very long to do list at the moment, feeling happy to cross this one off the list today. It is amazing how when you actually sit to make something it can take so little time. I feel like I put as much time into thinking "I must make Maya's rainbow crown"…and then the next day "I must make Maya's rainbow crown" and so on, as it took me to just sit and do it. Truthfully though – it was not that I was procrastinating, I have been sick. Now excuses aside, look at this cute little crown I made for Maya's Halloween rainbow costume!
This was a super quick and easy project that involved cutting a shape pattern, then cutting out two pieces of felt from the pattern, and then needle felting a rainbow on one side, then sewing the two pieces together. I learned this technique of needle felting onto felt (on my Birthday this year actually!) from my Friend Kristin – but I this is the first appearance of it on my blog – thank you Kristin! It was the perfect technique for this crown. I liked how the back was a fuzzy rainbow – which you don't actually see as I sewed it inside the two pieces together.
I made this crown in the same style as other crowns I have made with a small piece of elastic in the back. This is a great style for Children as it is very comfortable. Sadly though, this sweet little crown might not make an appearance on Halloween. When Maya came home from school, she told me that she actually might not wear it as she might want to wear her "wig" that my Mother sent her instead, but that, my friends – you will have to wait and see!