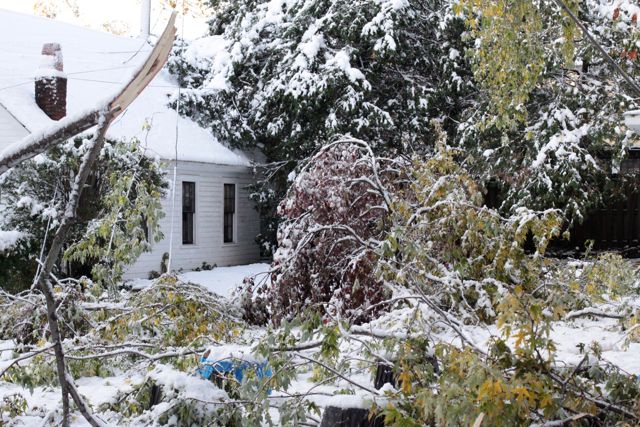 Remember the Halloween Weekend Snow Storm of 20011?
Right, the one last weekend! Well anyway you get the point, this was a snow storm to remember. For us it will go down in history for a few reasons, firstly is that it cancelled Elle's Woodland Mushroom Birthday Party, then all the other things like, the first snow in October we have ever seen, trees popping, branches falling and hitting our house, power lines down, no heat, schools closed for consecutive days, and Halloween trick or treating cancelled by the city…and an incredible mess to clean up.
The storm started Saturday morning a little before Cam was to take Maya to swimming lessons. It just seemed like light snow at that point, but within an hour of Cam leaving branches began falling into our yard. I telephoned Cam to let him know, but he too was experiencing the storm's effects, stuck in traffic because of trees now fallen over roads. It all happened so quickly. The snow was wet and heavy and the trees all have so many leaves on them still that they could not bare the weight of the sticking snow. The snow just came too early.
We lost our power and heat by late afternoon Saturday. We moved the Girl's mattresses down to the living room to sleep by the fireplace. That way they were warm, and safe from falling trees and branches. I put all of our perishable food (which was a lot because we were planning on having a party!) into a container and put it outside  – we did not have power, but Mother Nature would keep our food fresh with 0˚C temperatures. It was all so upsetting and unsettling and so far from what I had visualised our weekend to be. I did not even get to make Elle her 3rd Birthday cake! At times like this though, one is just grateful to be alive and well.
Our city looks like it has gone through a blender. Street, after street, after street, the road sides are piled high with foliage debris and on some streets the tress still lay in the middle of the road, now five days since the storm hit. Power lines too are still down, with major streets closed because of it. traffic lights are still out of order. The devastation is shocking and I have not ever seen anything like it. Both old and young trees were damaged – and it seems like nothing was spared. Some trees have been spit down the middle like they were hit with a giant axe. Shards of wood are jutting out of the earth where the tree split with such force, sending splintered fragments shooting like arrows into the ground.
Homes have been damaged by falling limbs, and many houses still have the trees just laying there on the roof, patiently waiting their turn for the tree service companies to come. Many times during the days since the storm I have shook my head at the damage and been grateful that we were not injured or worse. When you see the force in which the tree limbs pierced the ground, it is very confronting.
Today when Elle and I came home from swimming lessons I noticed there was another very large branch laying in our back yard. It had broken off during the storm, but had been suspended in other branches, and now many days later it finally dislodged and crashed to the ground while we were out. The wood splitting into fragments and shards too large for me to move.
Our yard is completely out of bounds between the trees and the power lines down. Nina next door is still without power and from what we have heard it might be another week or more until it is restored. We have been lucky that our power came back on, but since our lines are down and pulling away from our house, is all feels unstable and unpredictable.
The positive side of the snow storm is that we got to go sledding and all round it was very beautiful. It is so rare to see snow on the coloured leaves, and on Sunday morning when the sun was rising there was a sweet pink glow over our street. Everything looks so pretty with fresh snow…now however, the snow has melted and it is one devastating mess!