Wednesday has come around again and I have not yet shared our Wednesday Hike last week…what a week it has been since then!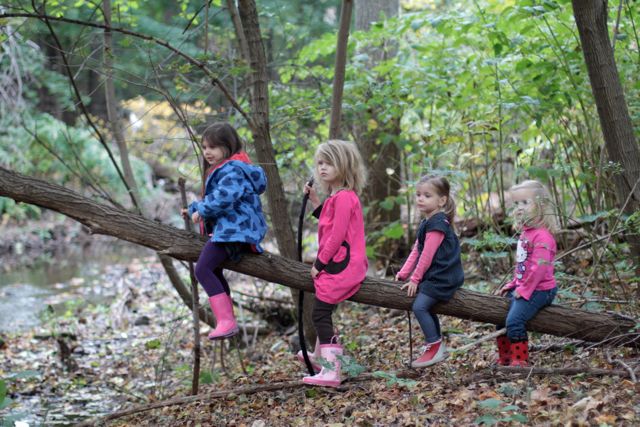 On our hike last week we went to the Bonasl Wildlife Preservation. You might recall our first visit to Bonsal Wildlife Preserve a few weeks ago. This time we noticed there was a much wider coverage of water, and in some areas it was more swampy, which the Children enjoyed traipsing through. Maya found a good tree limb to ride and the others followed suit. I made a comment to them about what a great horse ride this was and Maya curtly replied "Mum it is not a horse, it is an eight hump Camel!"…well sorry, my mistake, of course it is an eight hump camel!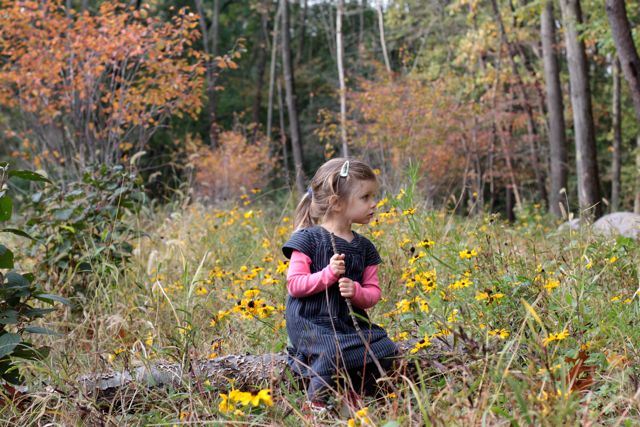 We then went for a stroll through the Preservation and made our way back to the wonderful spot where the wild flowers grow. I was excited to see many of the wild flowers were still in bloom, and the stick house we made last time was still standing.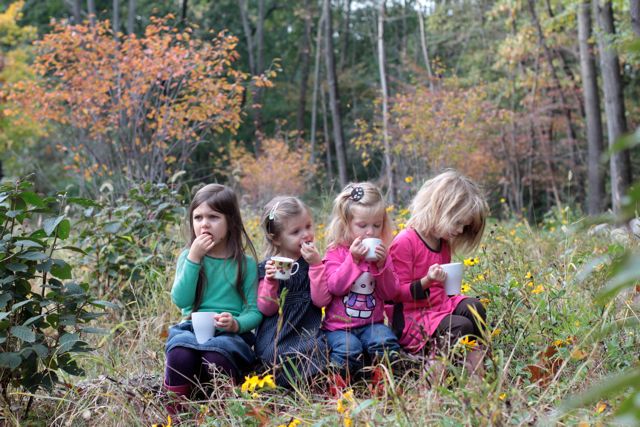 We found a comfy spot on a log and enjoyed hot chocolate and cookies. While the Girls played, I busied myself making a wildflower garland. I had wanted to do this previously, but had to stop myself picking the flowers…this time though I felt it was close enough to the flowers end and that they would soon die anyway. I made a crown of golden flowers, pink leaves, pink flowers and seeding grass. It was such a beautiful wreath, all the Children wanted a turn wearing it. They looked like Autumn Fairies in the crown of gold and grass.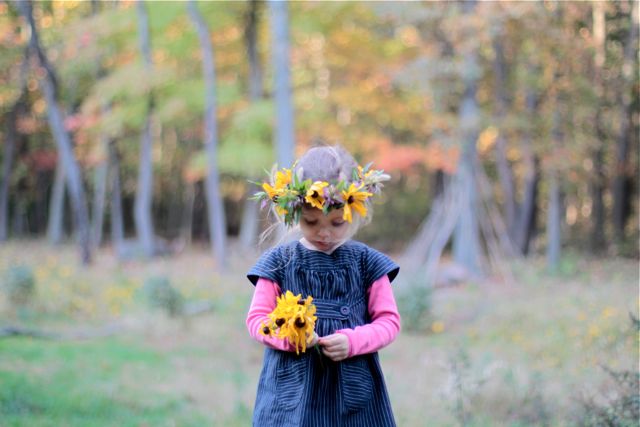 Today, for our Wednesday Hike we are off to Van Vleck House & Garden. The Girls and I have not been there before and I am looking forward to visiting this historic mansion and gardens. I chose this location for our hike today over the woods – due to the snow storm destroying so many trees over the weekend, it is still too dangerous with falling branches to enter the forest with the Children. This will be our last Wednesday Hike until after we get back from Australia. We are sure to do lots of hikes while on holiday and we will think fondly of our hiking friends in Montclair. We will look forward to resuming Wednesday Hikes with them when we return.