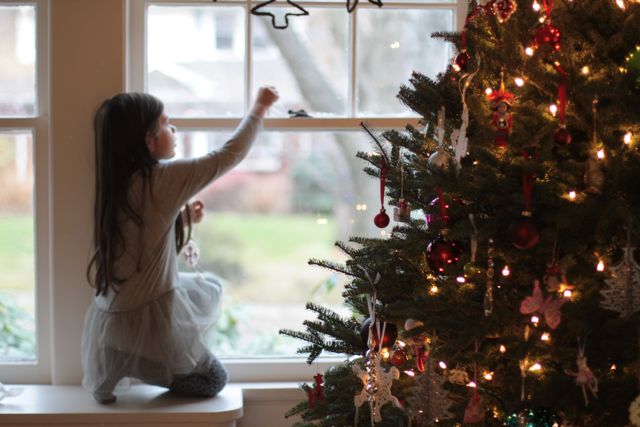 The tree is up! Feeling a great sense of accomplishment for having flown across the world on my own with two children after a month of non stop adventures…only to come home and hit the ground running. Seven large (did I say LARGE?) suitcase unpacked and put away. Loads (did I say LOADS?) of laundry done and then yes…yippee…the house prepared for Christmas!
I adore Christmas and I have passed on the excitement to the Children. Cam too gets into the spirit and so on the very night we arrived back in Montclair we were having serious discussions about when we would get the tree, the tree, oh the tree. It was decided that we would have to wait until Saturday, which came around quickly as the days were occupied with restoring our lives to normal.
On the way home from the airport, as we entered Montclair we drove by past a Christmas tree lot that said "Fred's Tree's since 1946". It looked like a thriving lot with a great selection of trees and so we decided we would give it a try. We were a little sad not to be getting our tree from Windswept Farms on 16th street in Brooklyn as we had done the three previous Christmas' in America, but felt happy with our new option. Next year we plan on cutting down a tree ourselves from a paddock lot…between now and then I just have to find out where we can do this?
We chose a lovely tree at Fred's lot, paid $60 for the 6 FT"  had the bottom sawed off so it can drink, had it tied to the car and then drove it home. Once home, I started to feel sick and so despite my wishes I did not feel like decorating the tree. This was very disappointing as I was so excited! Cam came to the rescue with hot tea, lemon honey throat lozenges and put me in bed with pain killers. I resurfaced a while later and the Girls were jumping with glee to decorate the tree, so I sat on the lounge snuggled in a blanket and watched while Cam and the Girls hung the ornaments. It was really lovely for me to sit this one out, and as a witness only, see the joy the Children got from unwrapping the decorations.
We have a beautiful collection of ornaments from all over the world. My Grandmother has a tradition of  giving us each an ornament in our Christmas stocking. This started when I was a baby, and so I have 33 annual Christmas ornaments (it started on my second Christmas when I was 18 months old). I have come to cherish these ornaments, especially now that I see my Children's collection growing too. Grandma enjoys traveling and so she usually buys each of us in her Family an ornament from wherever she has been throughout the year. I have numerous unique ornaments from Hawaii, Japan, China and other places she has been. Grandma chooses one for each of us based on our likes, and then she initials and dates them…K "83…K"91…K "97…you get the gist. Sadly my first Christmas ornament was damaged this year in transit from Australia – the only thing that broke in all the luggage that I packed! My sweet little red bell, dated 1978.
I love this tradition so very much, and so do the Girls. They each know which ornaments are theirs. One day when they leave us, their first Christmas away from home as adults I will give them their bushel of beautiful ornaments. It is a wonderful way to collect decorations, gradually, with reference to a time and place and person. This year Grandma was once again in Hawaii, so I am guessing there will be a  Mele Kalikimaka kind of ornament in our stockings…that 's Hawaii's way to say Merry Christmas!
Cam and the Girls did a lovely job of decorating the tree and did all but one box of MOMA glass ones that Cam said "These ones are for Mummy to do" since he broke one last year! I ventured off the couch for a the final ornaments and then Maya declared it was time for our angel. Our pretty tree topper that I made last year with Maya's Waldorf Playgroup (who we miss so much!). Placing the angel is my favorite part of decorating the tree, it is then that we all stand back and Ooooo and Aaahhh and say…."Our tree is so beautiful!"
Wishing you all a Merry week of Christmas festivities…