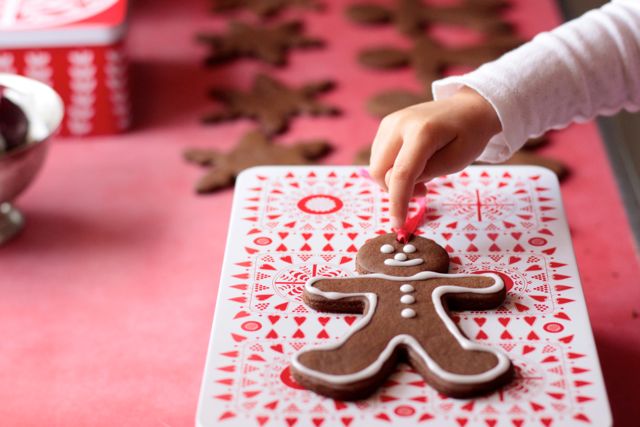 The sweet aromatic warmth from our kitchen this week means one thing: freshly baked batches of Christmas cookies! Snowballs (aka Mexican wedding cakes) and gingerbread men were on my to do list for this festive season and so Tuesday and Wednesday we were busy baking. Elle and I went to work while Maya was at School and then Maya joined in after pick-up time. I love my alone time cooking with Elle, or rather I love watching her cook while I take photos. It seems like no matter how many times I cook alone with her, something about it transports me to my childhood when I would sit and help bake. Just like Elle, I would quietly watch and wait, and then just when I knew the time was getting close, like Elle, perched, I would eagerly say "Can I lick the beater please?"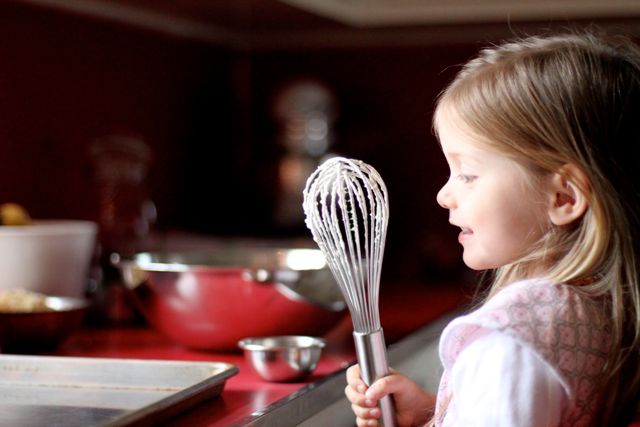 Cooking is one of Maya's favorite things to do too, so I tried and space it out so we baked after school too. For the first time this year Maya mixed the ingredients, rolled out gingerbread dough, cut shapes, skewered holes, placed in oven, and decorated all on her own. I stood back and watched as she did all of this with knowing. I only put down the camera to be on close hand when she put her "own" tray in the oven (which I later removed for her). It sure does make a Mama proud to see an offspring learning!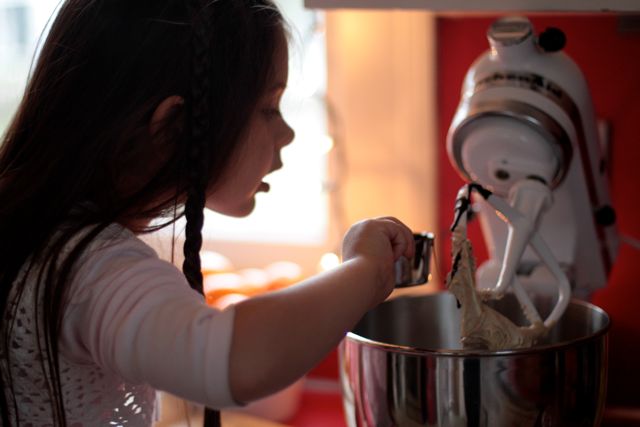 Christmas would not be Christmas if we did not hang gingerbread men on the tree. We started doing this when we moved to America and have done so every year since, you might recall us baking them last year. This is a lovely tradition for a few reasons…firstly we get to nibble gingerbread cookies when we fancy, and secondly we invite friends over to choose cookie ornaments from the Christmas tree and eat them!
I use the Joy of Cooking gingerbread cookie recipe, which I roll directly onto a cookie sheet, cut the shapes while on the sheet and then subtract the remaining dough. Prior to baking I put hole in the heads with a skewer for stringing ribbon through – this is so they can be hung on the tree. To decorate them I make  icing with powdered sugar and water – this is the suggestion at the end of the gingerbread cookie recipe. I like how it works – it is simple and easy. The containers I use for applying the icing are some I bought from Pearl Paint Art Supplies (but sorry, I can't find them on their website).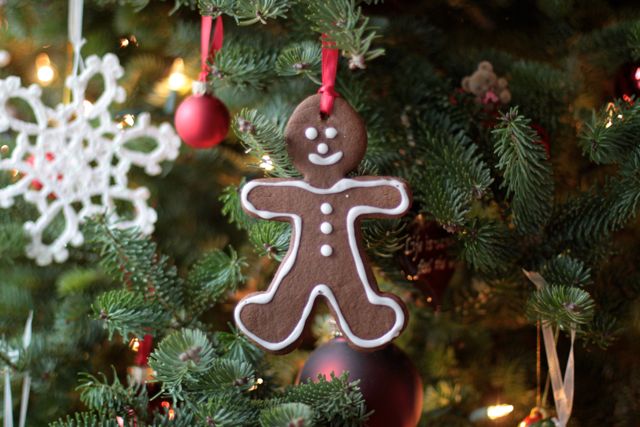 This is a time of life when I feel the combination of blessed and content. We have so much to be thankful for. The tree sparkled, our favorite Christmas carols were playing, our home was filled with the sweet scent of  baking…Wishing peace and joy to you all at Christmas!