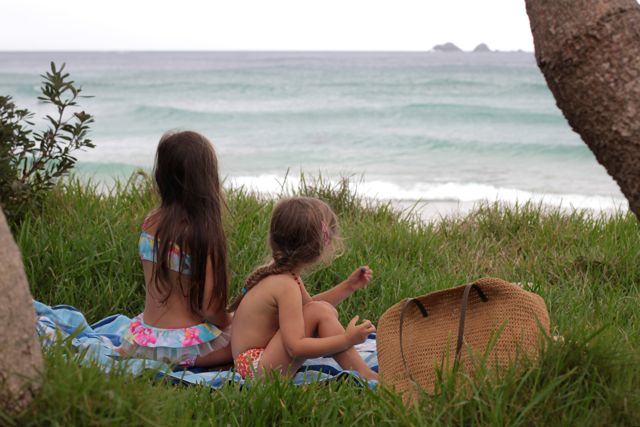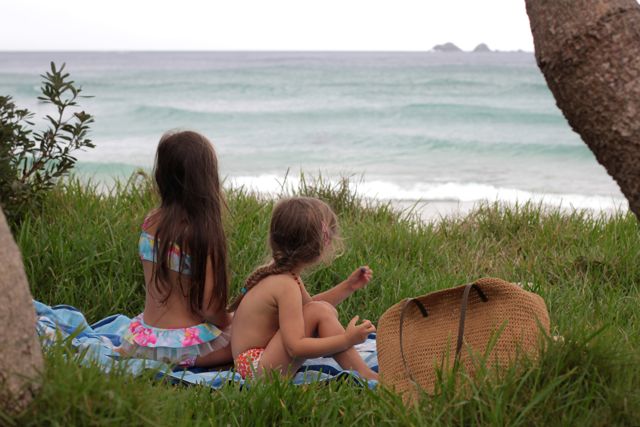 One of the best things about being back on the North Coast, was the easy access to numerous amazing beaches. I can't talk enough about the beaches in this region – they are breathtaking. During the month we were back, I tired to visit many of the beaches that I grew up with, the first of which was Little Wategos. People travel all over the world to find a beach like this, and so it is a pleasure to share this special location.
Little Wategos, which is often over looked for actual Wategos is my very favorite beach (and it is really really hard to choose!). There are a few reasons why I love this perfect spot. Firstly, it is small and isolated. Isolated in a good way, meaning you have to walk to get to it, you can not park a car right at it, and once on the beach, there are no visible houses or buildings. For this fact, you can be the only person on it, and I personally love being on a desserted beach. It is not a continues stretch of beach, but a small cove, about half the size of Wategos. To get there you have to hike along a trail that involves boardwalk and stairs through native rainforest. It is really not too difficult to get to, and the Girls walked it with ease. Secondly, it has grass, trees, and rocks, all necessary to help protect the coastline from erosion.
There is a circular clump of trees that form a canopy and over the years people who like to come to this place have made a beach stone fire-pit in on the ground in the center. The trees provide shelter and they grow in such a way it seems like a dwelling. While sitting beneath the trees you can look out on the beach, then further onto the horizon to see the mythical Julian Rocks.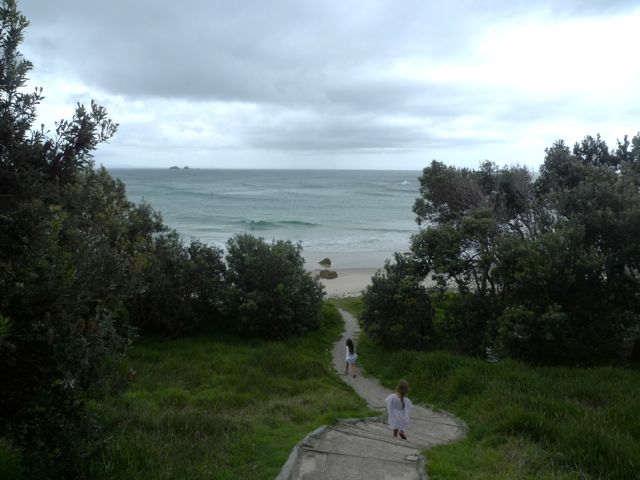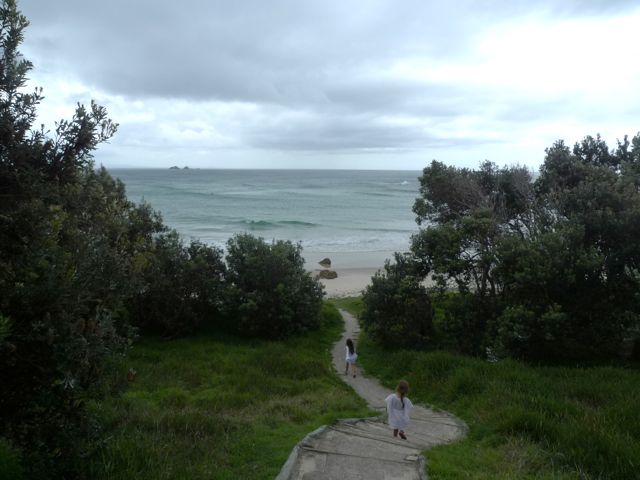 Little Wategos is the furthermost beach at Cape Byron, the most easterly point of Australia – which makes it the most easterly beach. To get to it you use the same trail you take to go to the Cape Byron Lighthouse from the Wategoes entrance, and then you vere off at one point down to Little Wategos. This is a really beautiful walk, that overlooks Wategos, and then rounds the corner to Little Wategos.
To start this day out we went to the Byron Farmers Market, picked up some local produce for a picnic and then went to the beach. By the time we arrived at Wategos and parked the car, cloud cover was setting in. I was not worried about the chance of rain as it was a warm day and I quite like a rainy beach day. We carried on with our picnic plan, and the weather made for a beautiful moody scene. The Girls were in good spirits after lots of fun at the Farmers market. By co-incidence we had run into two separate, previous Beachcomber Drive neighbours – Gyan and Eshana at the same time. We ended up playing with them for an hour in a fig tree while drinking sugar cane juice. This made for a very sweet start to the day.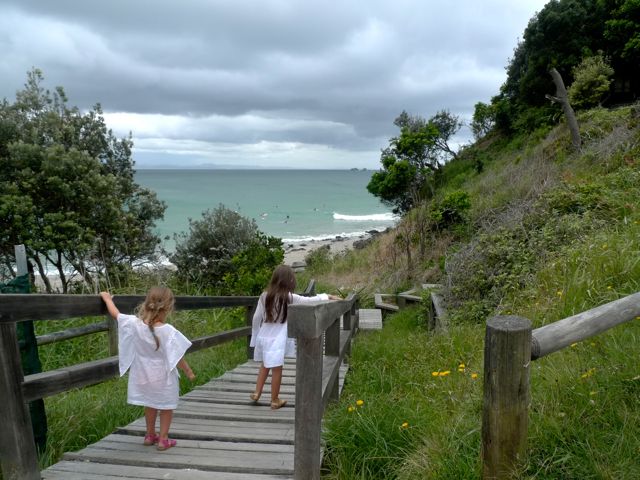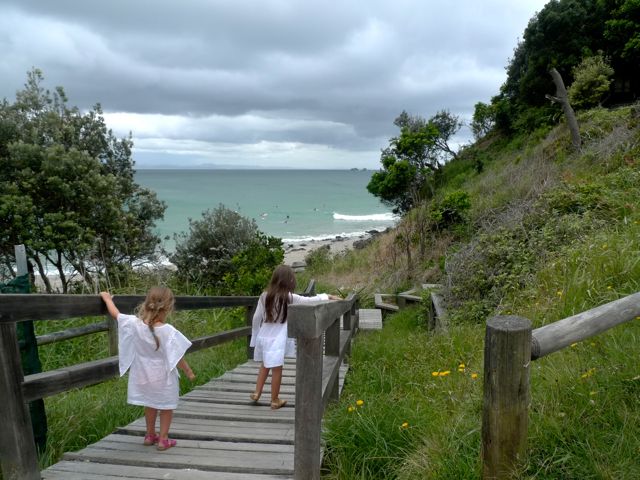 When we arrived at Wategos it was about 10am and on a week day so it was easy to find a car park. We stood and watched the surfers for a while and then started on the track up and over the headland and then down to Little Wategos cove. On the way we spotted a pod of dolphins, which gave us a playful display. The dolphins stayed for quite a while – surfing and jumping and flipping. We set up our picnic in the grass under trees and watched them.
The Girls were then ready to play in the water themselves. Time to skip and frolic and enjoy paradise. Eventually the wind picked up too and the temperature dropped so we packed up and hiked back to the car. Taking our time along the way to look in detail at all the beauty nature put before us. It was a heartwarming day and one that certainly made me question ever leaving Byron Bay…but you know, I am Ok with this…