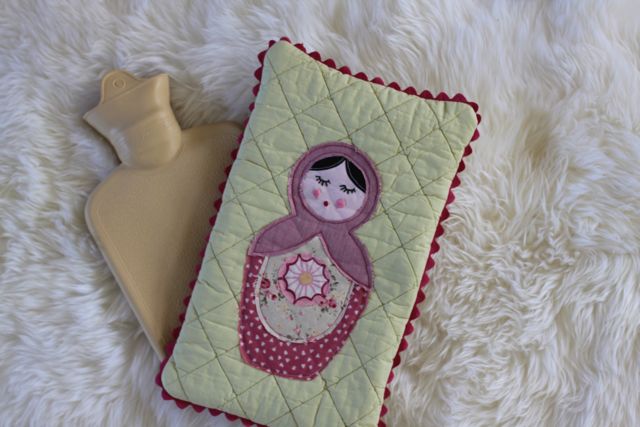 You may have noticed last week was quiet on my blog – it was because I was busy fulfilling my New Year's resolution to sew more for the Girls. You might recall the folk skirt I completed, as well as two other skirts I have not yet shown, and now this – Matryoshka hot water bottle cover. I am so very pleased with how it turned out and had a sewing buzz when it was done!
I showed my project to my friend last week, explaining, "I am making a hot water bottle cover out of my old change pad covers". Anneliese, who then replied, "I would love to know how your mind works, how did you arrive at doing that?", which was a good question and so I will explain the process.
With Winter cold setting in Maya commented at bedtime that her sheets were cold. I thought that it would be nice to get her a hot water bottle to make bed time cozier. I then looked on etsy to find a hot water bottle cover, and really did not see any I loved, and I did not want to pay $30 + for something I was not excited about. On second thought I decided to make one myself – which I should have been my first thought! The next step was to rummage through my fabric and see what I could use. During a clean out of my fabric cupboard I came across two very nice change pad covers that I had bought from Land of Nod. Both of which had lost the elastic in them, but they were too nice to throw out – and I could not give them away without elastic, so I had put them in my sewing cupboard to repair. They struck me as the perfect thing to make a hot water bottle cover out of…and so it began.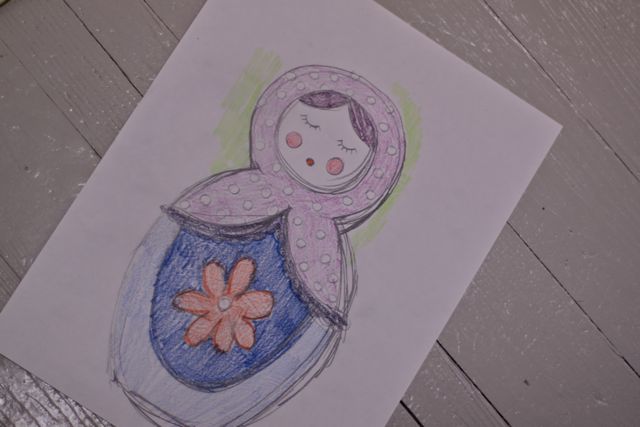 The fun part of making something like this is working out the decoration and adornment. I decided to applique the front of the cover and returned once again to etsy to look at applique images. I wanted something playful and fun and was thinking about all the trendy symbols and motifs people are using. A bird in a tree, a little house, an owl…and then it was not long until the image of a Matryousha came. A Little Russian doll looks swaddled and I liked the idea of making her eyes shut so she was asleep – the perfect  motif for a hot water bottle cover.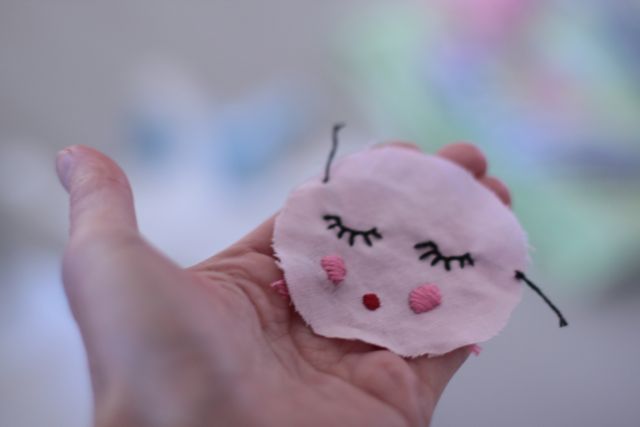 I then went back to esty to specifically look at Matryoshka applique inspiration. I found this shop and based my drawings from the Matryoshka pillow. I have documented the process, a rough sketch and a formal pattern. I deconstructing the change pad cover by unpicking the sides off, and cutting the desired water bottle size. I hand embroidered a face for the doll and then appliqued the Matryoshka to the front of one side. I then made some bias binding from the removed change pad cover sides. This gave a nice finnish to the back opening. I sandwiched ric-rac (salvaged from cleaning out Mum's house) between the top and bottom pieces, turned it the right way out and tada….a very cute hot water bottle cover for Maya – which has now become Elle's (who was very helpful by playing by herself while I sewed). Maya has decided to have the other one that is on the way. This project was very satisfying, I turned something used and worn out into something new with purpose, and I think I did a really good job, even if I say so myself….happy sewing friends!