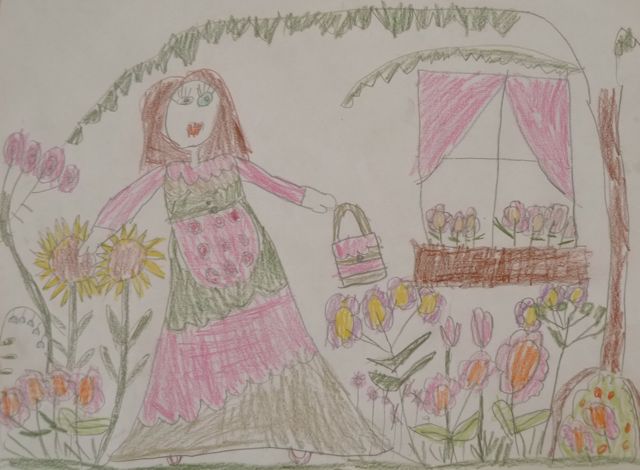 During Maya's last week of school before we left for Australia her teacher gave her an artist quality drawing book with instructions to draw and write in it while she was away. Maya obviously listened seriously to him as she filled every single page before returning back to school! I have to admit, this was not without some Mummy guidance, as I encouraged her to sit and draw daily while we were away. Partly to do as she was asked, partly to record our journey, and partly because drawing calms Maya, it keeps her quiet (mostly) and still (mostly) with wonderful rewards. Our encouragement and nurturing of her drawing has gone a long way, and when I stopped to count the pile that has formed over the past two months – beyond the full book, there was well over 130 drawings. I photographed 100 of them and then whittled it down to my favourite 52 to share. These drawings Maya has done on her own – and they are an obvious development from this series of Maya's drawings, she and I were doing together when she was four. It was then that I would draw a fancy dress (with puffy longy sleeves!) under her instruction and she would draw the face and hair and colour it it in. Now, after years of watching me draw she is familiar with forming the lines all on her own. This along with consciously studying illustrations of others' that she admires. You will also see the skeleton that she copied out of a book – that she then went on to number reference the bones.
With each drawing there is a story, and it is delightful to hear Maya talk about her picture. You will notice that in some she is really mastering the hands, or the eyes, or the lips and then in others the focus has gone into the style of the clothing. You will also notice she tries profiles, and increasing depth into the images by adding a background or foreground of tress and flowers, rather than a figure floating in white space.
Maya seems to be doing three to four (or more!) drawings a day. Usually one is done by 8am when we leave for school and a few after school. Maya can be heard saying some mornings "I don't want to go to school, I want to stay at home and draw all day!". I am so pleased this has become our family routine. During the time it takes me to cook dinner and wash the dishes she will have drawn three pictures. I should add that Elle too has been drawing, and I intend to do a post dedicated to my other little Artist also.
Doing a post about the Girls artwork is one of my favorites. There have been quite a few posts dedicated to Maya's drawings, such as Maya and her babies, Spring blossom drawing, Mummy and Daddy drawing. No one can love a drawing done by a child more than a mother, and I have so many to love. I am very pleased to share the latest series, and Maya will be thrilled to hear what you think.