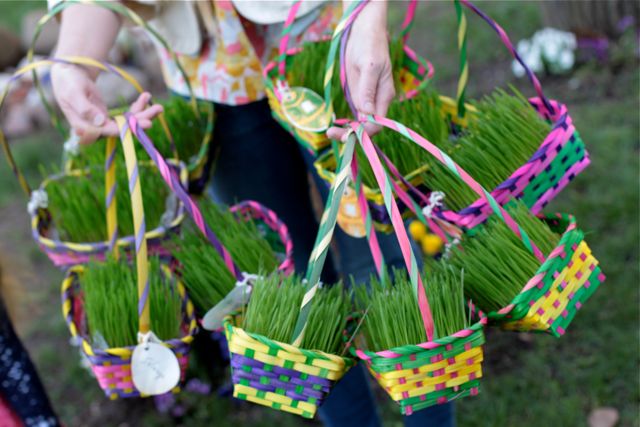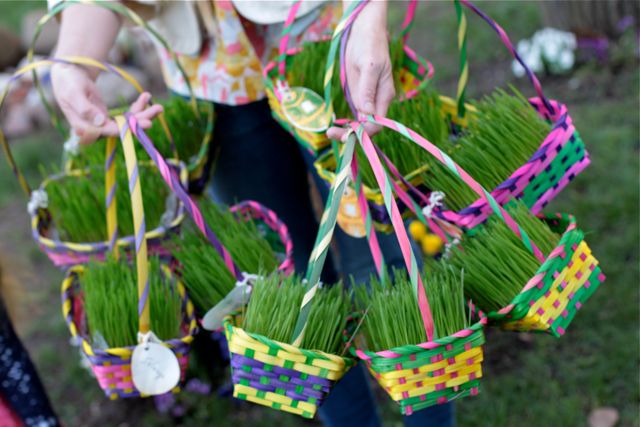 I am popping in to wish you a happy Easter and spread a little more Easter cheer before Easter morn arrives. We have been counting down the sleeps and now with both girls tucked away in bed, we are down to one, one more sleep until the bunny arrives to fill our baskets with sweet treats. Which brings me to the point of this post…Easter baskets. Look at how the gorgeous wheat grass grew in the Easter baskets for Maya's class!
My friends, they turned out perfectly! But do not be fooled, while wheat-grass is super easy to grow…for me it took two goes, and a lot of effort. As previously posted, this project started with Maya's class, as a planting project on the Spring Vernal equinox….but sadly the wheat grass never took off properly. Here and there sprouts grew, but it did not grow into the abundant green mass one would expect. I was completely disappointed about this and so with the clock ticking I set out to re-do the project. I collected all the baskets from school, telling the children I was taking them home for the weekend to look after them.
The seeds I used in the first place I had run out of. I had bought them in Brooklyn, and for some reason they just did don't grow so I needed another source. I almost became frantic telephoning plant centers, florists, and health food stores locally, that I could drive to, in search of some more wheat-grass seeds. After exhausting all avenues nearby I decided I would go ahead and order some more seeds on-line and hope that they would ship in time to soak and sprout and grow.
Luck was on my side and they shipped right away. I was still cutting it fine time wise for Easter and feeling a bit nervous that the whole project would go belly up. I feel embarrassed to say it kept me awake at night. In the scheme of things, Easter wheat grass really was not important right? But I had my heart set on this vision…and did not want the children to be upset, so with precise method I started over.
This is what you would call a good worry, and with it I decided to keep the wheat-grass baskets at home and watch over them, making sure they had just the right amount of light and water. I did not want a repeat of the first batch, so became a little particular about growing techniques. There are a few methods out there, but some better than others. This is the best wheat-grass tutorial I found. Following this demonstration the second batch of seeds grew perfectly. The only thing I did not do was to grow them in a draining tray. I used cling wrap in the bottom of the baskets that did not allow drainage so I had to be careful not to over water. I used a spray bottle to water the seeds 2-3 times daily. I was very pleased with the outcome and recommend The Sprout House as a good source of seeds. I purchased the 1 lb bundle and used the whole pound to grow the 25 baskets worth of wheat grass. They grew so well, and in the end, the timing of the second batch, was just perfect. From the arrival of the seeds on my doorstep, to the baskets as in the photos was 6 days.
I now feel confident at growing wheat grass, but definitely feel it is important to source good seeds, and to stick to a tried and true method…because if so you can rest at ease that you will have green, glorious green grass…
Wishing you all a happy Easter!