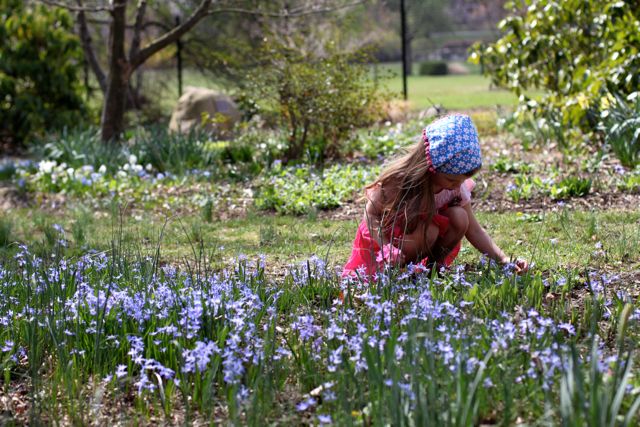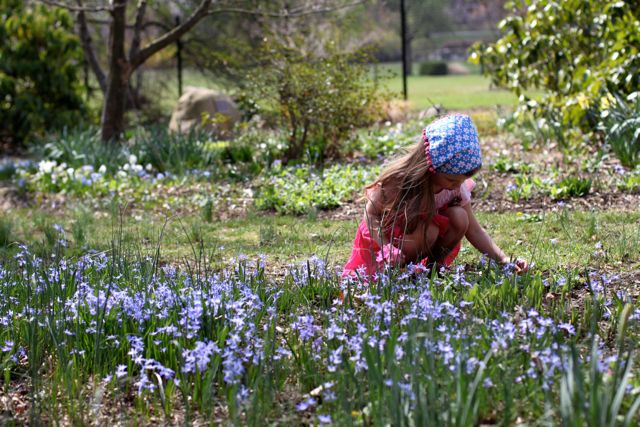 I am not sure where the days have gone, but my goodness they slip away….Not last Thursday, but the Thursday before, Thursday March 22nd…we spent the day at the New Jersey Botanical Gardens, which is also the site of Skyland Manor. This was an exceptionally warm day of early Spring, with the predicted temperature to climb into the 80's (27˚C). With knowing that this was going to be a gorgeous day I planned not to send Maya to school. I am currently sitting on the fence about homeschooling and so have no problem giving her a day out to do something interesting and rewarding…like go to a garden or to go to an art gallery…or whatever else, to live life outside of the box. I admire the concept of learning through living, and having a day like this now and then makes living and learning so much fun.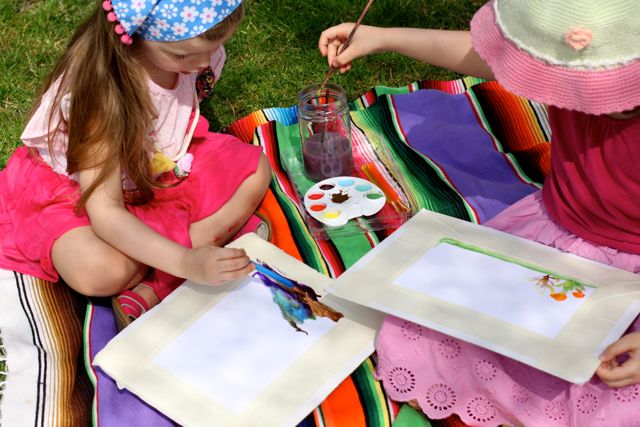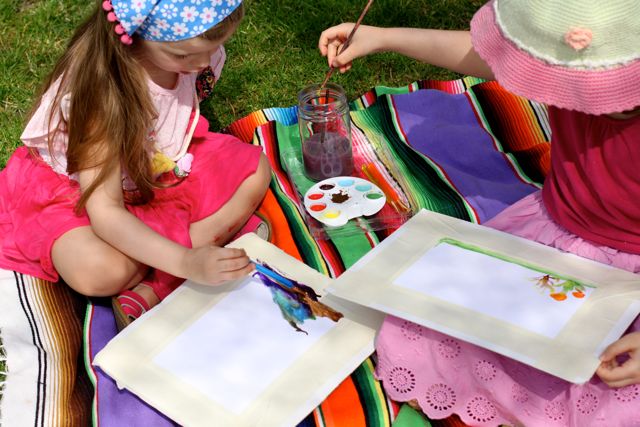 We love to visit botanical gardens, and as you may recall we often visited the Brooklyn Botanical Gardens. This was our first time to the Botanic Gardens in New Jersey, and I am sure we will go again. It is a beautiful place to spend the day, and only a 40 minute drive from home (or an hour if I get lost!). I packed a picnic lunch and our picnic blanket, some water colour paints and water colour paper, and we spent the day outside in the glorious warmth.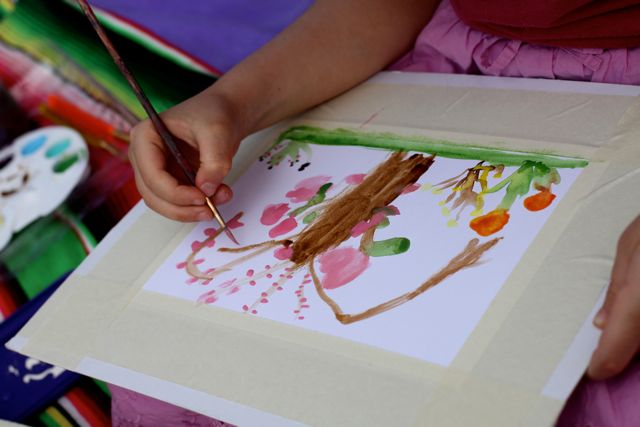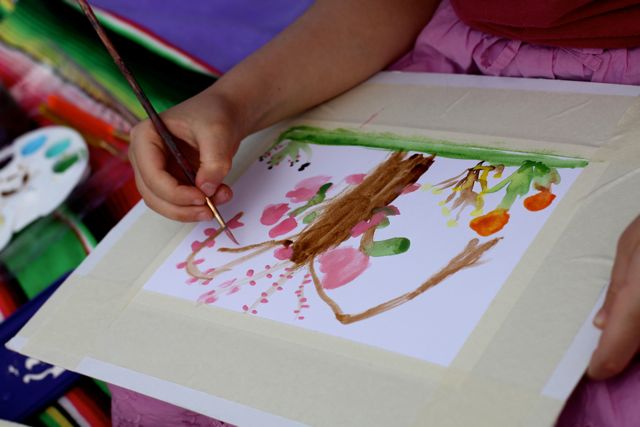 I have plans to draw and paint with the Girls all Spring and Summer long outdoors. We started taking drawing pads and pencils on walks in the woods and the Girls really like to stop and sit on a rock and draw so the next step was to sit and paint. This idea was well received and between wandering the gardens and eating a picnic lunch they painted. I was well prepared with water color paper taped onto cardboard so they had a firm lap surface. I thought I too might paint, and when I told the Girls this they both boo-hoo-ed this idea and told me firmly "Mummy, you use the camera, not paint". I thought this was funny, but like that they see the camera as my creative medium. Painting outside worked really well and I will definitely do this for them again.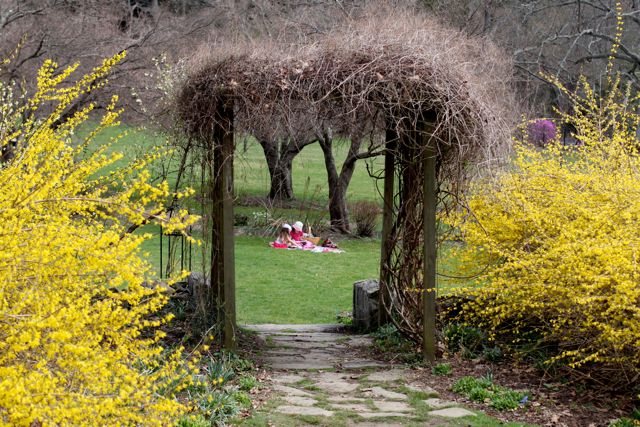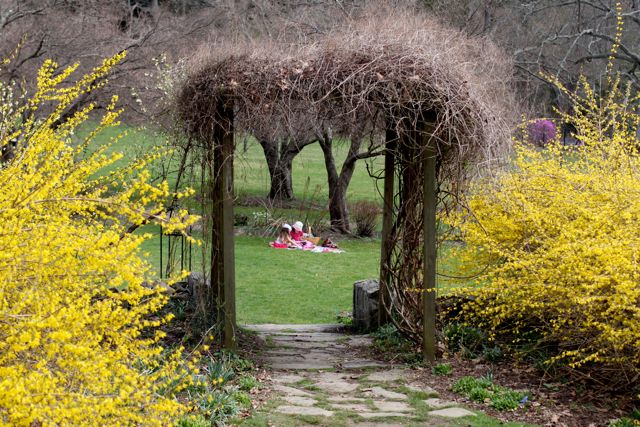 As it was early spring the gardens were still waking up with many things active benneath the surface. There was however bulbs blooming, lots of forsythia in bloom and some magnificent cherry blossom trees, unlike any I have ever experienced. I stood beneath their cascading canopy and felt like I was in heaven. The Girls too were in flower bliss. Maya pretended to be a bride with Elle as her attendant.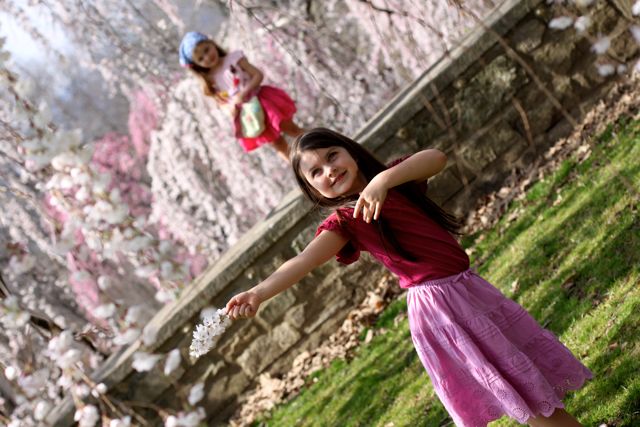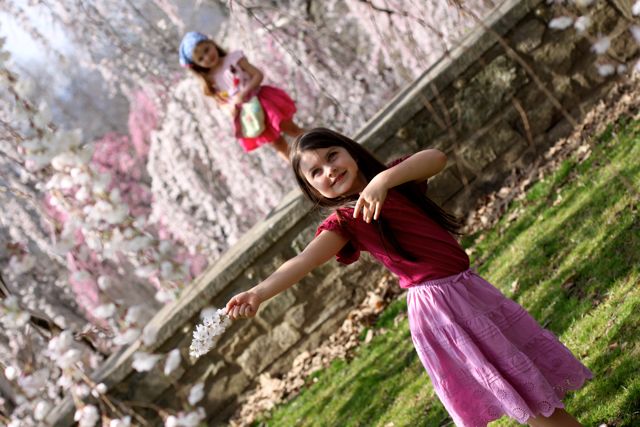 I spent the whole day saying "Don't pick the flowers"…but if I have to be honest, this was said completely without clout, as I secretly wanted to pick the flowers myself. I know…I know…if everyone picked the flowers there would not be any left…I know…it was a terrible moment of careless parenting, and one of the examples when I let it really slip. I felt I pang of guilt at the sight of the little bouquets for so many reasons, but I could not make them stop, because they knew despite my saying "Don't pick the flowers"…that their Mummy too is a flower child…