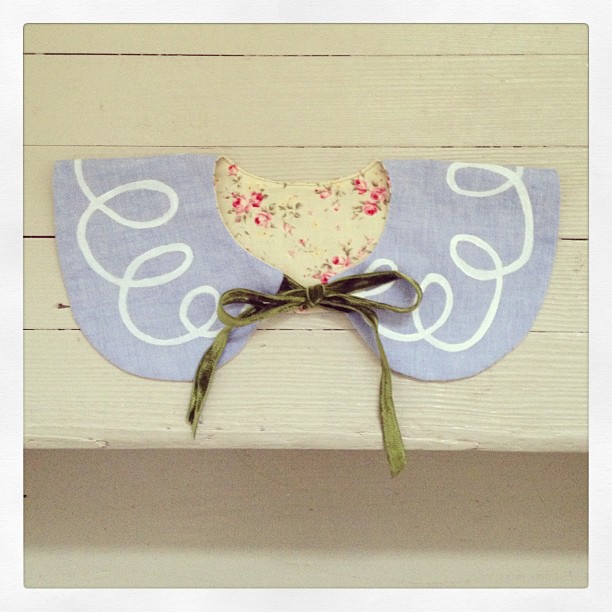 I was inspired last week with an image I saw by friends at Papeir Mache Magazine and so I went to work making a collar for my girls. I combined this idea with hand painting fabric – another idea that had been floating in my mind. I started hand painting fabric when some of our screen prints were less than perfect. If the print was not solid, I would touch it up with a paintbrush…and of course this led to me just painting onto fabric with the fabric paint and brush for fun. I was imagining these swirly loops along the bottom of a skirt. Once I cut out the collar in chambray, realised this was the perfect combination of ideas and so painted the swirls around the collar.
I lined the collar in a pretty floral cotton so it is completely reversible. I used velvet ribbon for the ties. I love how it turned out and think it is a successful combination of contemporary and classic. Plus, it looks really cute on the girls. My plan was that it would be worn over a sweater with a full skirt, adding a little creative drama to a plain outfit. I had Elle try it on after I finished sewing it, and LOVED how it looked over her pajamas…she looks like a harlequin doll. I asked Elle to point her toe like a ballerina, and up her toes went to meet her head with effortless ease and grace…it was like her hidden talent was revealed…I think our girl needs to dance.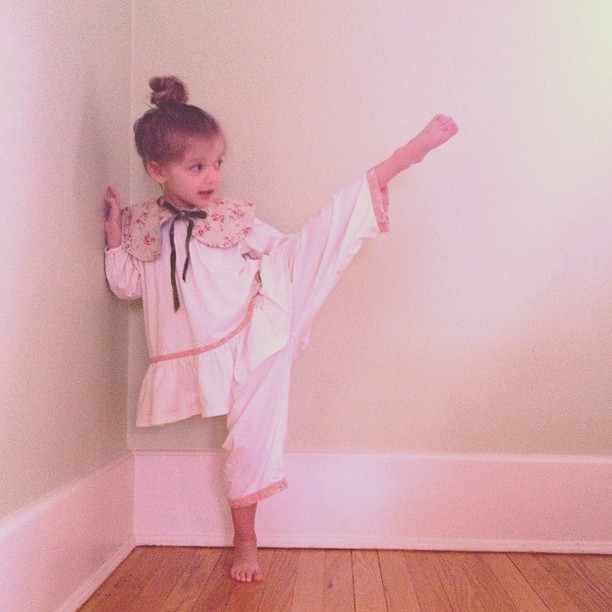 I went into Over The Moon this week, the boutique that sells our Mini Tote Bags (which I am pleased to say have sold!). I am making Wheatgrass Baskets for them for Easter, and while there working out the details, I showed them the collar. Instantly the owner said "I love them I will take six!". As you can imagine I was very excited to have this project. I get to buy gorgeous fabric and design cute things for children, AND make some pocket money. They want the collars for Fall 2013, and they also said they would like some of my Hot Water Bottle Covers for next Fall too. Looks like I will be busy sewing this Summer!