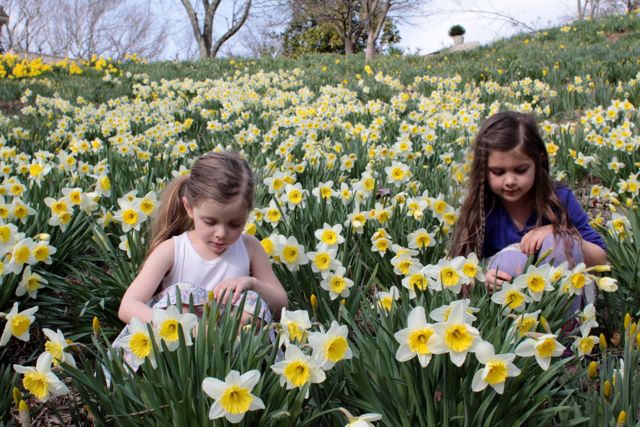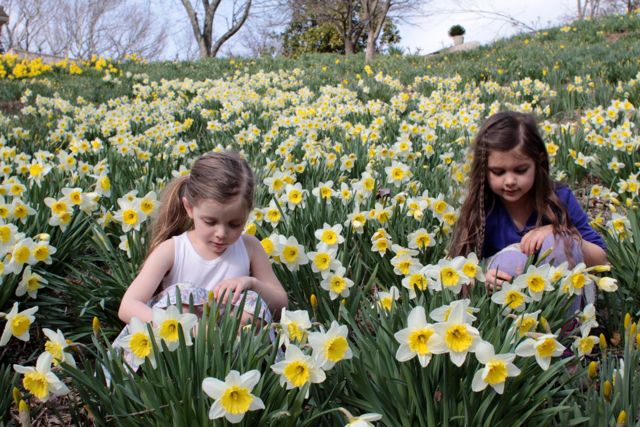 One afternoon last week  Elle and I collected Maya from school and we drove to the Reeves Reed Arboretum. It is in a neighbouring town not too far from our house. Close enough to make it an after school trip. This was the first time we had been there. Much like Van Vleck House, which we often go to, it is a private estate with amazing gardens, now open to the public. Some time last year I saw a photographic exhibition at the Montclair Library, and in the exhibition were some photos of a daffodil garden. When I saw the picture I thought to myself, I must visit this place. I wrote the name down – Reeves Reed Arboretum , and made a mental note that I would seek this garden out next Spring. I am so glad I did. I have not ever seen so many daffodils growing in one place. They take up an entire hill side, which as the name suggests, is like a bowl. A bowl filled with daffodils.
I invited Anneliese and her girls to come along, and it was really nice to get a photo of the four girls together in the daffodils. We went a little early so only half of the daffodils were in full bloom. Still it was gorgeous. Anneliese had a nice tour of the gardens with her girls, whilst I was dealing with some behaviour issues and an accident! Perfect garden outing it was not. Elle became very enraged because Maya whispered something to Bea and then they ran off and Elle could not keep up. Poor little sister – who almost yelled the house down. Oh dear! Then Maya decided she did not want to walk on the garden path out of the daffodil bowl and instead started walking up the hill off the path. I suggested she not do this, and while she was protesting she tripped over and fell down the hill. Like a cartoon character she tumbled head over heels. Getting scratches all over her arms. Poor big sister – who was then in tears. I could be heard saying "well you should have stayed to the path you silly goose". Thankfully Maya recovers quickly despite my not being a very sympathetic Mother in that moment. I certainly had two daff-o-dils on my hands.
Non the less from all of this, we had a lovely time. I baked a carrot cake and Anneliese made iced tea. We had a picnic in the shade and admired the trees returning to life after a long winter. The girls chased a butterfly, and Anneliese spotted birds and nests. So dearly love my naturalist friend.
My girls felt put out to pose for photos, which I suspected would be the case and so they were given the incentive of cake (Nothing wrong with bribing them with fresh baked carrot cake is there?). I could not miss out on photos like this.
The estate appears to have a lovely rose garden, and a woodland path. We went specifically to see the daffodils, but from what I read on the website there are many beautiful things about this garden at other times of the year also. It was gorgeous to see the garden glowing with golden daffodil heads. Such happy flowers. Spring has sprung my friends, and it was so very worth the wait.