Since the first buds of spring we have been making flower art, and we are getting so much pleasure from it, we just have to share! One of our favorite activities has been making flower patterns, or mandalas. I remember the first one Elle and I made in March, in an almost desperate need to play with petals after a very very long winter. Elle and I collected the flowers from the side of the road, and brought them home, as our garden was still next to bare. We felt a need to really celebrate the return of life, we played with the flowers and ended up making a flower petal mandala. This has lead onto a Spring full of wonderful flower creations.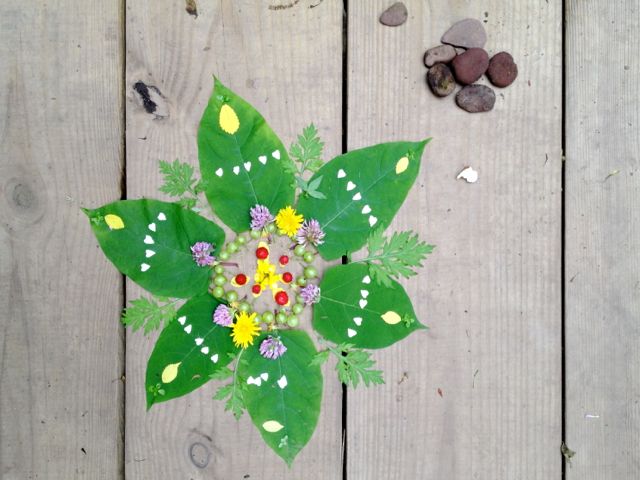 Not only have we been making mandalas at home, but we have been making them in the public places we go, at the Botanic Gardens, and in the woods, leaving them as a little gift for those that happen by. People have commented to us further along on the track and asked us if we made the "thing" they just passed. My heart leaped for joy! Why yes, we did! I know we are flower children, and when this happens, I realize we must look the part too!
The girls love this activity. It is drawing with flowers. Every part of this is fun for them, picking the flowers, working with the flowers, and then documenting the wonderful outcome. Elle will sometimes make numerous arrangements in one sitting. She will make one, then pull it apart, and use the flowers again in another way. We always work with what we have growing in our garden, or with wildflowers we find on our adventures. Working with seasonal ground grown flowers is best for the environment, so that is what we do. We also like to use seashells. We would never buy seas shells of course, only seashells that we have collected from beaches. If flowers are not an option, beautiful patterns can be made with leaves, rocks, berries, acorns, pine cones…or any other abundant found treasure!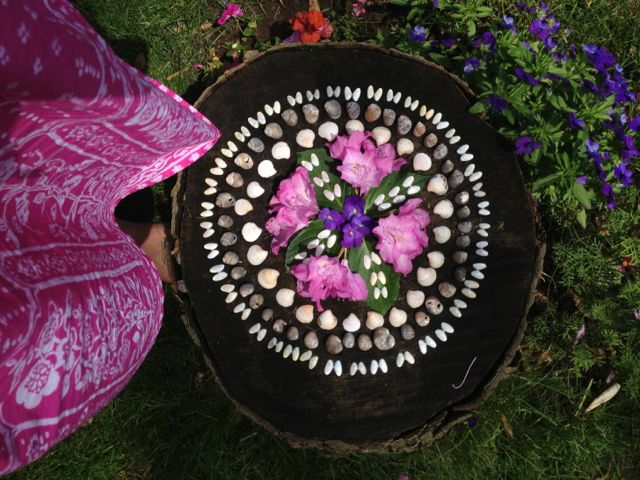 Everything about sitting and doing this makes us feel good, we are playing with nature, being exposed to the texture, the aroma, and the detailed beauty of each little blossom, and sometimes, each little petal. The girls are learning so much, and the outcome is so rewarding. It takes time and patience, and is both relaxing and grounding. I consider this holistic creative play, which any child or adult can benefit from.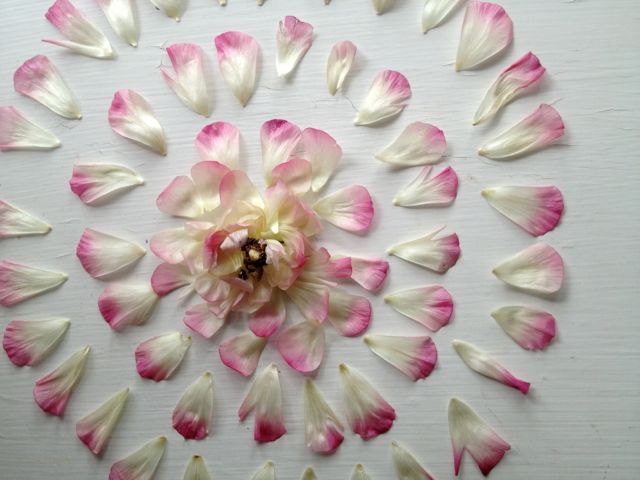 I generally place a cotton scarf or sheet out to work upon, This is very handy as it is a large canvas so it does not limit their creativity. Often Elle likes to work beyond a mandala shape.  Working on a cloth makes it very easy to pick up and shake out when we are done. We love to work outdoors, but on windy days we happily create inside. When we are done with the mandala we are putting the flowers in the pages of heavy books and pressing them. We will appreciate being able to play with the pressed flowers in the midst of winter.
I can not praise this experience enough. I get a heart felt joy when I see what their little hands and minds create. It is exciting and rewarding, and earth friendly entertainment. The process is beautiful, and the clean up is beautiful too. I think anyone at any age and ability can find some pleasure in this. Be it making one, watching someone else make one, or as a discovery on one's path.