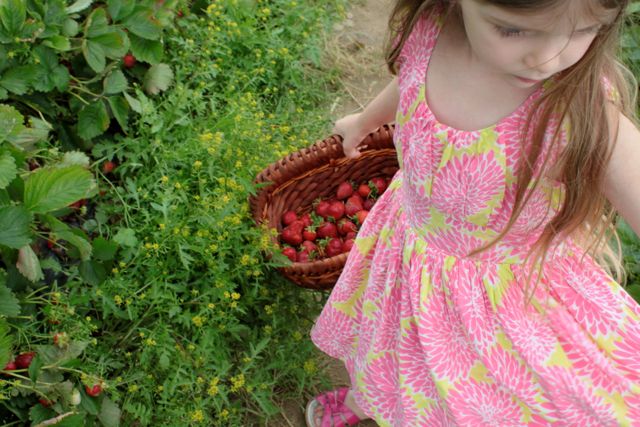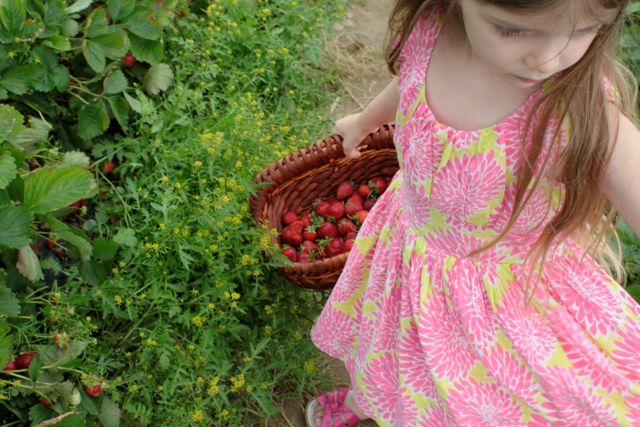 The past Sunday was Father's day, and also our wedding anniversary. We made no plans in advance and then at about 10am I started to feel like doing something. (I have been sick for almost two weeks with Lyme's disease from a tick bite, but that is too boring to talk about). Sunday morning I came around and I started thinking how nice it would be to go to a flower farm. I tried to talk Cam into this idea, "Oh yes, wouldn't it be fun to frolic in a field of flowers for Father's Day!" Not exactly Cam's idea of a fun time, but hey, Father's Day is really about having a family day…and since it was our anniversary too, I felt like I could suggest an activity! I called a few flower farms that were not open to the public. Cam found my enthusiasm and process quite amusing. This led to Strawberry picking instead. Cam was on board with this idea and so off we went to Donaldson Farm in Hackettstown, New Jersey.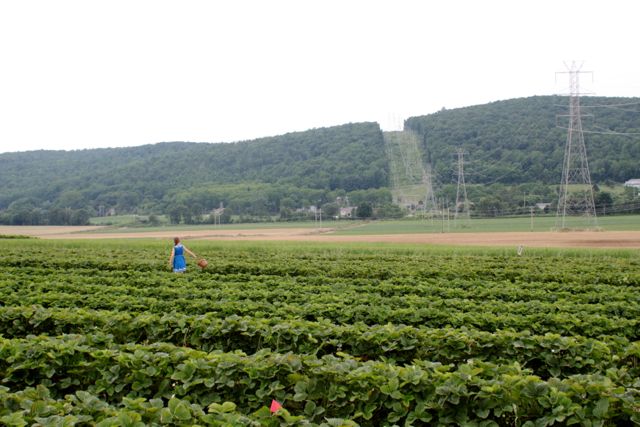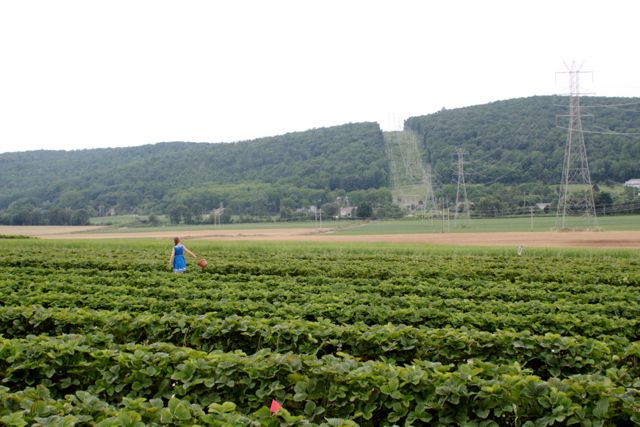 I can be particular about farms and really like to know what we are in for before we make the drive, so I do the research. At all cost I avoid festivals and events at farms. I like the sleepy quiet days when we have the place almost to ourselves. I could not find an organic strawberry farm, and from what I read there is not a certified organic strawberry farm in all of New Jersey. Pretty sad. Still though, despite my organic prerequisite, off we went.
The farm was beautiful and clean and well looked after. Rows after row of strawberries, lined with hay and wildflowers. The plants were thick with berries, glowing like rubies amongst the broad green leaves. It was easy picking and it was so beautiful. There was a gentle warm breeze, that carried the smell of ripe strawberries through the air, helping us breath in the moment. As we stood in the middle of Strawberry fields, my darling husband took my hand and gifted me with heart words about the day we married and our life together…forever.
We took baskets with us to collect the berries in. It is more fun for the children to carry baskets rather than the large flat box provided. Elle was an industrious berry picker, and took the task very seriously. She wanted her basket full of perfect berries. Maya on the other hand picked and ate, picked and ate and had a near empty basket. When it was time to go she was complaining that her basket was empty and that her tummy hurt. The whole time I kept saying "Stop eating the strawberries, they need to be washed first". Cam and I helped Maya fill her basket, and then we went to weigh the berries.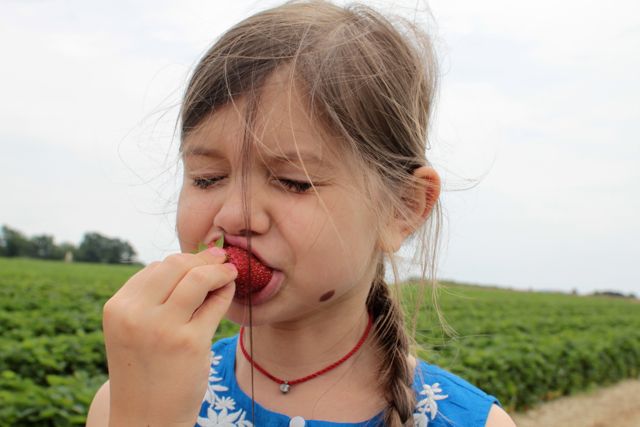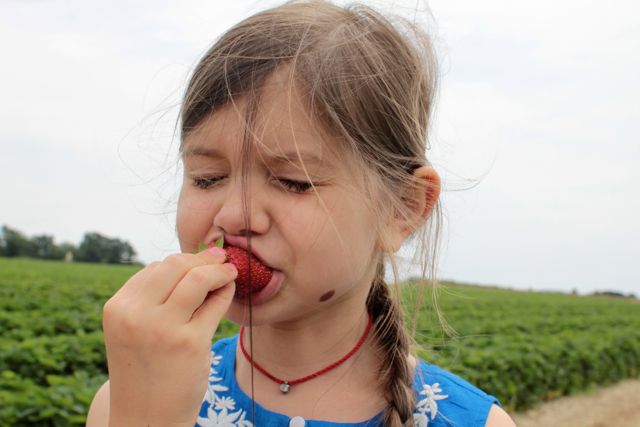 To weight them they had to be tipped into a box. At this point Elle burst into tears! "No! You can't do anything to my strawberries, they are my strawberries!" We did our best to explain to Elle that weighing the strawberries would not effect them in any way. Our explanation did little to comfort her and she sobbed from the strawberry field to the cash register. The issue was that she did not want her berries being weighed with anyone else's berries and so after we sorted this out, and weighed Elle's separately and put them back in her basket all was fine. I will add here also, that Elle was very clear on the way home we were not to eat her berries either! We drove home with sweet smell of summer filling our car. After we arrived home, Elle's attachment to the berries had diminished and I was able to wash them and put them in a bowl with all the rest.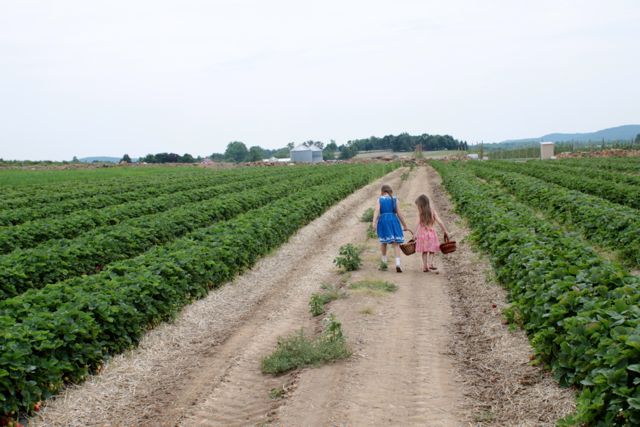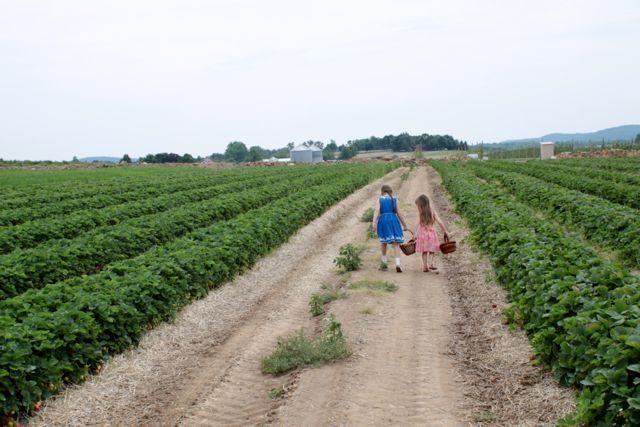 I love how the girls experience life differently. Maya has such an appetite for life, she is wild and has such gusto, Maya did not treat it like a task, other than to devour the berries until her stomach was full. Elle on the other hand took pride in filling her basket, and saw the experience as an accomplishment. They are both wonderful and their differences offer each other such valuable lessons.
So grateful for this wonderful family outing and a Father's Day and wedding Anniversary to remember.