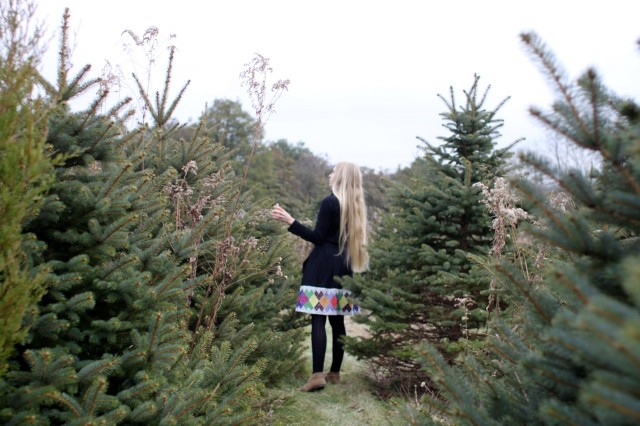 Life is full of interesting truths, and one to keep in mind in the age of social media, is that a photograph is one dimensional, therefore it does not tell the whole truth. There are a other senses involved to form a reality, that are just not available by the sight of a photograph. Sight is just one of the six senses of life, See, hear, touch, taste, smell, and feel (intuition). You see an image and you might like what you see, and the image might give you a feeling, and so you might get to experience two senses. Maybe if it is an image of food your mouth might water in memory of a taste, and maybe, if it is am image of a crying baby you might recall that sound. But predominantly an image is just about sight, it is a single layer of the experience that was a reality made up of other senses.
I don't want anyone to look at my images and by misled by our reality, so I am here to add some words to these images and let you all know that despite our Christmas tree looking prefect in an all American way, it really really stinks! Yep, we have never had a stinkier tree in our life, it is so smelly it is almost laughable. The first week was lovely our home was filled with the spicy scent of an evergreen, then as the water in the base sat, the stagnant stench set in. As we descend the stairs in the morning Cam starts complaining and heads for the incense sticks. For some reason, this year we are having an issue with stagnant water.
In addition to it being a smelly tree, it is a spiky tree! Yep, this baby is prickly…

So you see our perfectly lovely photos of us getting our tree, but what you can't hear is the "Ouch!" blurting out with each placement of an ornament. "Ouch, it spiked me!" this tree is prickly. Never have we had such a prickly tree! The needles were so sharp and firm, that they were in fact like needles. My hands were covered in what looked like a red rash from a torturous ornament hanging experience. I gave up in the end and went and put on my leather gloves! We do not have to tell small children not to touch the ornaments in this house, this tree sends a message, touch the tree and you will be spiked! These needles are like splinters and they are getting in our slippers!
Despite our tree being a test on the senses, first with the spikes and then with the stink, the experience of getting this tree was awesome. We drove out to Pennsylvania to Tuckomony Tree Farm. I heard about this place through friends, and I checked it out thoroughly before the drive. I had wanted to go there last year, but we were all having tantrums and so we turned back home. This year we were on best behaviour and so Cam did not turn the car around.
When we arrived we were greeted by the three generations of the Family that are the owner operators of Tuckomany Tree Farm. The parents were in the car park, and introduced us to the dog, the Grandmother welcomed us by the cedar log fire with a beaming smile, and the Grandson standing in the little cabin gave us an informed speech about the variety of trees on the family land.
We had packed a picnic and our red wagon so we went for a wander. Everything was so quaint, I was in tree shopping heaven. We made our way up the paddock until I found a spot that looked like a good place to lay out the picnic blanket. Cam and Maya went off searching for a tree. Elle had found what she considered a fairy house and wanted to sit and play. I stayed with Elle, busying myself with dried grass. Now I have seen images of tree farms that were row after rows of cookie cutter trees evenly planted, but Tuckamony Farm is not this. Tuckamony is full of organic character with lots of variety. I liked that the ground was not full of stumps, and the only stumps we did see were from recently cut trees. While wading through the grasses and dried wildflowers I did not have to worry about tripping on previous season stumps.
Cam was taking his job of finding the perfect tree very seriously and traipsed up and down and all around. If it were not for the red and white striped yard stick I would not have found him. Elle and I eventually met up with Cam and Maya at some point and I was told to wait by a maybe tree while Cam kept looking a little longer. We were all having a lovely time being on the land, exploring the farm. The maybe tree became the tree when Cam returned satisfied  he was happy with one. He took the provided saw in hand and cut down the tree. This part did not make me happy. I felt sad to to cut down the tree. The benefit of being close to the source was that we were present with this reality. We were able to show our gratitude and respect for this amazing living tree. We will not always be able, or want to have such a grand real tree, but we have made the most of it while we can. I felt really grateful for this family working the land, being farmers, and I loved the farm life they have created. Despite being a bit guilty for cutting down the tree, I was really happy to support this family and this industry. They plant more trees than they sell. They also provide seasonal work which makes for an interesting experience for those that are interested. The young man that helped us tie the tree to our car had just walked from Maine to Georgia on the Appalachian trail, then found his way to Tuckamony Farms to work the Christmas tree season. Talk about a way to up the cool factor. I admire people that do things like this.
So the point of this story, is that our tree is stinky and prickly, but it looks really good, and it came from a great place, and so it feels really good too. We highly recommend Tuckamony Farms as an awesome tree farm experience, and we will never forget this tree. I can hear it in years to come…"Remember that time we got that stinky spiky tree…" This is what making life memories is about. Remembering the good and making the best and finding the positive in the stinky and spiky. I just need to keep baking gingerbread to keep the house smelling as lovely as it looks.
P.S. I have since found a remedy to cure the stagnant water issue. Baking soda!