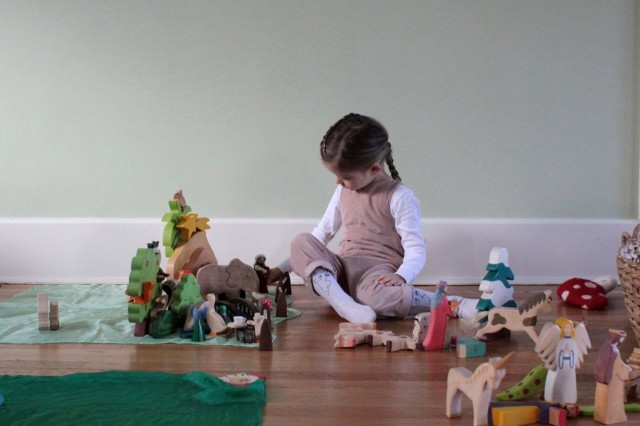 When Elle was one, we started collecting Holtziger wooden animals. I do not recall how we came across them, but from the moment Elle had that little wooden squirrel, we knew these were toys worthy of a collection. Each animal is hand made, and painted with non toxic paint. They feel good, and they smell good, and they come from a great place. These toys are toys that you hold onto to give to Grandchildren, and great-grandchildren. They are made to last, not just in materials, but also in style. They are classic wooden toys that will not ever go out of style, because they are not based on a fad. They are made with honest to good play as the purpose. The 'energy' of these toys will stand the test of time.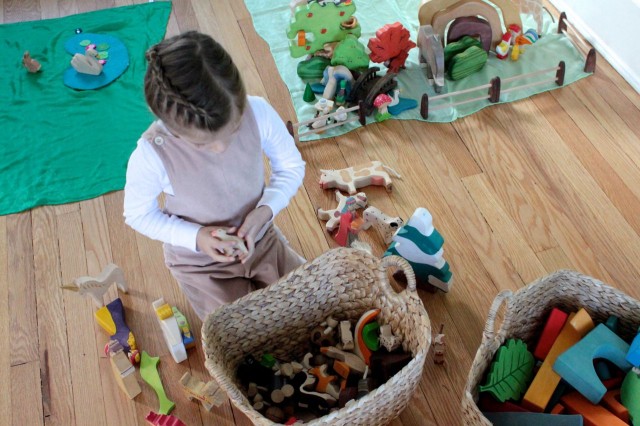 When Christmas and Birthdays come around for both girls, the Grandparents know they can add to this collection and we will be grateful and pleased. There is a pocket sized Holtziger catalogue available, that Elle carries around with her wish list circled….at this point every item is circled. It is so exciting to her to prioritize which animal to get next when Grandpop asks!
I love that by having this collection to build on we have eliminated any confusion  for the Grandparents of what to give as gifts. No one wants to give an un-wated gift, and no one wants to give a gift that causes damage to the planet. With these wooden animals we experience both gratitude and peace of mind.
Along with the Holtziger animals we have collected a few playsilks, which help create a landscape. We have added a few other wooden toys items to go in these landscapes, like wooden railing fences. I have also made some items from felt to compliment their play. Our favorite is this little double sided pond.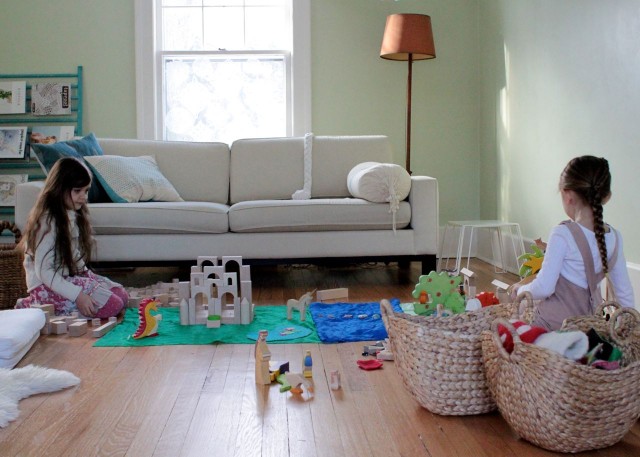 We also have a wooden block collection that provides hours of building fun. The combination of the wooden animals and trees, and the wooden blocks is a good one, they compliment each other so well. We went with Haba wooden blocks, and we also have a couple of set of the Grimm's wooden blocks. Both lovely quality, classic and environmentally friendly.
We feel such abundance with this toy collection, the animals are not cheap, and it has taken us years of Birthdays and Christmases for the girls to accumulate these baskets full of goodness. There is not a local supplier for us to buy Holtziger, so we purchase these toys on-line. I have found that in America Padilly has a wonderful range. Sweet William have also recently started stocking them.