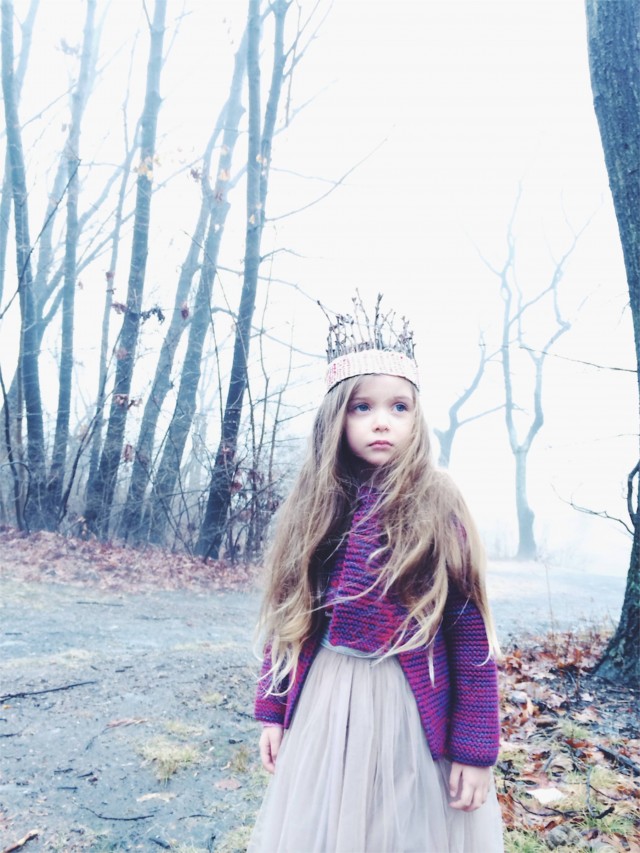 Children are beautiful no matter what, but it is the desire of many adults to adorn children, and perhaps equal is the desire for children to play make-believe and adorn themselves. Regardless of the reason, children are adorned. Adorned, across cultures in varying degrees, in ritual and in celebration, because of fears and folklore, because of religion, because of gender, because of money, because of fantasy, because of play, because of love. We feel the need to decorate, embellish and enhance, and whether this comes from a creative place, or because of imbued cultural reasons, it is something that happens. For me personally, my desire to decorate my children comes from a combination of creativity, the desire to make, and wanting to celebrate them. From the time my daughters were born, I wanted to put bows in their hair, and crowns on their head. In my journey with this, I discovered that we quickly accumulated an array of accessories, many of which were gifted to us, and many of which I did not like. I woke up one day and realized many of these things were actually not beautiful, they did not come from a good place, they were cheap, and the production of them caused pollution to the the earth, and because of this, when my children wore them, they actually detracted from their beauty. Their beauty to know better and have good judgement.  When I looked at my daughters wearing mass produced cheaply made tiaras, all I could see was waste, and all I could feel was shame. Shame on us for buying into the nonsense. I had to draw a line and establish a new standard for us. Out went the silver plastic jeweled sequins crowns and headbands, out went the garish glitter garnishes. These type of things said one thing only to me, that I did not care enough about the use of earths materials, nor the people being repressed into making them.
It took a while to clear it all, and along with letting go, I had to say no. Not to my children, but to the adults trying to give us these types of things to us. Never at any point though did I feel like we were missing out. We acquired new and different forms of adornment, which is now done so with environmental conscious. Plastic, glitter, and jeweled crowns are cast aside in favour of nature based adornment. Flowers, found feathers, leaves, and sticks became our medium. Each season reveals a new headpiece, some to keep, some ephemeral, but all made by hand from natures gifts.
All of this gave me a sense of accomplishment, that I was adding depth of meaning and feeling to our life, and that I was raising the girls to know how to make something out of nothing to satisfy that desire to adorn, to celebrate, and to be more beautiful, in a conscious way. I know they will look back and remember me making these things for them, and I hope that they always carry with them this measuring stick, of adornment. That they can evaluate how things are made, and measure the worth. I hope on those days when they grow into young women, and they feel like they want or need something to feel more beautiful (because we all have those days) they know they can make a flower crown, stick feathers in their pony tail, or simply put a single flower behind their ear, and need little else to feel they have an abundant beautiful life.