One of the beautiful things about being on a path to live lightly and consciously is that I meet some really interesting people, who are living life with dedication to choose wisely. How each of us can do this, and to what extent is unique and I treasure any efforts big or small, but I especially admire it when designers are creating beautiful products with a conscious so that it gives consumers the best possible option. I recently had the pleasure of interviewing Sarah Hardie of Fabrik. I admire Sarah greatly, she is a shining star in the Australian fashion industry, and her company is rising in the best possible way.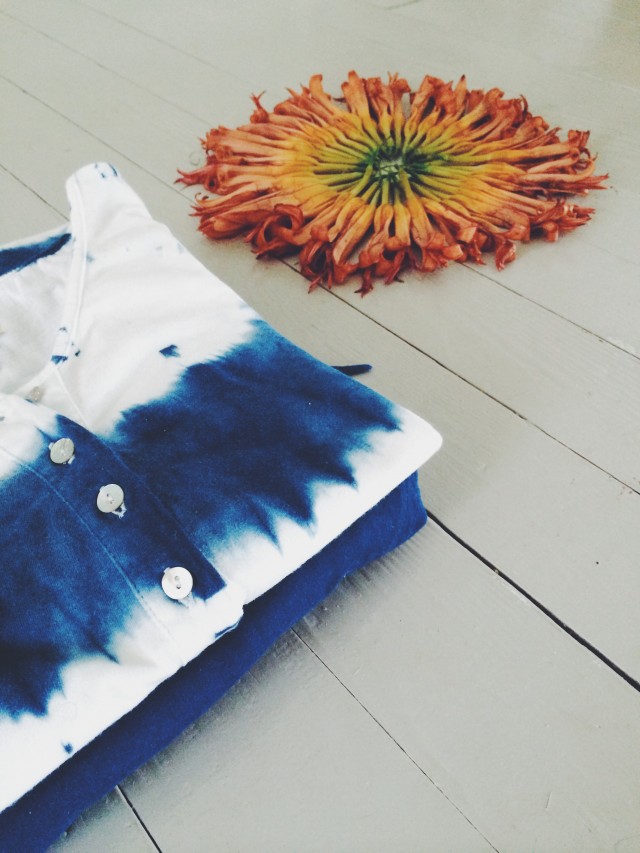 An almost 12 months stint of 'no new clothes' for myself recently came to an end with a dress, pair of pants and a t-shirt from Fabrik. The pants and tee were made using organic fabrics and natural dyes. After the pants arrived I wore them for a week, they were so comfortable and washed beautifully (my images were taken post washing!). The quality difference in natural dye was notable, I just love the depth. Fabrik has a great range of organic clothing, and I was so impressed I wanted to know more about Fabrik and the clever women behind it. Sarah lives on the Northern Beaches of Sydney with her husband and two children, where she combines the roles of motherhood, fashion designer and owner of Fabrik. It is a pleasure to share this interview where we discuss her inspiration, process and dreams.
Hello Sarah!
Q: In reading your bio it resonated with me that your love of sewing/needle work, came from your paternal Grandmother. I too was very inspired by my Grandmother's sewing as a child and it has influenced me in many ways also. Your Grandmother must be/have been very proud that she inspired you and that you went on to create a successful business from the seed she nurtured in you.
A: I have lovely memories of school holidays spent with my grandmother learning to crochet and to embroider. Sadly she passed away before I started my business but I know she would have been so proud.
Q: You say also that the concept of Fabrik was inspired after the birth of your daughter Jemima. It is lovely that the women in your life have helped shape your course, it makes for a beautiful personal and meaningful path. Do you sew with Jemima, or involve her in your process?
A: I was so excited the other day when I was sewing something on the machine and Jemima asked if she could learn to sew using the machine. We have planned for her to make a simple skirt in the holidays and she is having fun looking through my stash of vintage prints to choose the one she would like to use.
Q: You design all the Fabrik clothes, do you draft the patterns and sew the samples yourself?
A: I design the clothes here in Australia and then the pattern and samples are made by the team at the factory in Bali.
Q: From an ethical perspective, one has to choose wisely when having clothes made in Bali, can you tell me about the factory you work with?
A: It has always been important to us to produce our garments ethically. We work with a small Balinese-owned factory that are responsible employers. There is no discrimination on the basis of gender or belief. And our workers are paid above minimum, are not forced to work overtime, although they all team together when we have to get a shipment out. All overtime is voluntary and paid, there are annual paid holidays plus a yearly bonus of one month's wage to help with everybody's religious celebrations! The grounds of our factory have Longan, Rose Apple and Starfruit trees and they are often raided for a little afternoon snack! Also lots of Frangipani and Pandanus trees. Our building whilst not glamorous (it is a factory after all!) is safe. All buildings in Bali have to have a building licence to make sure they conform to building standards.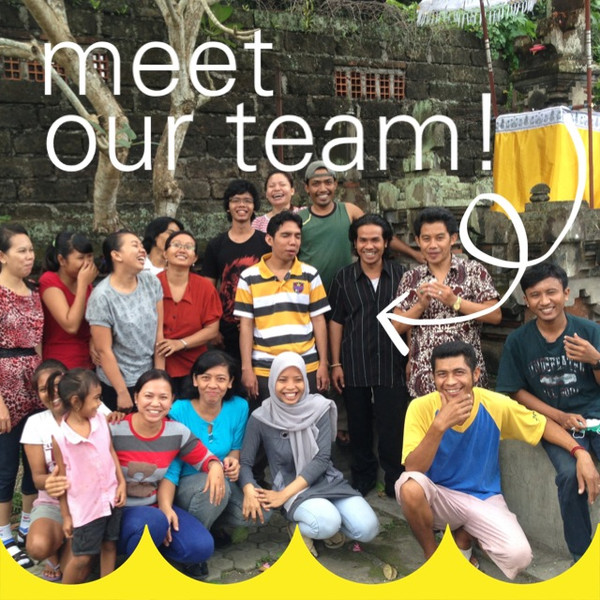 Q: I admire Fabrik greatly  for the conscious effort you make to use organic fabrics. It is so very important! Have you found it challenging to source organic fabrics? Do you have hopes to make your entire line organic
A: Yes there is not a great deal of choice with different weights in cottons and cotton jersey etc. I am headed over to Bali in a couple of weeks and I'm looking forward to hopefully sourcing new organic options. I would love the whole line to be organic and will work towards that for the future. More and more consumers are valuing the efforts of using organic fabrics which helps.
Note: you can read this post in the Fabrik blog for a great list of reasons why organic fabric is important. 
Q: Often for companies, choosing to use ethical or organic materials is not as cost effective, and the choice to do so comes from a respect for the earth. Tell me a little about your ethical journey and process.
A: I feel that consumers have so much choice when buying clothing or homewares and to me it seemed pointless to add to this market unless it fitted with my beliefs and values. I believe in buying less and buying better. I strive to use the best ethical process I can in the big and small decisions in the business. It is an ongoing process of trying to work out better ways of doing things. Most importantly expect all staff in our supply chain to be treated fairly and with respect.
Q: In the past I have found it hard to find organic clothes for women, so when I discovered Fabrik I was so pleased. Fabrik clothes have become my happy clothes because I know when I put them on that they represent my conscious effort to choose wisely. Have you found that your customers really appreciate that you offer earth friendly options?
A: I think more and more customers are looking for organic and ethically produced garments. That way we can look good and feel good about what we are wearing.
Q: You have told me a little about your natural dye process, and that the plant dyes are actually grown in the garden of the person that dyes for you. This sounds really amazing, can you share more about this process!
A: Yes they grow most of the plants in the garden that are needed to make the various colours. Some that cannot be grown there are grown elsewhere on the Island. They use the leaves of the plants for the following reasons:
– Do not need to cut or kill the trees, instead they harvest leaves multiple times.
– Trees benefit from pruning and reducing leaves during some periods.
– Relatively easy to find, cultivate or can be in cooperation with farmers (for example)
– Does not compete with food production needs.
– Extracts are easy to make. – Leaf waste is easily composted and returned to the soil.
– Raw material are a sustainable supply and can readily be replanted.
To dye this way is expensive and sometimes the results vary. For this reason I decided to sell the naturally dyed items directly through my online store and not wholesale this line. This means I can do small regular collections (which is easier to produce and get consistent results) and the price is better for the consumer.
Q: I always ask everyone this, because as a busy mother that has to balance a lot, the food we eat becomes the fuel to get us through it all. I am always curious to how other's start their day. What is your usual or favorite breakfast? Or what is your go meal/snack for sustenance?
A: I make a big batch of my 'brekkie bars' in my thermomix on Sundays. They have lots of nuts,seeds and dates. I don't like a heavy breakfast and these are perfect on busy mornings.
Q: You ship internationally, do you also have international stockists?
A: I ship internationally! Orders over $100 ship free. I don't have any international stockist for the children's wear but I would like to!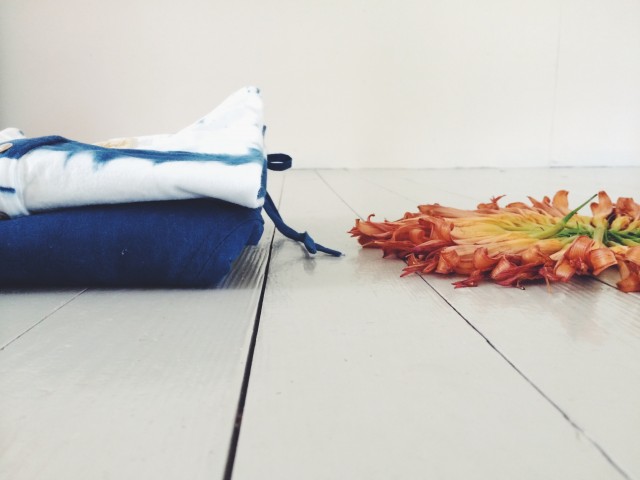 In the process of taking images of Sarah's clothes, I found myself looking at the spent flowers from the previous days creative project. I had intentions of working with fresh flowers but had to clean up the process from yesterday first. During which I marveled over the beauty of the day old daylilies (correctly spelled daylily not LL). Whilst picking the flowers up my fingers became covered in dark burnt orange from both the pollen and the petals. I felt for the flowers bloom being over so quickly and so I decided to make them into a mandala, and work with them instead of fresh flowers. It might not have as beautiful an effect as if I had of used  fresh flowers from the garden, but I like that this has a story, and meaning, and it is about my deep respect for the medium I work with. I loved the relationship between the naturally dyed clothes of Fabrik and the flowers staining my fingers…and you wont be surprised to hear that the daylilies are now boiling away on my stove top to see if in fact I can make a natural fabric dye with them. Thank you Sarah for the inspiration!