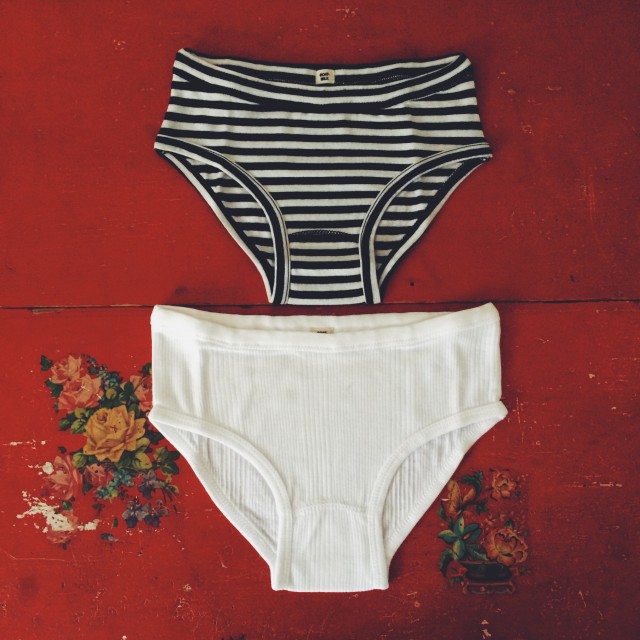 Maya will tell you that Goat Milk make great underwear, and the fact that she is asking for some more Goat Milk undies for Christmas, you can take as a super testament from a savvy 8 yr old. When I went to find their new underwear to photograph, I asked Maya where she had put them? Maya lifted the leg of her shorts to show me that she was wearing them. I asked her if I could take a photo of them, and she happily obliged. While she prepared for the photo I noticed she was wearing two pairs of undies, one pair over the other. As you would expect I asked, "Maya why are you wearing two pairs of undies?" and Maya sheepishly looked at me and replied "I want to wear my Goat Milk undies every day." I chuckled to myself, this girl of mine is so funny, she was wearing her new Goat Milk panties over an old pair of less 'special' undies so that they somehow fit into the 'doesn't need to be washed' category. I was delighted by Maya's little celebration and appreciation of a new underwear. I loved that Maya has decided that she wants to wear Goat Milk every day, and since she only has on pair, that she would wear them over her other undies. Oh to be a child!
We are indeed grateful for Goat Milk underwear. Designed in New York City by a thoughtful duo, Goat Milk make beautiful and comfortable 100% organic underwear. With a strong commitment to ethical production, Goat Milk is created with love, honesty and passion for both the product and the planet, and I will tell you, we are feeling it.
We have come to count on the Goat Milk thermals year in year out for layering through the cooler seasons but only recently made our first purchase of their knickers. I wish I had started sooner! Investing in organic underwear really should have been a first priority, but I got there eventually.  I love the substantial quality fabric, that washes well and stays looking fresh. I also love that as I sit beneath the girls while they climb trees in dresses, that I can look up and see that their little bottoms are stylishly covered! We are all about being beautiful on the inside and out, and Goat-Milk gives us holistic peace. Great design, done so in the best possible way.
Our favourite item for cooler weather is the drop needle thermal, which we have in white. They are the perfect tee for wearing alone or layering under dresses or overalls. A staple that gets a lot of use and still looks good after a year of wear. In my zen Mama moments while doing the laundry, I muse how lovely Goat Milk underwear is to wash and fold and when I find pleasure in it every step of the way, then I know I have made a good purchase.
International shipping is available, shipping in the USA is Free.
Follow Goatmilk on Instagram