Seeing the dreams of other's come true is a wonderful affirmation of life's possibilities. I connected recently with friend and Artist Faith Evans Sills, whom I met years ago through a wonderful Waldorf Playgroup in Brooklyn. As part of this special playgroup, but more so for our similarities we bonded. We became a bit like family sharing birthday and holiday traditions, but also sharing the ins and out of daily life. Many hours of early childhood mothering were spent together, pushing babes in swings, scootering micro minis through Prospect Park and sharing cups of tea as we sat at the same table working creatively with our hands. As is the case with best friends, this time allowed us to share, and together we processed life. We talked about what we needed to make our lives better, about what we wanted as reality for our families, and finally often the hardest, how we were going to make the things we hoped for happen.
This time of life was pivotal for both Faith and I, as we both knew our Brooklyn days were numbered. We related strongly with the idea of our children having more opportunity to connect with nature and for us to have more space to pursue the arts. As the years have gone by now, I marvel that beyond cups and conversation where ideas were just seeds, I now see the fruits of Faith's efforts, and that she is living her dream come true! I hope you are inspired by Faith's journey as I ask her to share a little about her dreams.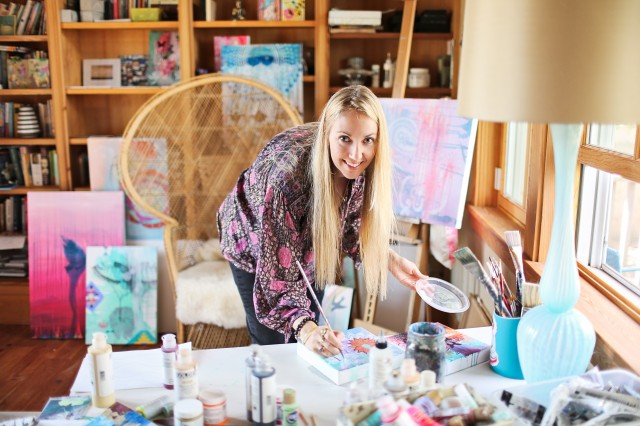 1. A dream that was really important to you that came true.
Autumn is the time of year when I always start to think more about dreams and my internal dialogue, so your great questions about dreams are especially well timed. As we head into this dark time of our seasonal cycle, with cozy days and less daylight, we do descend into ourselves, so it's a great time of year for reflection and envisioning, for dreaming and scheming. I have always been a great believer in the importance of dreams, because only through knowing the deep desires of our hearts can we shape our lives in the outside world to look like the internal vision that we hold. Creating your dream life is something that I think is a very real goal and one that I spend much time reflecting on personally.
I can think of so many dreams, big and small that have manifested into reality or "come true" over my lifetime. Ever since I was a little girl I have dreamed of becoming both an artist and a mother, both have come true and those two over arching dreams have been the guiding force of my life and have affected all of my big decisions.
Another of my biggest dreams to come true was my long time childhood dream of moving to New York City. When I was a girl, living in Philadelphia every year my family would do a long road trip from Philadelphia all the way up the eastern sea board to Cape Cod where we spent part of the summer. If you are familiar with the New Jersey Turnpike at all, then you can probably picture the long stretch where that highway runs parallel to Manhattan and the whole jagged sky line of New York City is clearly visible for miles and miles. I remember that was my favorite part of the drive each summer, I would gaze out the window of my parent's station wagon at all of those glimmering buildings, from the pointed spire of the Empire State Building all the way down to the twin towers of the World Trade Center that marked the lower tip of the island. As I gazed my mind would wander and dream about all of the lives held in that city, all of the energy, excitement and action. It all attracted me so much and made my child mind run wild. As a little girl in the 1980's I was also affected culturally by all of the movies that showed New York City as the beast of commerce, art and culture that it is, and the city became an exciting enigma to me. I had always lived in cities and this seemed like the city to end all cities, so it became my dream to move there. I went to college in upstate New York, in a beautiful small town called Saratoga Springs, where many of my fellow classmates were from New York City. My best friend in college, who I met on our first day of freshman orientation, had grown up on the Upper East Side of Manhattan, and throughout the next four years she and I made pilgrimages down to Manhattan many times. The week after college graduation she asked me if I wanted to share an apartment with her in Brooklyn and my fate was sealed, my dream of living in New York City was about to begin. I had no idea at that point that I would live there for the next 15 years; that I would go to grad. school, meet my husband and have two of my children there, buy and renovate our fist home there, show my art there, but all of those things were part of my dream and each one of them happened there. One of the things about dreams is that there is always a new one on the horizon, and after I had lived in New York City for about 12 years, and had 2 children, I started to grow a new dream, that was to live a more laid back lifestyle, closer to nature and by the beach. That new dream has taken us away from my beloved New York City, we've moved on to a new phase of living our current life on the beautiful coast of South Carolina, and there are new dreams ahead. But following that childhood dream of mine, to live in New York City, showed me so much about what it means when people say follow your heart…
2. A dream you would like to come true in the future.
There is a dream that my husband and I have shared ever since we met during our years in Graduate School at Parsons School of Design, and that is to live fully supported by our art, being able to create our art full time. This is a long term joint dream of ours, something that we are working towards and have gotten much closer to. Both of us are painters, which has been such a benefit in our relationship as we deeply understand each other's need to create. Along with that we both understand the soul drain that comes if an artist is not able to make their art. It's a horrible place to be in, when you have to spend most of your time not doing the thing that you love to do just so you can earn money. During our years in New York City my husband owned a decorative painting company with a friend. As far as jobs go it seemed good, it was a side job that had grown into a full time one and he was working for himself in a creative career in the city that we loved. But, it was not work that he loved to do. We dreamed of a life in which he wouldn't have to do that work, and we dreamed together about work that he would love to do. Part of our decision to leave New York City was to downsize our life in an effort to support our shared dream of both being able to make our art full time. We are much closer now to that dream than we were even a few years ago, and it is a work in progress but with every step we get closer. My husband now teaches drawing at the College of Charleston, and we are both working on having multiple sources of income through our art. I think that having your hand in many pots is really important for any artist who wants to make a living off of their creative work. From selling art online, to teaching, to selling in galleries, to running creative retreats and workshops, these are all things that we do and have lots of dreams to explore further. It's all a work in progress as we explore what works and what doesn't on the way to our best life.
3. A dream that has not come true, and probably never will.
I have a huge travel bug, its in my heart and soul. I traveled all over South America with my family as a child and adolescent, we lived in Buenos Aires, and also traveled later through Europe and Australia. When I left home I still felt that there was so much of the world left to see and one of my dreams was always to spend a year back packing around the world, especially to see Asia I had big plans of where I would go and what I would see. It all never happened. Life got busy and exciting and full, and while I have taken amazing trips and traveled many places there never seemed the right time to leave for a whole year and spend it backpacking. Once I had children that dream drifted further away. Coupled with the fact that my husband is not a huge traveler, in fact he's a bit of a homebody, he can travel for a couple weeks but then he's ready to be home, so he puts up with traveling because he knows I love it! I have had to face the fact that I needed to release my bohemian vision of traveling around the world for a year. That dream has now changed a bit and I have accepted that even though I won't be doing the around the world trip on the scale that I had dreamed, that it is do-able in smaller chunks. Last January I traveled with my oldest son, who is now 10, to Bali, Indonesia, which had always been one of my dream places. That trip showed me that as my children get older traveling with them becomes vastly easier and pleasurable, and of course seeing the world with them is one of the greatest gifts that I can imagine.
Allowing space in which dreams can change, accepting the reality of what is versus what I want things to be…these are lessons that following dreams have taught me. Not every dream will come true, and I probably wouldn't want them to anyway, because the reality that I've created is better than any thing I could have dreamed up!
Thank you Faith!
Follow Faith Evans Sills on Instagram 
You must visit Faith's beautiful blog for lifestlye inspiration. Faith runs retreats called In Our Element, where she helps women to connect with and embrace their creativity. The next retreat is to be held in Costa Rica! You will find lots of lovely gifts and fine art, both original paintings and prints in Faith's shop.